Fall weed control options for Christmas tree farms
What makes for a good fall weed control program? Considerations for fall herbicides in Christmas trees.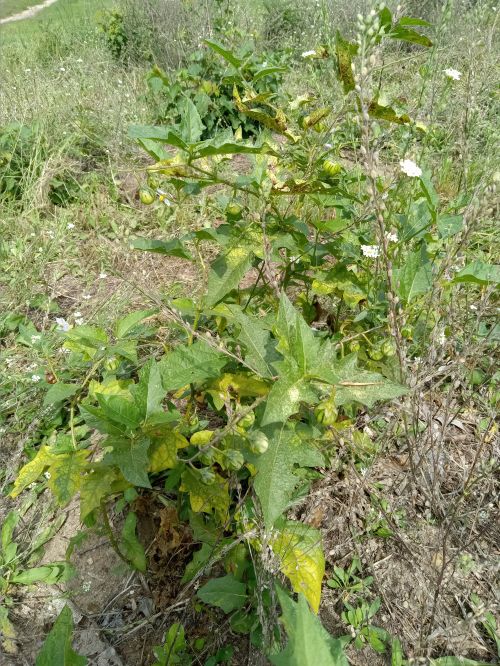 In the previous article "Christmas trees 101: Weed management," Michigan State University Extension (MSU Extension) presented an overview of Christmas tree weed challenges and options for control. For growers that use herbicides to manage weeds, fall applications can be a very effective time to improve their weed control. There can be many weather-related challenges in the spring: Cold weather may delay getting equipment prepped and ready for use, wet weather may make fields impassable, or dry weather may prevent pre-emergence herbicides from activating in the soil. Some weeds (for example, marestail) may germinate in the fall or very early in the spring prior to herbicide application. Some of these issues can be resolved by applying pre-emergence herbicides in the fall. In addition, many perennial weeds are more responsive to post-emergence herbicides (i.e., glyphosate, triclopyr) in the fall compared to the spring or summer. Prior to applying herbicides this fall, consider the list of questions below to improve weed management on your farm.
What weeds are you dealing with?
MSU Extension recommends scouting fields and identifying weed species in the field. Understanding which weed species are the problematic is the first step in control. The IPM Pocket Guide for Weed Identification in Christmas Trees can be helpful in determining the weeds on your farm. MSU Plant & Pest Diagnostics is also available to help identify weed species. Once you have identified your main weeds, you can target specific weeds' life stages and adjust products for the best efficacy.
Why was the initial weed control ineffective?
Understanding why weeds were a problem this year can be very helpful in preventing the problems in future years. Was the pre-emergence herbicide application applied too late for control, after weeds had already emerged? Was the herbicide not listed and/or effective for control of the most problematic weeds? Was the application equipment properly calibrated? MSU Weed Control in Christmas Trees will assist in matching herbicide effectiveness with problem weeds.
Did you know MSU has an online tool to help make choices on herbicides? MSU Herbicide Cross Reference is a site where you can select crops such as Christmas trees and the problem weed. It will then generate a list of herbicides that are labeled for Christmas trees and their effectiveness level and whether they work as a pre- or post-emergence. As an example, high levels of horsenettle were found in a field (Photo 1). By entering Christmas trees as our crop and horsenettle as our weed, the tool generates that triclopyr and clopyralid (Photo 2) can be used as post-emergent products for control. This is an excellent guide, but growers need to read and follow the herbicide label instructions.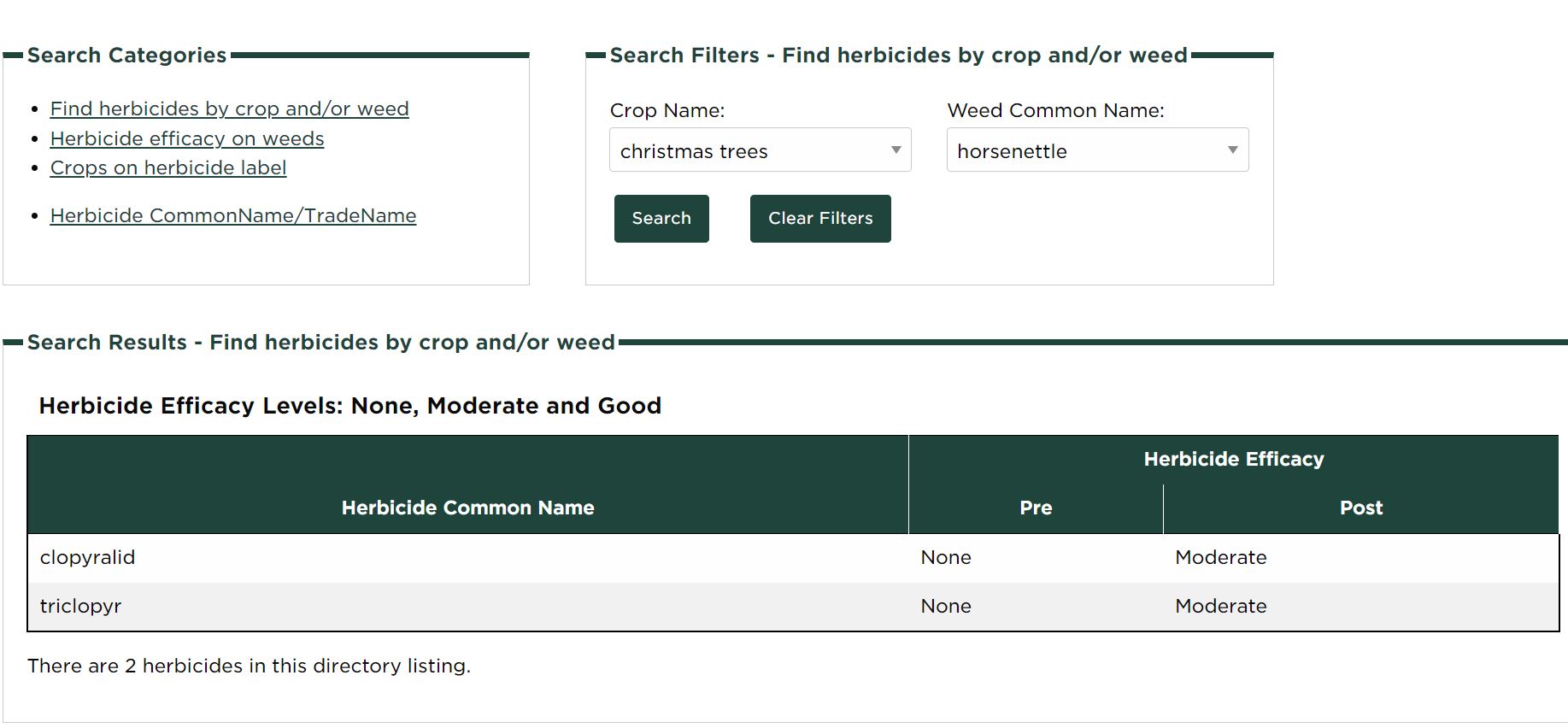 When should I apply fall herbicides?
Post-emergence herbicides can be applied with sufficient crop safety when trees have hardened off in the fall. As needles age the cuticle thickens and becomes a physical barrier to herbicide application. It is still good practice to minimize herbicide contact with trees. A general rule of thumb is at or around Labor Day new growth should be sufficiently hardened off. Perennial weeds, such as poison ivy and maple seedlings, are translocating resources from shoots to roots in the fall. This means that systemic post-emergence herbicides applications will also move more readily to roots, thereby improving success.
MSU Extension recommends using soil temperatures to determine the timing of fall pre-emergence herbicides. As the soil cools in the fall, microbial activity slows and then ceases. Soil microbes are responsible for degrading the herbicide and reducing the longevity in the soil. A soil temperature of 50 degrees Fahrenheit or below is no longer biological active. MSU Enviroweather allows growers to find weather stations near their locations and view soil temperature readings. In 2021 at the MSU horticulture farm Enviroweather station, soil temperatures reached 50 F near the end of October.
What properties make for good fall applied pre-emergent herbicides?
Fall applied pre-emerge herbicides will need to remain in place in the soil for a longer interval than spring applied products. Products that have low solubility in water (Table 1) are preferred for fall application. In addition, it is wise to rotate herbicide modes of action (MOA) to reduce the chance of weeds developing a resistance. There are herbicide-resistant weeds in Michigan. For example, some populations of common ragweed are resistant to cloyralid and some populations of pigweeds are resistant to glyphosate.
If you are not getting control of a specific weed on your farm that you have had in the past, consider submitting a sample to MSU Plant & Pest Diagnostics. They can perform herbicide efficacy testing and help you determine if they have developed resistance to a MOA and can find an alternate option to control problematic weeds.
Table 1. List of preemergence herbicides with their water solubility that are labeled for use in Christmas tree weed control.

Herbicide

Mechanism of action

WSSA and HRAC group

Water solubility (mg/L) at 20-25 C

Water solubility strengths

Gallery (isoxaben)

Cellulose synthesis inhibitor

21(L)

0.93

Low

Marengo (indaziflam)

Cellulose synthesis inhibitor

29(L)

2.8

Low

Goaltender (oxyfluorfen)

PPO inhibitor

14(E)

0.1

Very low

Sureguard (flumioxazin)

PPO inhibitor

14(E)

0.8

Low

Surflan (oryzalin)

Mitosis inhibitor

3(K1)

2.5

Low

Pendulum Aqua Cap (pendimethalin)

Mitosis inhibitor

3(K1)

0.3

Very low

Velpar (hexazinone)

Photosystem II inhibitor

5(C1)

33000

Very high

Princep (simazine)

Photosystem II inhibitor

5(C1)

5.0

Relatively low

Pennant Magnum (s-metolachlor)

VLCFA synthesis inhibitor

15(K3)

529.3

High

Tower (dimethenamid-P)

VLCFA synthesis inhibitor

15(K3)

1450+ 20

Very high