Families behind the food
Fifth-generation Heffron Farms in Kent County's Grattan Township has a long history of agriculture and community service.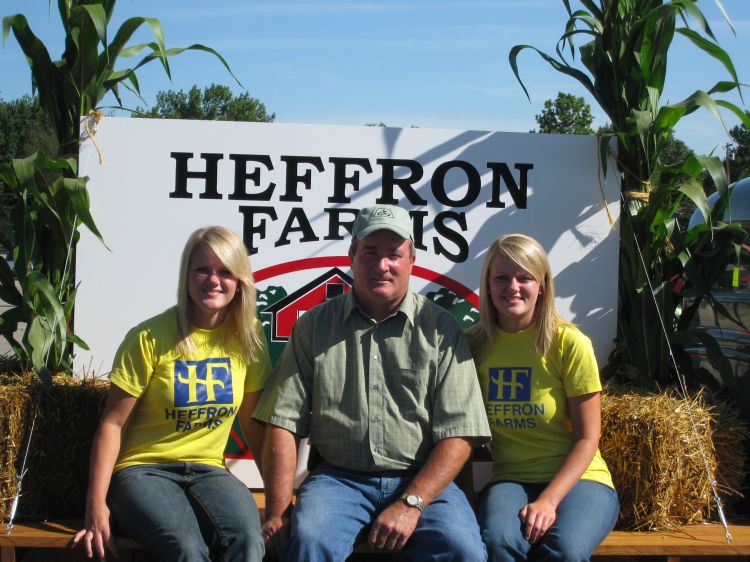 According to the National Restaurant Association, the number one restaurant menu trend in 2014 will be locally-sourced meats. This is good news for Dennis Heffron and his two sons who currently operate their natural beef cattle operation near Belding, Mich. Heffron Farms has four retail stores called "Heffron Farms Market" where their natural beef products are sold along with a variety of Michigan food products from other local producers.
In recent years, Heffron Farms Markets' sales to the Grand Rapids area breweries and restaurants have dramatically increased – so much so that they have a sales position dedicated to marketing to area chefs, as well as sales through West Michigan Farmlink. Heffron says his beef is different from that found in the large, chain grocery stores because it is dry-aged for two weeks and most of the grocery store meat is wet aged, which doesn't add as much flavor to the meat. He also said Heffron Farms Markets beef has no growth hormones, no dyes, they don't add animal by-products to the feed and they don't use antibiotics on a daily basis – only when an animal is sick and needs medicine.
Heffron Farms began by Dennis, or Denny as many of his friends know him, after he purchased his first farm as a senior at Belding High School. The Heffron's have been farming in this community since 1845 when Heffron's great-grandfather came to the area from Ireland. In 1921, Heffron's grandfather Thomas Heffron had a registered Holstein dairy and a saw mill that sold ties to the railroad during the Great Depression. Today, Heffron's brother Tom farms the original family farm founded by their great grandfather.
Heffron says farming has always been in his blood: "As long as I can remember, I've been working on our family farm. It was a great way to grow up and learn how to care for the land."
Heffron grew up near where he lives today in Kent County's Grattan Township just west of the city of Belding. In addition to being a dairy farmer, Heffron's dad was the longest-serving Kent County Sherriff, having served seventeen years in that position. Heffron said he starting taking on more responsibility on the farm, as his dad climbed the ladder in the Kent County Sherriff's Department.
"Dad had to take a second job to keep our family dairy farm afloat, so my older brother, my mom, and I had to run the farm. My dad started out shoveling coal at Gibson Appliance in Belding. Then, he saw an opening in the boiler room at the Kent County Jail and started there. The next year he moved up one floor in a turn-key position. He eventually became Kent County's first polygraph operator, then head of the Detective Bureau, and eventually County Sherriff," explained Heffron.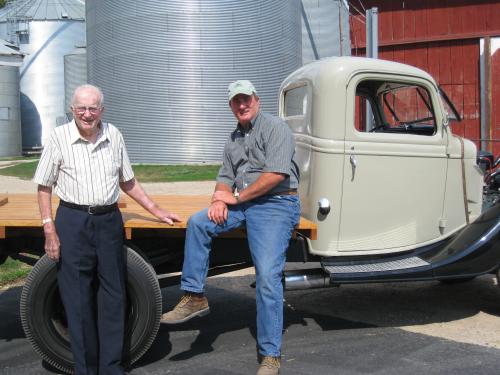 While Heffron's dad worked long hours for the Sherriff's Department, Heffron and his family decided to sell the dairy cows and concentrate on young cattle and fruit production.
The entire family has received much of their agricultural training from Michigan State University and Michigan State University Extension. Heffron 's dad, Phillip Heffron attended Michigan Agricultural College, and his brother Tom attended Michigan State University and earned a degree in Horticulture. All four of Heffron's children graduated from MSU as well. His twin daughters majored in Interior Design. His oldest son, Bryan, specialized in crop and soil sciences and agribusiness, and his youngest son Jordan, earned a degree in agriscience with a focus on livestock production.
Heffron said a lot has changed on the farm in the past twenty years: "It isn't about muscles anymore, it's about brains. With the equipment we have today, we can bail as much hay in a day as what we would do in a week twenty years ago. Now, you have to know how to correctly operate a variety of computerized machinery – from precision planters and fertilizer applicators, to yield maps in the combines."
Heffron said he is excited about the future of agriculture. He is so optimistic that at the end of 2013 he donated his development rights on his 80-acre home farm to Kent County's Farmland Preservation Program, which he helped to create. This means this piece of land cannot be developed for residential or commercial purposes. The land is bound by a conservation easement to remain in a state that can support agriculture.
"We now have the sixth generation of our family on this land. My grandson Tyler just turned one-year-old. I'm so glad I can leave him this legacy to carry forward long into the future."