Farm-to-school success story: Grand Rapids Public Schools adds Michigan dry beans to its menu
400 pounds of black beans from Carlson-Arbogast Farms served at in GRPS schools.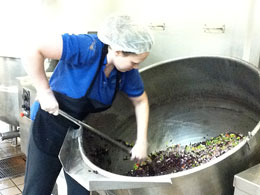 Amy Klinkoski, nutrition services coordinator for Grand Rapids Public Schools has a passion for beans. "Beans are a low-cost source of lean protein and dietary fiber. They are also low in sodium, which is important for school meals."
Klinkoski also has a passion for Michigan-grown foods. In December 2012, Klinkoski contacted Fran Arbogast-Carlson to purchase some Michigan black beans for a new recipe she borrowed from Boyne Public City Schools. Arbogast-Carlson is chairperson of the Michigan Bean Commission, a registered dietitian, and a dry bean producer with a farm near Howard City, Mich.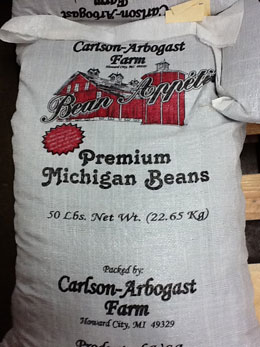 I facilitated this connection in my role with Michigan State University Extension as part of my work attempting to increase the amount of Michigan commodities purchased by K-12 schools. Arbogast-Carlson and Klinkoski worked on the process for cooking dry black beans in Grand Rapids Public Schools Nutrition Service's 100-gallon, steam-jacked kettles. Together, the women found that 100 pounds of beans took about 1.25 hours to cook. It was important to identify the cooking time so the recipe can be shared with others.
On a chilly day in January, Klinkoski and her team prepared Baja Black Bean Salad, a salsa-type side dish served with tortilla chips. GRPS cooked 400 pounds of Carlson-Arbogast Farms' black beans. After cooking, the water was drained and chopped red onions, green peppers, and red peppers from Pearson Foods, as well as canned salsa, lime juice, chili powder and cumin were added and mixed by hand. The Baja Black Bean Salad was then scooped by hand into thick plastic bags, which were sealed and refrigerated until just before serving.
Klinkoski said the process was a bit time consuming but added that a large amount of labor was saved by not having to open, wash and recycle metal cans, which would have been necessary if they used canned beans. She also noted that an art teacher requested the burlap-like bags the beans were delivered in so there was no waste for packaging.
I also serve as a healthy-eating coach for Congress Elementary School, and Klnkoski and I joined Congress students Jan. 15 in trying the new dish. Students, many who had never eaten black beans before, enjoyed the healthy dish, which was served with a chicken fajita on a whole-grain tortilla with diced tomatoes and shredded lettuce. On Feb. 18, GRPS served the Baja Black Bean Salad warm from the oven to see how students like that. Four-hundred pounds of Michigan beans were used to prepare the dish.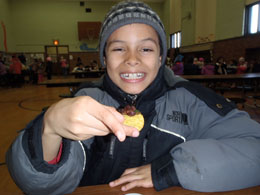 Klinkoski said this process was so successful that her next goal is to convert recipes that use canned beans to dry, Michigan beans. This will help GRPS get a jump on the new USDA School Meals sodium reduction guidelines that will be in effect in a few years.
Klinkoski added, "I stopped trying to be perfect. Now I strive to be remarkable." I think you would agree that cooking and serving 400 pounds of dry Michigan black beans for Grand Rapids Public Schools students is pretty remarkable. Congratulations to GRPS on this achievement!