FCCP partners with 1t.org US to release white paper on the inaugural 1t.org US Summit
After the inaugural 1t.org US Summit in Washington, DC, the FCCP collaborated with 1t.org US to capture event discussions and identify key strategies to increase pledges and raise ambition. The full report is now available on their website.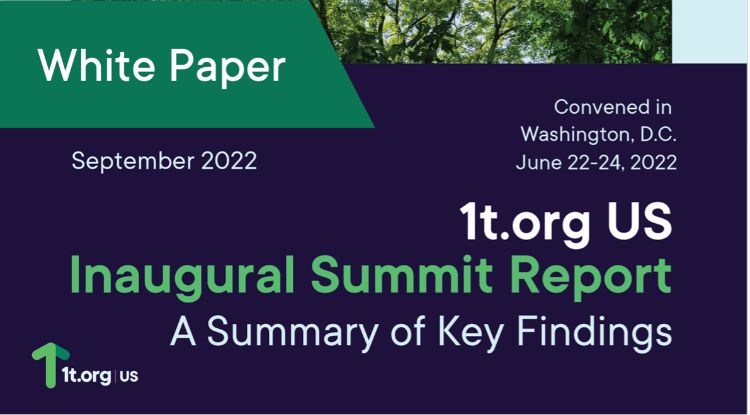 In June 2022, the first-ever 1t.org US Chapter Summit took place in Washington, DC. The Summit brought together a diverse, multi-stakeholder community for a dynamic, in-person event. Attendees had the opportunity to collaborate with Chapter members from various fields and disciplines and gain key insights from high-level policymakers and thought leaders. FCCP team members Lauren Cooper and Evan Beresford attended the event as facilitators to learn from, meet, and interact with leaders from public, private, and non-profit sectors to advance the shared dialogue on forests as a natural climate solution.
After the Summit concluded, the FCCP collaborated with 1t.org US to synthesize summit outcomes. The report highlights nine key strategies to increase action and raise ambition toward meeting the 1t.org US goal. The mission of 1t.org is to connect, empower, and serve a global movement to conserve, restore, and grow one trillion trees by 2030. The nine key strategies can be found below:
Define and align: 1t.org US mission and role
Grow 1t.org US community and pledges
Foster storytelling and highlight success and problem solving
Connect actors, match resources with needs, and nurture collaboration
House existing knowledge and encourage innovation
Advocate for sound project design and develop a robust reporting structure
Champion a range of essential co-benefits, not carbon alone
Promote inclusivity, climate justice, and collaborative communication
Act now with a sense of urgency and cultivate hope
The full 1t.org US Inaugural Summit Report is now available on the 1t.org US website.