Feeding people in need through 4-H livestock auctions
Livestock auctions are an opportunity to give back to the communities that support them.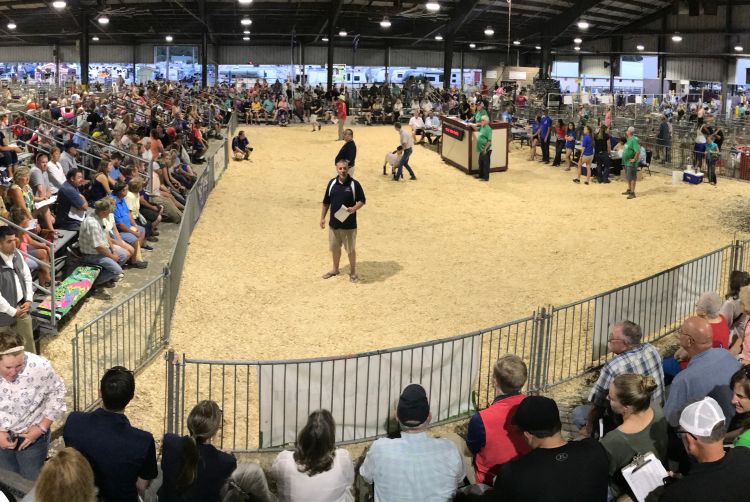 The Michigan State University Extension 4-H Youth Development Program relies on the generosity and support of their members, parents, leaders and community in order to have a thriving and successful program. Likewise, when a need arises in a local community, 4-H members are ready to step up and take action.
The Lenawee County 4-H Junior Livestock Auction has participated in the South Michigan Food Bank "Meating the Needs" program for many years. This program allows auction buyers an opportunity to purchase locally grown 4-H livestock projects and donate them to charity. The South Michigan Food Bank then pays for the processing and donates the meat to local food banks.
Through the 4-H Junior Livestock Auction, one steer and nine hogs were donated in 2019, resulting in over 3,517 pounds of locally grown beef and pork provided to consumers that could not afford to buy it. Meat is not donated very often in food drives, which makes the Meating the Needs program so important for local agencies. It is a readily available source of protein for the people who may otherwise not get it.
With a growing number of 4-H members enrolling in the small animal project area, the 4-H Small Animal Board in Lenawee County was looking for a way to offer their buyers an opportunity to give back to the community. Since the Meating the Needs program only deals with large animals like beef, lamb and pork, the 4-H members on the Lenawee Small Animal Board developed a program modeled after Meating the Needs and called it "Check Charity."
Buyers purchasing animals in the 4-H Small Animal Auction have two options for their purchase: process for their own consumption or donate to charity. Buyers recognized the need in the community with 55% of all small animal pens sold during the auction donated to charity. The 2019 4-H Small Animal Auction resulted in 332 animals donated to the local food pantry. In addition, goats that were purchased and donated to charity were sold through the local market, raising $1,800. These funds will be utilized by the 4-H Small Animal Board teen members to purchase additional perishable and non-perishable items to be donated to a local charity.
Envoys Terry and Margaret Gaster from Salvation Army said, "The meat from these animals provides food for those in our community that otherwise may not have meat on their table. We have been truly blessed by the 4-H Check Charity option to see that those in need are fed. Our food programs could not always provide meat with the food orders without you."
From a buyers perspective, according to Michigan Country Lines, Midwest Energy & Communications publication, "We spend a lot of time in the summer making the rounds to our regional county fairs. This is a meaningful way to support the local 4-H programs and students in our service area and maximize the investment by donating meat to local food pantries. Lenawee County: We purchased several animals from the small animal auction and a hog from the large animal auction. We processed 161 pounds of sausage, bacon, chops and ribs to donate to the Neighbors of Hope Women & Children's Ministry program."
4-H members benefit from the generosity of businesses and individuals during their 4-H experiences such as the animal auctions, educational programs, activities and special events. The Check Charity campaign and Meating the Needs are just two examples of Lenawee County 4-H members giving back to their community. The involvement of 4-H members in these service programs also raises their awareness of community issues and how they can make a difference in the lives of others, emphasizing the Heart and Hands of the 4-Hers.