Dare to Serve Challenge
PLEDGE YOUR HANDS TO LARGER SERVICE THIS APRIL!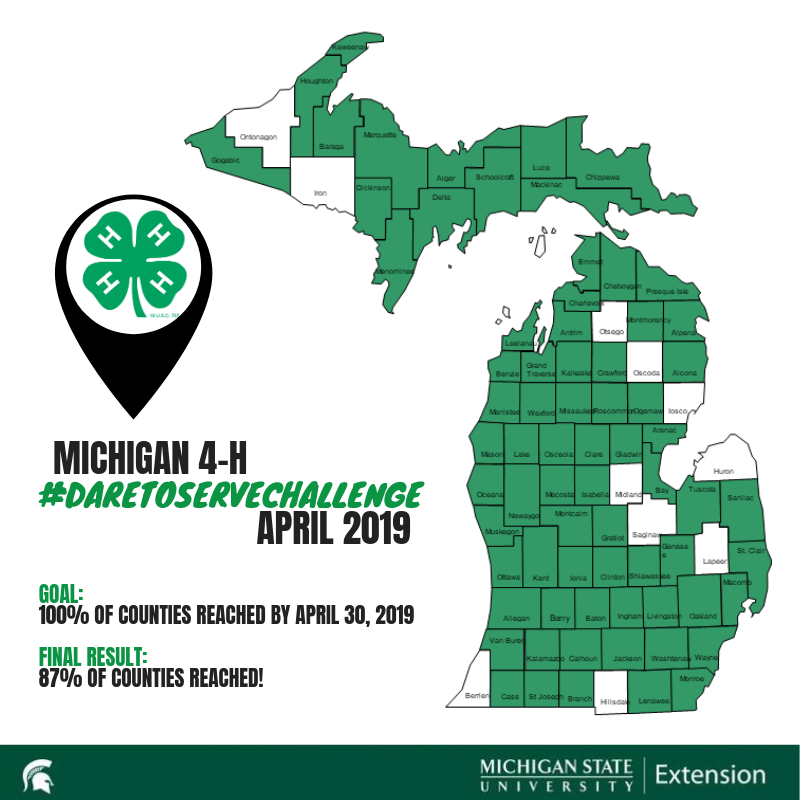 Every day, 4-H'ers are rolling up their sleeves in service as they lead positive change that empowers their peers and their communities. This April, 4-H is launching the annual True Leaders in Service initiative to unite 4-H members across the country in making a collective positive impact in their communities. All 4-H'ers are encouraged to venture out into their community to lend a helping hand in a way that is meaningful to them: neighborhood clean-ups, beautification projects, food and donation drives and much more!
This year, members of the Michigan 4-H State Youth Leadership Council are issuing a special challenge to their fellow Michigan 4-H members, as well as volunteers, alumni and staff. They have created the Michigan 4-H Dare to Serve Challenge which has the goal of inspiring everyone in Michigan 4-H to do at least one thing to serve their community during the month of April. Their goal: have at least one 4-H led community service project completed in each of Michigan's 83 counties during the month of April! Imagine how big of an impact we can have if each of us chooses to lend our hands to larger service this April!
Here's how it works:
Join with others, or work on your own, to plan a service project in your community that you think will make a positive difference.
Register your project and add it to the map showing all the community service projects taking place in Michigan. This will help others find your service opportunity so they can take part ,too!
When you complete your service project, share it on social media and tag a Michigan 4-H friend to whom you want to issue the Michigan 4-H Dare to Serve Challenge! Use the hashtags #MI4H #DareToServeChallenge and #TrueLeaders to connect with others who are making a difference.
If someone is issued the Dare to Serve challenge, but chooses not to complete a community service activity, they can choose to offer their support instead by making a donation to Michigan 4-H through the Michigan 4-H Foundation.
GET STARTED PLANNING YOUR PROJECT TODAY!
You get to decide what project you will do during the True Leaders in Service initiative! Visit the Michigan 4-H website to find resources that can help you plan your very own community service project or contact your local 4-H staff for help in identifying service project ideas and opportunities in your community. Big or small (or somewhere in-between!) every single 4-H community service activity during the month of April will make a positive difference all across the state!
LEARN MORE AND REGISTER YOUR PROJECT:
The month-long community service activation will officially kick-off the first day of April and culminate with the National 4-H Day of Service on Saturday, April 27. Visit the True Leaders in Service website to access a planning guide, register your project, and learn more about the True Leaders in Service initiative.
PROMOTE YOUR PROJECT!
Looking to spread the word about your #DaretoServeChallenge? Use one of these social media graphics!