Field Crops Webinar focuses on tillage in Michigan soybean systems
The Feb. 25, 2019, webinar will feature James DeDecker, director of MSU Upper Peninsula Research and Extension Center, and focus on tillage in Michigan soybean systems.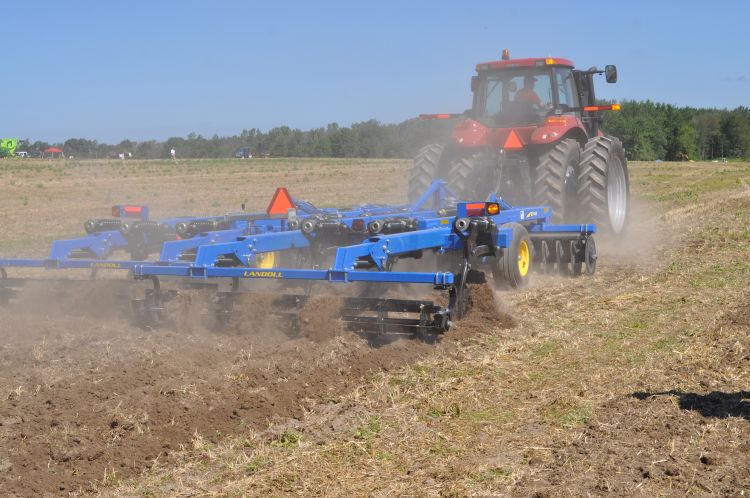 Reducing or eliminating tillage is often recommended to cut costs and enhance soil health on Michigan farms that produce soybeans. As the theory goes, healthy soil equals healthy crops, suggesting that reducing tillage is a winning proposition no matter how you slice it. While saving on equipment, fuel and labor is an obvious advantage, the effect of conservation tillage or no-till on soil health and soybean yields is, in reality, not so black and white.
In many cases, including long-term research at Michigan State University's Kellogg Biological Station, no-till has helped to increase soil carbon and other indicators of soil health while producing equal, or even slightly higher, soybean yields relative to conventional tillage. In other studies, no-till has failed to move the needle on soil health and resulted in significant soybean yield penalties. Unfortunately, these potential risks of reducing tillage in soybeans appear to be greater in high latitude production environments, like the Upper Midwest. Heavy (fine-textured) and poorly drained soils, of which Michigan has plenty, may only exacerbate the problem.
In 2016, a team of MSU Extension educators, faculty and growers set out to gather on-farm data, aiming to help Michigan soybean producers better target tillage to improve their yields, profitability and sustainability. Our study identified environments where no-till lives up to the hype, as well as areas where conservation or conventional tillage would be recommended to maximize soybean performance and profitability. In the latter case, we looked at the inherent capacity of soils and complementary practices including manure and cover crops to buffer soil disturbance and protect soil health.
Join our Field Crops Webinar - Tillage in Michigan Soybean Systems on Feb. 25, 2019, from 7-8 p.m. to learn what level of tillage intensity may be best for your farm, and tune-up your tillage practices for 2019 based this new information.
Growers, consultants and agribusiness professionals are invited to participate in the 2019 MSU Extension Field Crops Webinars, a series of seven online programs addressing field crop production and pest management. The webinars run every Monday evening between Feb. 18 and April 1, starting at 7 p.m. EST. Participants will learn how to enhance their crop production systems in the coming season and have an opportunity to ask questions of MSU agriculture experts. These live webinar programs will be recorded and can also be viewed independently online at participant's convenience. Registration is $20 for the full series of seven webinars or $5 per individual webinar session.
One MDARD pesticide recertification (RUP) credit will be available through each live event for application to one of the following categories: Private/Commercial Core, or Field Crops.
To find out more or to register for the webinar series, visit 2019 MSU Extension Field Crops Webinars. For more information, contact Eric Anderson at 269-467-5510 or eander32@msu.edu. Persons with disabilities may request accommodations by calling the St. Joseph County Extension Office at 269-467-5511.