Flint leaders working to build community sustainability
Many local organizations and residents are working to make sure plastic water bottles and filters are recycled.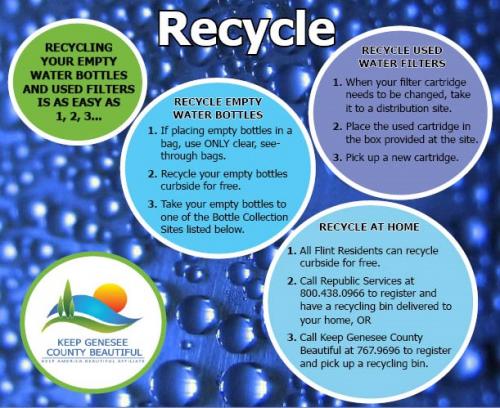 As a result of the millions of pounds of bottled water circulating in the City of Flint, Keep Genesee County Beautiful, a non-profit organization founded in 2004, has published a new flyer to help residentsunderstand how they can recycle plastic water bottles and water filters. The organization is encouraging residents to participate in the city's free curbside recycling program and to drop off plastic bottles in clear recycling bags at drop-off locations throughout the city.
Demonstration of environmental leadership in Flint is not new, edible flint was formed in 2009 by city residents with help from Michigan State University Extension to build a network of community gardeners and farming entrepreneurs utilizing vacant lot space or their own yards. Each summer hundreds of people load charter busses or ride their bikes on edible flint's Annual Food Garden Tour to enjoy learning from and celebrating this successful community-based project. Flint's ABC affiliate reported that a young Flint resident, Janay Young, is working to organize friends and volunteers to collect thousands, if not millions, of plastic bottles for recycling "Right now, I'm working on a project to help the citizens of Flint come together and start collecting these bottles and put in the effort to take them to the recycling company," Young said. Businesses are also taking part as several grocery stores (Kroger and Hutchinson) and businesses are offering discounts for people bringing in plastic bottles for recycling.
In addition, the new Flint Farmers Market was recognized in 2015 by the American Planning Association as one of the top six Great Public Spaces in America. This year-round market has over 50 vendors. A wide variety of ready-to-eat foods, produce, meats, as well as local beer and wine can be purchased in the market, which is open all year. In addition to the great locally produced food and beverages, the market also hosts business meetings, conferences, field trips, and workshops.
Another example of national environmental leadership is the Genesee County Land Bank. The land bank was formed to return vacant properties to productive use by clearing titles and sometimes demolishing condemned structures. Success stories of this program include hundreds of home and business sales, side-lot sales and the planting of vacant lots with clover instead of high maintenance turf grass. In November 2015, Bridge magazine reported that of the five Michigan cities that share a $100 million federal Hardest Hit grant, Flint was the first (and only) city to reach its demolition goals.
"We are so pleased to be part of this community," says Terry McLean, Michigan State University Extension educator. "In my experience, Flint residents have a great track record of volunteerism, resilience and community pride. I feel that we will be a stronger community as a result of the recent water crisis."