Flint, Michigan area urban agriculture report – June 25, 2014
Mild weather and rainfall has favored vegetable crops in urban farm fields and hoop-houses. The new Flint Farmer's Market opened Saturday, June 21.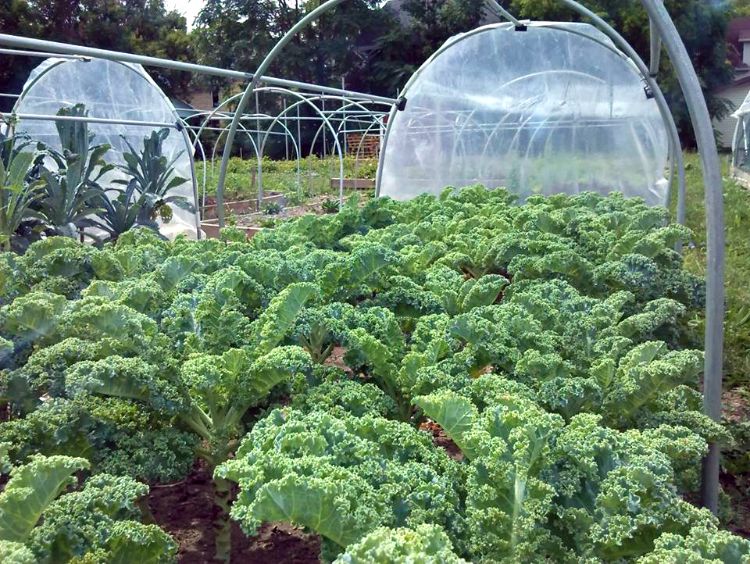 Favorable mild weather and well-timed rainfall in the past week has vegetable crops growing well in urban and semi-rural small scale diversified farm fields and hoop-houses. Area farmer's markets are showcasing the bounty of early summer season produce here in Michigan.
Weather
According to the Michigan State University Enviro-weather station in Flint, Michigan, temperatures for the past week ranged from a 54.3 degrees Fahrenheit low to a 83.6 F high. We are at 874.1 growing degree days (GDD) base 50, which is normal for this time of year and comparable to last year. The rainfall total for the year is 13.28 inches, and we received 1.38 inches of rainfall in several rain events over the past week. Moderate weather and regular rainfall in the past week has provided optimum conditions for vegetable crop growth.
Crop reports
According to research done at the Michigan State University hoop-houses located at the Student Organic Farm and educator observations from the field, many crops are ready for early harvest due to season extension technology.
Pests seen this week in area hoop-houses and fields are cabbage loopers, potato beetles, four-lined plant bugs on specific cultivars of basil, and cucumber beetles.
Going to market now
According to a Michigan State University Extension food systems educator, growers are harvesting basil, green garlic, salad mixes, kale, baby beets, snap peas, scallions and summer squash this week out of area urban hoop-houses. Kale is also being harvested from the field.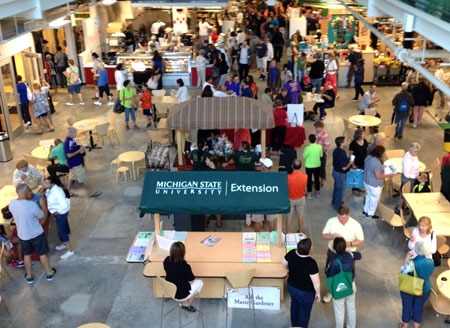 In Flint, Michigan, the grand opening of the new Flint Farmer's Market took place this past Saturday, June 21. The mood was celebratory as thousands turned out to embrace the new location, patronize new and returning vendors and enjoy the beautiful new space. Michigan State University Extension has a new kiosk, courtesy of its Michigan Fresh program, in a prominent location in the atrium, and is planning educational demonstrations and activities related to helping market-goers grow and learn about all of Michigan's fresh, locally grown fruits, vegetables, flowers and ornamentals.
One of the unique features of this new farmer's market is a pair of new commercially licensed culinary incubator kitchens, Flint Food Works, built for new food entrepreneurs to take a food product from idea to market, as well as for existing food businesses to rent commercial kitchen space. This space is equipped with professional equipment and has refrigerated, frozen and dry storage options to increase the capacity of aggregating produce from many of our region's small to medium scale producers so they are able to supply institutional food markets.