A flurry of winter birding opportunities await in Michigan's Eastern Upper Peninsula
New interactive online guide hosted on the North Huron Birding trail website provides suggestions on where to find winter bird species in the Eastern Upper Peninsula of Michigan.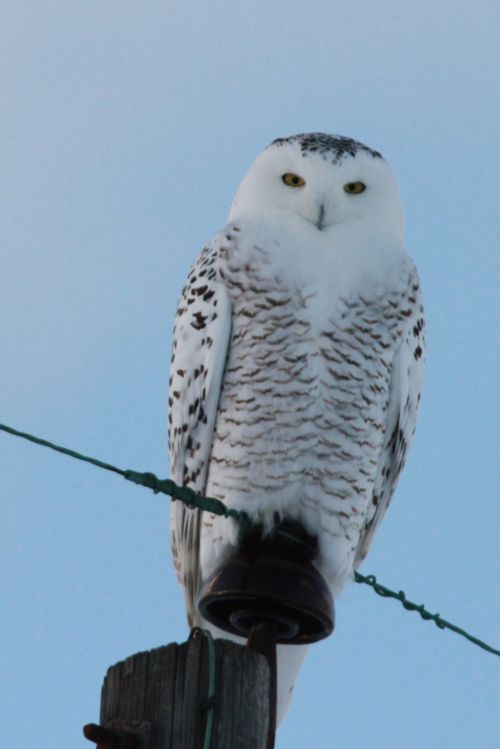 While most think of winter in Michigan as a limited time of year for wildlife viewing, many birders from both near and far know that winter in Michigan's Eastern Upper Peninsula is truly a magical time to visit. It is the birds from the far north, that come south to spend their winters in "balmy" Michigan, that make birders flock to this area. Extension educators from Michigan State University Extension and Michigan Sea Grant are helping bring more awareness of the birding opportunities through a partnership with the North Huron Birding Trail. A new online interactive winter birding map is now in place to help beginner and experienced birders locate the rare winter birds that can be found in the area.
Michigan is known by many as a birding wonderland, with a confirmed 446 species having been identified in Michigan. Most of these species are here only for the summer breeding season, or pass through during spring and fall migration. However, a small set of unique species who spend their summers in the far north regions of Canada, will head only slightly south to places like northern Michigan to escape the ultra-harsh winters of the tundra. Some interesting winter birds include a number of finch species such as pine grosbeak and common redpoll. These species eat the seeds from cones on many different types of conifers. Cone crops in the Northern Canada are highly variable, and in years where the crop is poor to the north, many finch species will head to places like Northern Michigan to feed on cones here. While the finches are often plentiful many birders make the trip to the north specifically with the hopes of seeing a rare snowy owl. A handful of these snowy owls can be found throughout the Eastern Upper Peninsula almost every winter. In certain years, known as irruption years, various factors can cause huge numbers of owls to head south.
To help birders pin point exactly where to search out winter birds, individuals from the North Huron Birding Trail created a specific interactive map to help birders navigate the region. This trail was created to share the joy of birding along the North Huron area with as many people as possible as well as to point out the importance of bird habitat in the area and to help foster economic growth of the tourism industry. The North Huron Birding Trail is a collaborative project between Michigan Sea Grant, the Little Traverse Conservancy, The Nature Conservancy, Clark Township Government, the Les Cheneaux Chamber of Commerce and the Drummond Island Tourism Association. The winter birding map can be found at www.northhuronbirding.com, as well as information on events and how to plan your stay.
Winter birding is a great way to get outside and enjoy the winter months of Michigan. Use this map to help you plan your next great Michigan outdoor adventure!
Michigan Sea Grant helps to foster economic growth and protect Michigan's coastal, Great Lakes resources through education, research and outreach. A collaborative effort of the University of Michigan and Michigan State University and its MSU Extension, Michigan Sea Grant is part of the NOAA-National Sea Grant network of 33 university-based programs.