FoodCorps Michigan: Cultivating healthy kids through healthy school diets
FoodCorps is a nationwide team of AmeriCorps leaders who collaborate with communities to make schools healthier places for kids to eat, learn and grow.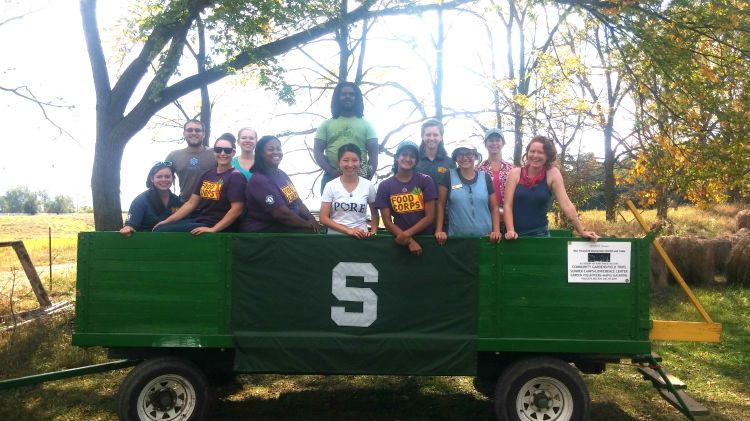 The FoodCorps national service program began five years ago to address the challenge of healthy food consumption in schools, believing that a healthy diet for kids is essential, and that it's time for every child to get the nourishment they need to thrive. Schools are where children spend nearly 25 percent of their time, consume up to 50 percent of their calories, and set lifelong habits. Currently, nine out of ten children don't eat enough vegetables, and six out of ten don't eat enough fruit. One in three of our kids are on track to develop diabetes in their lifetime. For kids of color, it's one in two. FoodCorps service members across the nation provide food-focused learning in high-needs classrooms, bring learning outside into school gardens, and support the purchase and service of nourishing, locally produced foods in the cafeteria. With these three aspects of the school food environment working together to leave a positive mark on students, FoodCorps believes that a lifetime of healthy eating can take root. This FoodCorps strategy is based on the "farm to school' approach that has been endorsed by The Centers for Disease Control and Prevention, the United States Department of Agriculture and the White House Task Force on Childhood Obesity. And in October, we celebrate National Farm to School month!
What is FoodCorps? FoodCorps is a nationwide team of AmeriCorps leaders who connect kids to real food and help them grow up healthy. In its fifth year nationally, 205 FoodCorps service members have committed to a year of public service and are making a difference at over 500 schools in 17 states and Washington, D.C.! FoodCorps is part of the AmeriCorps National Service Network and receives a portion of its funding from them, as well as from the W.K.Kellogg Foundation and a diverse array of private and public donors. Their goal is for all our nation's children, regardless of class, race, or geography, to know what healthy food is, care where it comes from, and eat it every day.
The FoodCorps program in Michigan is administered by the Michigan State University Extension Community Food Systems team – a statewide network of MSU Extension educators whose work is closely aligned with FoodCorps goals for healthy food consumption in schools and communities. FoodCorps Michigan service members serve across the state, adding capacity to community-based schools and organizations led by Site Supervisors who have already established successful food programming and extensive partnerships in communities to positively influence the school food environment.
Ten FoodCorps service members are currently located around Michigan in seven service site locations:
Crim Fitness Foundation in Flint
Detroit Black Community Food Security Network in Detroit
Detroit Public Schools
Groundwork Center for Resilient Communities in Traverse City
Michigan State University Extension – Grand Traverse County in Traverse City
Michigan State University Extension – Chippewa County in Sault Ste. Marie
Wayne State University Center for School Health in Detroit
FoodCorps Michigan service members in the 2015 program year contributed the following impacts to their service sites:
4,774 children served
1,248 student activities conducted
1,374 pounds of local food brought into cafeteria
32 cafeteria tasting events
350 community volunteers performed 1,662 volunteer hours
A few stories taken from this fall's service in school classrooms and gardens highlight the impact that our FoodCorps MI service members are having in communities around the state:
From Lauryn in Detroit: "First graders loving kale salad! This past week, a local farmer shared kale from her farm at our regional Farm to School training and I took that kale to Herrington Elementary for my lesson with first graders the following day. We talked about experiencing the kale and other salad ingredients with all five of our senses and they were so excited, they couldn't keep quiet! By the end of the lesson, I had students asking for second and third helpings! Even those who didn't care for the kale taste could say they tried two to three bites of the salad and it wasn't for them at the moment!"
From Mikaela in Traverse City: "The Chef that helped run our taste test at Platte River Elementary commented on how he is beginning to see positive changes in the eating habits of the high school students. A few years ago, it was insanely difficult to get them to try any vegetable. Since FoodCorps has been serving in the elementary schools (one of which includes sixth graders), he is noticing now that when they enter the high school they are more open to trying new vegetables, and are wasting less of what is on their trays."
From Stephanie in Traverse City: "The taste tests were extremely successful; cauliflower was cooked and distributed to the kiddos during lunch, and it was so inspiring to see them ask for seconds and thirds and fourths!"
From Jeff in Flint: "I have one parent at Holmes STEM Academy who has been taking the lead of the garden committee we started last year. She has been working out in the gardens at least twice a week and working on a flier to encourage others to join the committee this year!"
FoodCorps recruits talented leaders for a year of paid public service building healthy school food environments in limited-resource communities. The application for the 2016/2017 service year is coming in January, 2016! Sign up to get the link when it's ready.