Forages poised to be shining star for field crop profitability in 2018 for Michigan
Forage meetings throughout Michigan during March 2018 will highlight profitability opportunities with alfalfa and corn silages for farmers.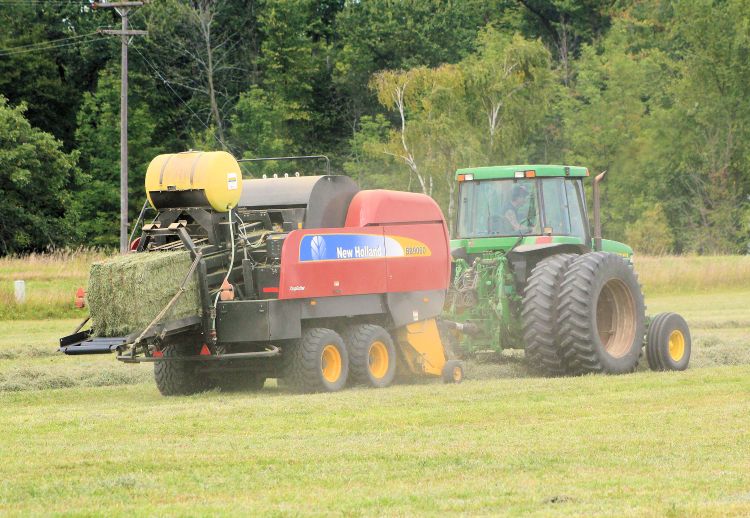 Positive net farm income levels in 2018 may prove to be one of the tougher years in recent memory for Michigan producers, especially in the field crops and dairy sectors. While this is not breaking news to anyone that farms for a living, the reality is some farms will make money and some farms will lose money this year. Farmers are evaluating what they can do to increase quality and yield, reduce costs of production, increase specific enterprise profitability, or possibly add or eliminate a segment of their operation. To keep it simple, they are striving to streamline the management of their operation and make it more efficient.
One area where farmers can make dramatic strides to increase profitability is by increasing the quality and yield of their forages in any type of operation. Dairy operations predominantly use a base of alfalfa haylage and corn silage in their total mixed ration. Increasing forage quality can reduce the need for purchased feed. The 2015 Michigan Dairy Farm Business Analysis Summary shows that the top 50 percent of dairy herds analyzed compared to the bottom 50 percent of herds, regardless of size, had an average of 17 percent less purchased feed per year. In 2016, the top 25 percent of all dairy farms analyzed showed a decrease of 10 percent in purchased feed compared to the average of all farms.
Michigan State University Extension trials have also shown that choosing an alfalfa variety or corn hybrid can lead to increases in dry matter yield by as high as 50 percent in alfalfa and up to 26 percent in corn silage when comparing the top producing to the lowest producing variety or hybrid.
One farm enterprise that seems poised to be a bright light in 2018 is dry hay sales, especially with a good growing season. According to the U.S. Department of Agriculture National Agricultural Statistics Service, inventories of total hay stocks in Michigan (Fig. 1) and the United States (Fig. 2) are at the lowest levels since 2012 and prices are increasing. For farmers willing to produce dry hay, there is usually a long-term commitment due to the initial cost of planting a perennial crop that also has high labor and machinery costs. This is good for those in the hay business when demand is high and supplies are low since not everyone can rapidly switch acres towards this commodity.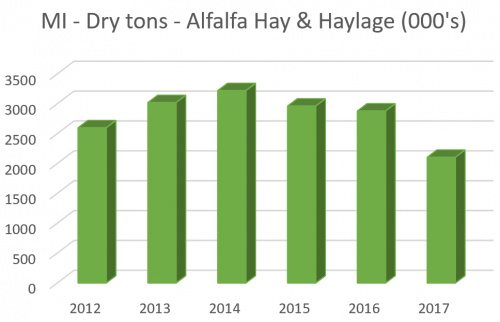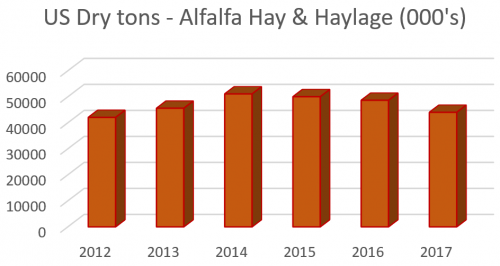 To help farmers interested in learning more about the opportunities associated with managing forages profitably, MSU Extension will be conducting regional workshops during March 2018, "Optimizing Forage Profitability in 2018." MSU Extension specialists, educators and other guest speakers will be presenting information.
Topics
Alfalfa and Grass Mixes for Higher Income and Quality
The Economics of HarvXtra Alfalfa
Choosing the Best Corn Silage Hybrid – Yield and Quality
Forage Supply Side Economics
Optimizing Manure Economics for Forage Fertility
Dates and locations
Franklin Inn, Bad Axe – Tuesday, March 13
Winding Brook Conference Center – Thursday, March 22
Branch County Fair 4-H Cabin, Coldwater – Tuesday, March 27
All locations will start with registration at 9:30 a.m. with programming from 10 a.m. – 2:30 p.m.. Cost of registration is $10 and includes lunch. Registration closes the day before each event. To register, go to: Optimizing Forage Profitability in 2018.
For more information, contact Phil Kaatz at 810-667-0341 or kaatz@msu.edu, Kim Cassida at cassida@msu.edu, or Jerry Lindquist at 231-832-6139 or lindquis@msu.edu.
Additional resources and information