Forest management – Plan ahead in the winter season
The winter season is a good time to think about making plans for your woodland. In addition to small projects, take time to think about long-term goals for your woodland as a first step in developing a meaningful plan for your property.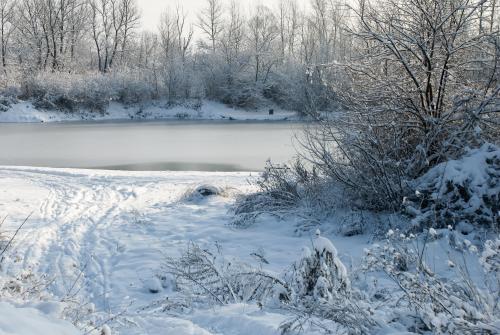 If you are a woodland owner, the winter season is a good time to think about the long-term health and condition of the woods on your property. According to forestry experts at Michigan State University Extension, the key to improving conditions on your land is to know exactly what you want to achieve and build a plan to accomplish it. Once a landowner clearly identifies what they want to improve or produce more of on their wooded property, a set of management practices can be devised to achieve those goals.
For example, many forest landowners may have a goal to enhance their forest land for wildlife. Instead of just thinking "I'd like more wildlife on my property," think in terms of what type of wildlife you want to attract and what that species requires to thrive. While all wildlife species require food, cover, water and space, the amount and location of these elements of habitat can vary greatly depending upon the wildlife species. Large animals, such as white-tailed deer, can range over greater distances to obtain what they need as compared to a cotton-tailed rabbit or fox squirrel. Depending on the wildlife species you are interested in attracting; your property may not need to provide all of the elements of habitat in order to attract that species to your property.
The next step is to take an inventory of your land to see what elements of habitat exist and what condition they are in to support wildlife. As part of this inventory process, assess how much of your land has woods, how much has openings and if there are any sources of water on the property. Once you have your goals in mind and a better sense of the conditions on your property, you can begin to develop a plan to improve the wildlife habitat. Depending on your property, some tools to accomplish your habitat goals could include: timber harvesting in your woodlands to create openings and browse areas; mowing and fertilizing natural openings to remove brush and restore native grass and forbs; planting a few fruit bearing trees and shrubs to improve the attractiveness of openings for wildlife; or perhaps planting a food plot to attract wildlife in the fall or improve the health and nutrition of wildlife coming out of the winter.
If wildlife is not a primary goal for your property, the process outlined above is similar for any goal setting situation. It all starts with creating a good set of goals and devising a plan to get there. Once you establish your goals, you can take inventory of your forest to see what already exists as a starting point to build your plan. For example, if timber management is more important to you, then you will need to cruise (measure the diameters and heights of trees) your woods to see what type of tree species are there and what size and condition they are currently in. With threats such as Emerald Ash Borer and Beech Bark Disease moving into the area, a landowner's goal may be to manage their woods to eliminate some amount of ash and/or beech trees and increase the overall diversity of other tree species on their property. To accomplish that goal, some type of thinning or commercial harvest may be needed.
Help and technical assistance is available through your local conservation district or through the Michigan Department of Natural Resources Landowner Incentive Program or USDA Forest Stewardship Program. For commercial timber sales, a landowner can also choose the services of a consulting forester or seek assistance from private forest industry, depending upon their situation. Publications on forestry and forest management are also available for free or for purchase from the MSU Extension Bookstore. If you have done your homework and have developed a concise set of goals, you will find it easier to communicate and work with any type of natural resource professional regarding your forestland.