Forgotten Harvest Farms receives the Michigan State University Extension 2018 Key Partner Award
Forgotten Harvest Farms received the 2018 Key Partner Award from Michigan State University (MSU) Extension.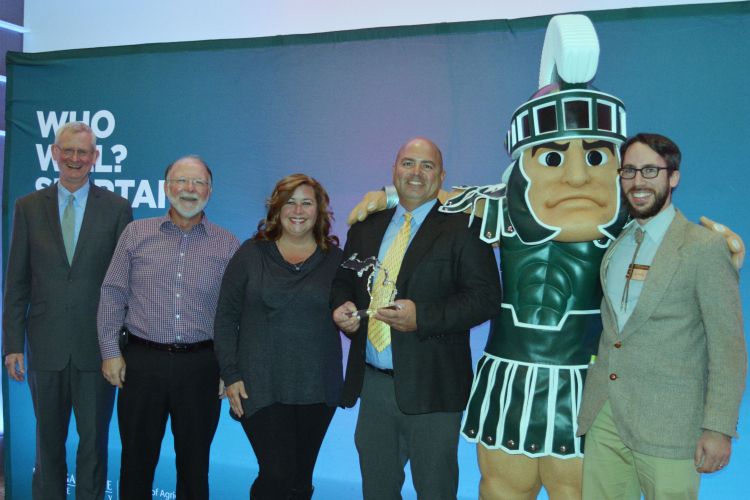 EAST LANSING, Mich. – Forgotten Harvest Farms received the 2018 Key Partner Award from Michigan State University (MSU) Extension on Oct. 16 at the organization's annual conference in Lansing, Michigan. The Key Partner Award recognizes those who have made significant contributions to supporting and promoting MSU Extension programs.
Founded in 1990 and based in southeastern Michigan, Forgotten Harvest Farms is a nonprofit organization that fights hunger and food waste. Joe Cortese, Lori Setera, Tom Williams, Mike Yancho Jr. and a team of volunteers collect over 45 million pounds of food a year from outlets such as grocery stores and restaurants and redistribute it to emergency food providers in the Metro Detroit area.
"It's truly a community-driven operation," said Mike Yancho Jr., Forgotten Harvest Farms manager. "It takes about 3,000 volunteers a year to work on this farm with us and about 15,000 in our warehouse and other activities."
MSU Extension helped to design and begin production on Forgotten Harvest Farms' 95 acres in Fenton, Michigan. Today, the farm partners with MSU Extension to host vegetable production research trials and educational opportunities for farmers. Forgotten Harvest Farms also partners with MSU, the Veterans Administration and the Michigan Works! Association to conduct a workforce development program that helps people with chronic unemployment issues learn technical skills and gain on-the-job training for agriculture-related and food business jobs and careers.
"This farm is a unique place for collaboration for researchers and fellow vegetable growers because all harvested product goes to Forgotten Harvest's partner agencies for people who need it most," said Ben Phillips, MSU Extension vegetable crops educator and award nominator. "The Key Partner Award is just one way we can say 'Thank you' for allowing us to be part of the difference they're making in Michigan."
MSU Extension works with partners across the state to help people improve their lives by bringing the vast knowledge resources of MSU directly to individuals, communities and businesses.
For more information on MSU Extension in your area, visit canr.msu.edu/outreach.