Fourth Shoreline & Shallows Conference furthers natural shoreline efforts
Strong speaker line-up addresses multiple issues during MSU's Ag and Natural Resources Week.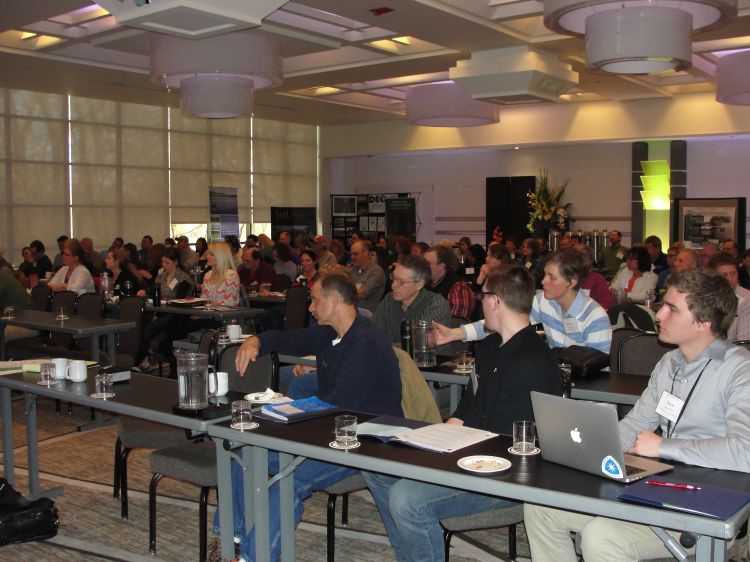 This year marked the fourth year for the Michigan Natural Shoreline Partnership's (MNSP) popular Shoreline & Shallows Conference – drawing nearly 120 participants from all over the state. Conservation partners, state agency staff, contractors, legislators and lakefront property owners came to show their interest and support for what has been called Michigan's natural shoreline "movement." All conference presentations are posted on the MNSP website.
Natural shorelines are a growing topic across the nation. According to the U.S. Environmental Protection Agency, loss of native shoreline vegetation to intense development continues to threaten lake ecosystems, water quality and tourism. Poor lakeshore habitat has been identified as one of the top three physical stressors to inland lakes nationwide, including those in Michigan. Physical impacts to lakeshore and shallow water habitats can have a profound effect on lake biological health.
Amy Picotte of the Vermont Department of Environmental Conservation, discussed "Lakeshore Protection in Vermont: Ecology, Policy, and Social Progress." Even with Vermont's thriving conservation culture, lakeshore protection was not a legislative priority until recently with the 2014 passage of a Vermont Shoreland Protection Act. Picotte showcased the Lake Wise Program, an incentive for lakefront property owners to install and maintain natural shoreline landscaping. Picotte also praised MNSP for having representatives from both public and private sectors partnering to keep Michigan's lakes healthy.
Michigan Department of Natural Resources Fisheries Biologist Chris Freiburger's talk entitled "Shoreline Restoration: Lake and River Differences and Challenges" reminded participants that rivers are more functionally dynamic than lakes, therefore requiring different approaches to shoreline erosion control. Freiburger emphasized thorough site analysis, both upstream and downstream, before implementing erosion control projects to avoid off-site impacts.
"Plant Design Processes for Lake Shorelines and Stream Banks" covered the aesthetics of shoreline management. Shannan Gibb-Randall, of InSite Design Studio, introduced ways to make natural vegetation look well-tended and appealing for hesitant homeowners. "People are willing to think outside the box, but they make really small steps," says Gibb-Randall, citing landscaping catalogs and photos as helpful tools for providing property owners with examples of sustainable designs.
Customers don't always understand the benefits of natural shorelines. Attendee Ramze Idriss, an MNSP Certified Natural Shoreline Professional and owner of Sturgis-based Idriss Company, mentioned that while many property owners are supportive of conservation techniques, many are still unaware of its importance. Idriss finds himself—like many landscape contractors—balancing between the homeowner's wants and the environment's needs. "It's a balance between the person who owns the property and what you think is right," he explained.
Brian Majka with GEI Consultants of Michigan discussed "Estimating Costs for Shoreline Installations." Majka walked through numerous situations highlighting clear communication and meticulous calculation along the timeline of a natural shoreline project.
Many conference attendees found it both useful and uplifting to see so many others promoting natural shorelines. "As more people are getting educated, it's getting easier," said Village of Paw Paw's John Small. Small helped implement a MNSP test site on Maple Lake, and has other projects around Paw Paw coming soon.
Gaye Blind and I, from Prism Science & Technology and Michigan State University Extension respectively, concluded with our case-study, "Project Results from the MNSP: What Went Right, What Went Wrong." The presentation detailed MNSP demo sites in Cadillac and Paw Paw to illustrate how natural shorelines have been implemented across the state.
Attendees had the opportunity to voice questions and suggestions on these sites, as well as on each of the presentations, demonstrating what Vermont's Amy Picotte noted as one of the MNSP's greatest strengths: a collaborative conversation among people from all backgrounds about keeping Michigan's inland shorelines healthy and beautiful.