"Freedom of Crop Choice" Brings Prosperity to Myanmar's Farmers
Myanmar's government lifted restrictions on the choice of field crops on paddy land, allowing farmers to grow more profitable crops.
By Kyan Htoo and Khaing Wah Soe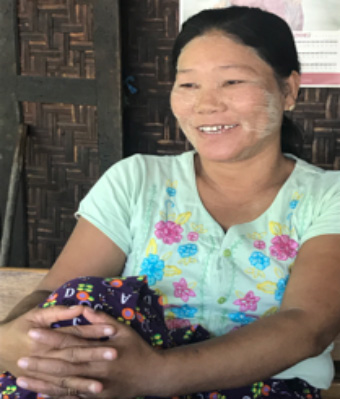 Daw Moe Htwe is a farmer from Sagaing Region in central Myanmar. At 45 years of age, she is an unmarried woman and takes care of her 90-year-old mother, together with her elder sister. Daw Moe Htwe owns nine acres of irrigated lowland, designated by the government as paddy land, and one acre of non-irrigated upland.
Photo: local farmer smiles
Until recently, the government of Myanmar, previously named Burma, forced all farmers with designated paddy land to grow rice on these plots. The goal was to ensure national self-sufficiency in rice production. Daw Moe Htwe was only permitted to grow rice on her irrigated land, in both monsoon and dry season. Cash crops like mung bean would have been more profitable but she was not allowed to plant them. Breaking this rule could have resulted in dire consequences, including fines, imprisonment, or the confiscation of her land. As Daw Moe Htwe stated, "In the past, I dared not even dream of changing from paddy to another crop."
The Feed the Future Innovation Lab for Food Security Policy in Myanmar has advocated strongly for relaxing these restrictions, to allow farmers the freedom to farm whichever crops they prefer. This advice featured strongly in an agricultural reform white paper, prepared with support from FSP, as briefing document to the incoming democratic government following its election in 2016.[1] The government was responsive to these messages, and rapidly issued an instruction lifting restrictions on the choice of field crops that could be grown on paddy land.
Daw Moe Htwe has been enjoying this "freedom of crop choice" since 2016. She has grown mung bean for two dry seasons now. She said, "If I can grow mung bean, I will do it again in the coming dry season. I hope the majority of the paddy farmers in my area also want to grow mung bean because they all could make a much higher profit than from their dry season paddy".
Growing mung bean has indeed been more profitable than rice: Daw Moe Htwe's net profit from mung bean of MMK 940,000 per acre ($695) this year was 6.7 times higher than that from rice MMK 140,000 ($105). The new crop has greatly improved her household's standard of living. Daw Moe Htwe explained that "after growing dry season mung bean I can now spend more money on food and invest more in monsoon rice paddy production than before." She has already been able to also invest some of her profit in the construction of a small shop. She rents this out to a person who sells agricultural inputs and earns MMK 150,000 ($110) per month from this service.
This new income is also boosting the entire local economy. Farmers have more cash to buy goods from local shops, and there are more job opportunities for casual workers in the area. For instance, Daw Moe Htwe employed 65 casual workers for half-day to harvest mung bean. Another benefit is that mung bean is quite light, and harvesting it is physically not very demanding; older workers can do it, and earn seasonal cash this way. Even school-age students can contribute to the harvest because it happens during their Summer vacation.
There is also another reason for growing mung bean, explains Daw Moe Htwe: "I make money earlier than with rice". Farmers can start harvesting mung bean only two months after planting it, while the dry season rice takes three months to mature. And there is a high demand for mung bean from the traders who are readily waiting for it, even at the threshing site. In comparison, farmers have to wait for the brokers to sell their Summer rice at least for a couple of weeks.
The smile on Daw Moe Htwe's face reflects her recent farming success. Reform of the rules on crop choice is bringing Myanmar's farmers a more prosperous life.
[1] White Paper: "A New Vision for Myanmar's Agricultural Development From Rice Bowl to Food Basket: Three Pillars for Modernizing Myanmar's Agricultural and Food Sector," Prepared by the National Economic and Social Advisory Council (NESAC), April 6, 2016