Fruits and veggies are easy and inexpensive to incorporate into family meals
Phytochemicals in fruits and veggies can help with everything from making your hair shiny to giving you energy. Fruits and veggies can also help stretch your food dollars.
If you are blessed to have a great variety of fruits and vegetables, and some great farm markets, U-Pick and agricultural tourism sites where you live, you should take advantage of that wealth.
Look and feel great. Fruits and vegetables have fiber, nutrients and phytochemicals. "Phyto" is Greek for plant. Phytochemicals are "plant-chemicals" that affect what happens in our bodies. They may help to prevent cancer and other diseases. They keep you healthy, give you energy and keep you regular. They can also help control your weight, keep your skin clear, make your hair shiny and keep your eyes bright.
Plan to eat more. Eat at least five servings of fruits and vegetables each day. They are loaded with a variety of nutrients. Set yourself a goal each week, and write it down. For example, write, "I'll have a piece of fruit for a mid-morning snack on Tuesdays and Thursdays," or promise yourself a treat of trying a new fruit or vegetable, and stick to the plan. The next week set a new goal in addition to the old one.
It can be low cost. This new plan does not have to cost much. Just $5 could buy about 35 servings of fruits or veggies. That's enough for one person to get five servings a day for one whole week. Buy in season, look for good buys at farmers' markets and roadside stands and look for best buys at the store. Listed are some commonly grown fruits and veggies in Michigan.
Fruits:
Apples
Apricots
Berries
Cantaloupe
Cherries
Grapes
Melons
Nectarines
Peaches
Pears
Plums
Raspberries
Rhubarb
Strawberries
Vegetables: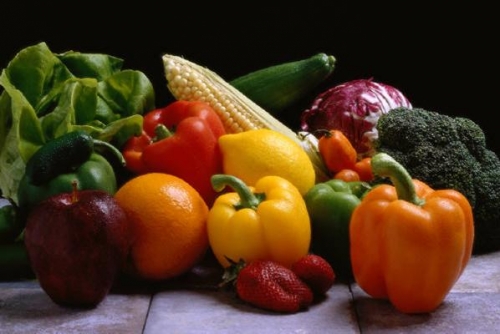 Asparagus
Beans
Beets
Broccoli
Brussels Sprouts
Cabbage
Carrots
Cauliflower
Celery
Corn
Cucumbers
Greens
Eggplant
Lettuce
Mushrooms
Onions
Parsnips
Peas
Peppers
Potatoes
Pumpkins
Radishes
Rutabagas
Spinach
Squash
Tomatoes
Turnips
Information from Michigan Public Health Institute (MPHI), Michigan Department of Community Health (MDCH) and Michigan State University Extension (MSUE) contributed to this article.