Good urban form promotes walkability and physical health – Part 1
The physical layout and design of a city directly determines how accessible, welcoming, convenient, and safe the city is for walking, all of which are important for enabling and encouraging more physical activity among residents.
Urban form refers to the physical layout and design of a city and includes aspects of the built environment such as building design, mass and density; street layout and block size; and the locations of open space and public facilities. The urban form of our cities directly determines the "walkability" of our streets and neighborhoods. Walkability refers to how welcoming and comfortable an area is for walking. Communities with urban forms that promote walkability have more physically active residents.
According to the Walkable and Livable Communities Institute, urban form affects walkability in four basic ways:
How accessible the environment is to pedestrians
How welcoming the pedestrian environment is to walkers
How convenient the area is for walking
How safe the pedestrian environment is to walkers
The first article in this two-part series describes how urban form affects the accessibility of the environment to pedestrians and how welcoming the pedestrian environment is for walkers. Accessibility refers to the degree to which the built environment allows and encourages all users to walk. To be accessible to pedestrians, a community must minimally provide a continuous sidewalk network, free of gaps and dead ends.
Accessibility also requires that streets are appropriately scaled and intersections are appropriately designed. A street that is too wide at intersections and mid-block crossings and takes too long to cross is a barrier to pedestrians and is a deterrent to walking. Street scale and intersection design must be appropriate for the most vulnerable populations – children, the elderly and disabled residents, who tend to move more slowly and be less visible. An existing street can be scaled to pedestrians by creating curb extensions that bring the sidewalk beyond the parking lane out to the edge of the travel lane, thereby reducing the effective width of the street to pedestrians (see Photo 1). Curb cuts and adequate sidewalk width (at least five feet) make the environment accessible to wheeled users, such as wheelchairs and strollers too.
Photo 1:

Curb extensions reduce the width of the street to pedestrians and make the crossing quicker and safer (Photo source: Walkable and Livable Communities Institute).
Communities that have a thorough understanding of the accessibility aspect of urban form have a network of 'complete streets' in the community in which all modes of travel – transit, driving, biking, walking, and more – are accommodated in a context sensitive transportation network. For more information on complete streets, see the MSU Extension News article What is a "complete street" and why is it important?
Making the pedestrian environment accessible to walkers by creating complete streets only goes so far, though. Walkability is also influenced by how welcoming the environment is to pedestrians. Welcoming pedestrian environments provide enclosure to the walker in the form of street trees, lamp posts, on street parking, benches, awnings and building façades that offer protection and make for a comforting, pedestrian-scale environment (see Photo 2).
Photo 2:

The presence of street trees, light posts, awnings and parked cars provide enclosure that is welcoming and comforting to pedestrians (Photo credit: Kurt Schindler).
Also, to attract and welcome people to walk by, building façades at the pedestrian level must be dominated by windows (see Photo 3), which provide transparency and allow for interaction between those inside and passersby. A building façade without windows is not very welcoming and, given the option, a pedestrian will choose to walk along buildings that have numerous windows that provide an opportunity for social interaction.
Photo 3: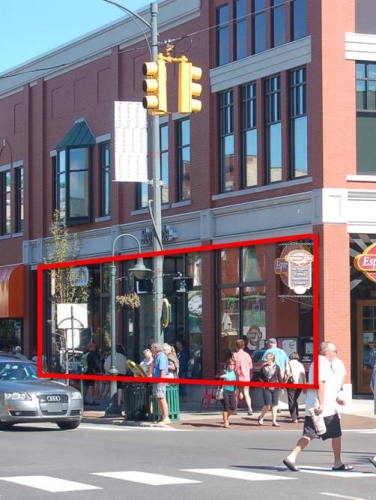 Transparency in the building façade makes for a more interesting and welcoming walk (Photo credit: Kurt Schindler).
Making the pedestrian environment accessible and welcoming are not the only considerations for walkability. The second article in this two-part series explains how urban form affects the convenience of the city for walking and the safety of the pedestrian environment. See "Good urban form promotes walkability and physical health – Part 2."