Got milk!
Breakfast on the Farm at Crandall Dairy.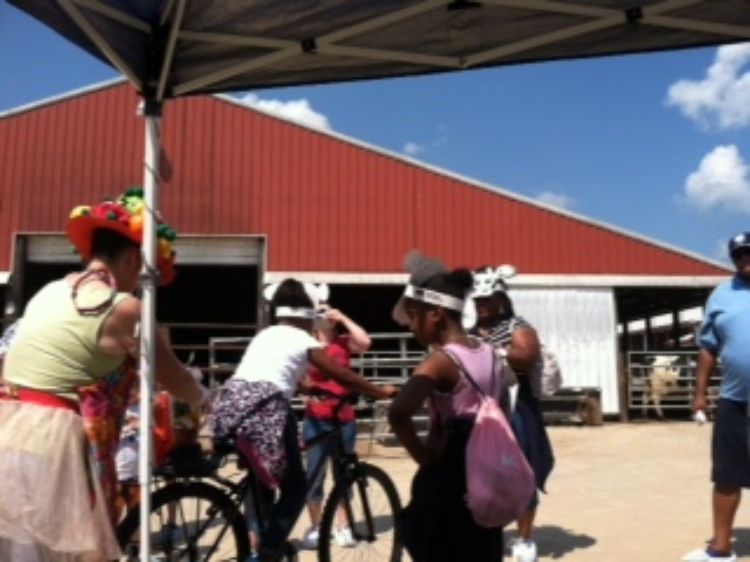 Calhoun County Michigan State University Extension hosted Breakfast on the Farm at Crandall Dairy Farm on July 19, 2014. Visitors experienced a real, working farm, plus enjoyed an old-fashioned, hearty breakfast. Witnessing the daily operations of a dairy farm was a new encounter for many people. Being able to see dairy cows and for some discovered that milk comes from cows. Farm visitors also learned that many of their favorite dairy foods come from milk which is produced by cows on a farm.
Dana Wawrzyniec, Calhoun County, MSU Extension SNAP-Ed program instructor, Kathrine Fischer, Kalamazoo County 4-H coordinator and nutrition staff and special volunteer "Vegelina Fruitopia" provided fun and interactive nutrition education activities. Healthy fruits, vegetables and yogurt smoothies were made from a human powered smoothie bike. Several youth volunteered to pedal a bike, which the back fender was attached to a blender filled with fruit, spinach and yogurt. The combination was blended into delicious smoothies that were sampled by participants. The bike blender proved to be a great healthy life style activity for 450 youth and adults who participated in this interactive activity that reinforced daily nutritional recommendations for dairy foods, plus eating fruits and vegetables.
The daily recommended servings of dairy foods for older children, teens and adults are, three cups a day; example one cup milk or yogurt; 1.5 ounces of natural cheese or two ounces of processed cheese. Choices should be low-fat or fat-free. Dairy foods provide calcium, vitamin D, potassium and protein. MSU Extension recommends that people have three servings of dairy food everyday: Low-fat milk, cheese and yogurt. It is important to encourage young children to drink milk and eat dairy foods to help them build strong bones, teeth and muscles
For those that are lactose intolerant, there are alternatives available that include lactose-reduced or lactose-free milk. Check with your doctor for further information.