Great Lakes fisheries educational session Jan. 28 will be held in Traverse City
Michigan Sea Grant coordinating daylong program on issues influencing commercial fishing on the Great Lakes.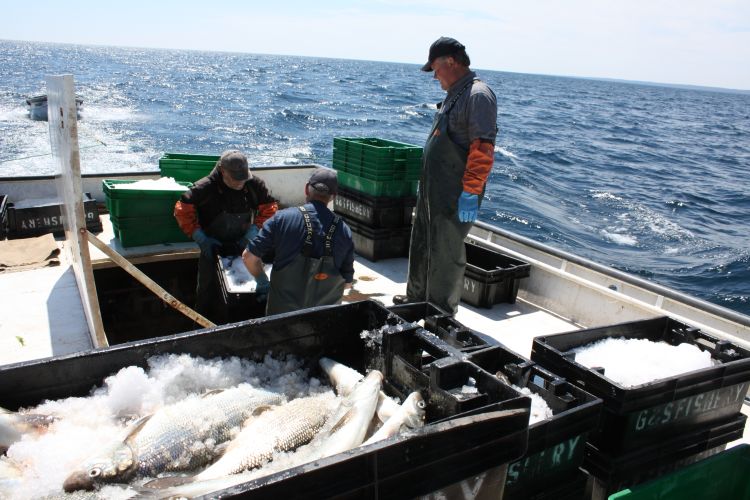 Michigan Sea Grant and Michigan State University Extension will be coordinating a daylong, educational program on current issues affecting the Great Lakes commercial fishing industry. The program will run from 9 a.m. through 4 p.m. Saturday, Jan. 28, 2017, as part of the Michigan Fish Producers Association Annual Conference at the Park Place Hotel in Traverse City.
On the agenda:
Since commercial fishers require deepwater access to the lakes for their fishery businesses, the impacts of changing water levels on the Great Lakes will be discussed. The upper Great Lakes have made a remarkable recovery from extremely low water levels to above average water levels in a very short duration.
The status and management of Great Lakes lake whitefish stocks in the 1836 Treaty Waters of Lakes Superior, Huron, and Michigan will be reviewed. The State of Michigan and the five tribes that fish under the 1836 treaty work together to manage the valuable lake whitefish fishery for both tribal and state licensed fishers.
In the Great Lakes, prey fish populations are an important part of the lower food web and research by U.S. Geological Survey on their status and trends will be presented. In recent years the prey fish populations have been at very low levels and discussions will occur related to cisco restoration to help fill this void in the food chain.
Commercial fishing is the most dangerous profession. New regulations are on the horizon for Great Lakes commercial fishers that will require special training to meet new U.S. Coast Guard requirements. This training will require boat captains to become familiar with various safety equipment and how to deal with emergencies at sea. Six Drill Conductor courses were held in the Great Lakes region last year and those programs will be reviewed along with new courses coming up in the upcoming year.
Cormorant management in the Great Lakes has kept these birds in check. Years ago these birds, which consume large quantities of fish, had populations that were largely unchecked. The U.S. Department of Agriculture-APHIS will discuss strategies they have used to keep cormorant populations more manageable and legal issues that may impede control in the future.
The Great Lakes commercial fishery generates large amounts of fish waste after the fish are processed. An MSU extension specialist will discuss how fish waste composting can be an alternative to handle fish waste.
There are coastal areas in Michigan that have a demand for lake whitefish but these needs are not being met. A discussion on this issue will ensue with the hopes of developing new markets to serve these underserved communities.
There is no charge for attending this event. For a detailed agenda, visit the Michigan Sea Grant website.
Michigan Sea Grant helps to foster economic growth and protect Michigan's coastal, Great Lakes resources through education, research and outreach. A collaborative effort of the University of Michigan and Michigan State University and its MSU Extension, Michigan Sea Grant is part of the NOAA-National Sea Grant network of 33 university-based programs.