Great Lakes Fisheries Heritage Trails Conference explores coastal tourism development opportunities
Scheduled for September 8 - 9 in South Haven, this conference will explore and celebrate our Great Lakes fisheries heritage as a means to promote coastal tourism development opportunities.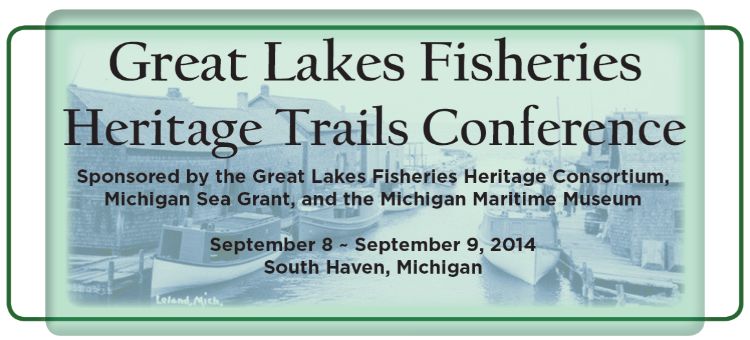 Are you at the crossroads of Great Lakes fisheries and maritime heritage, communities and coastal tourism? Please join and participate in the Great Lakes Fisheries Heritage Trails Conference on September 8-9, 2014 in South Haven, Michigan.
Discover how our valuable Great Lakes fisheries (past, present, and future) can benefit local museum programs, enhance coastal tourism development opportunities, and support community development efforts. Learn more about Michigan's Great Lakes Fisheries Heritage Consortium projects and partnerships, including current opportunities toward designating a statewide fisheries heritage tourism trail.
Sponsored by the Great Lakes Fisheries Heritage Consortium, Michigan Sea Grant, Michigan State University Extension, Michigan State University and the Michigan Maritime Museum, this two-day conference will offer:
• Business meeting of Great Lakes Fisheries Heritage Consortium is an afternoon meeting starting with lunch on Monday, September 8. Join to learn more about the planning and projects of this statewide network of organizations collaborating with a common interest in protecting and promoting our Great Lakes fisheries heritage.
• Conference kick-off and evening networking reception begins at 5:00 p.m. on September 8. Enjoy a casual evening of networking followed by a complimentary evening boat excursion. Sail on Lake Michigan aboard Michigan Maritime Museum's Friends of Good Will (1810 replica top sail sloop) or the Lindy Lou (electric launch) touring the local riverfront.
• Conference educational sessions begin Tuesday, September 9. Join in the conversation with a wealth of knowledgeable experts and speakers exploring fisheries heritage tourism and experiences of other Michigan heritage trails. Review a more detailed agenda online to learn more about educational topics and contributing speakers.
Conference features keynote speaker Janet Gilmore who joins us from the Center for the Study of Upper Midwestern Cultures, University of Wisconsin- Madison to speak about fisheries, "Foodways - The Missing Link." Janet is an accomplished fisheries folklorist who has researched and written about commercial fishing and related maritime traditions for over three decades. She will share her experiences, stories and insights connecting Great Lakes fisheries heritage and foodways.
A pre-conference learning opportunity for teachers— and all educators at heart— who wish to inspire Great Lakes stewardship through our fisheries of past and present. This pre-conference session (Monday, September 8 from 3:30 - 5:30 p.m.) explores hands-on educational strategies by which to engage youth in Great Lakes stewardship activities that make a difference in their communities. Free and open to anyone interested, this opportunity is sponsored by Michigan Sea Grant, Besser Museum for Northeast Michigan, and Maritime Museum's education committee.
Also available is post-conference oral history training for those who are staying a little longer, and want to learn how to collect and document an interview with someone who has a story to share. The Historical Society of South Haven is sponsoring a post-conference opportunity free to anyone interested in improving his or her oral interview skills in the digital age. Learn these skills alongside Dr. Laurie Sommers, a folklorist who has recorded extensive interviews with Michigan commercial fishermen.
Learn more and register online today!
Visit the Michigan Maritime Museum website to register online today! This educational program is open to everyone interested in promoting maritime heritage tourism and Great Lakes stewardship. To save your seat, please register by Friday, August 29.
Registration fee to participate in the educational Great Lakes Heritage Trails Conference is only $30.00 ($10.00 students). Registration fee includes networking reception activities (September 8) and conference participation and meals (September 9). There is no cost to participate in pre- and post-conference activities; and no cost to join as part of the Consortium business meeting Monday, September 8th.
For additional information about this educational program contact Brandon Schroeder, Michigan Sea Grant (schroe45@msu.edu – 989-354-9885) or Eden Morris, Education Director, Michigan Maritime Museum (volunteer@michiganmaritimemuseum.org) regarding registration.