Great Lakes offering warmer water for summer pleasure
Summer 2016 has significantly warmer lake temperatures than 2015.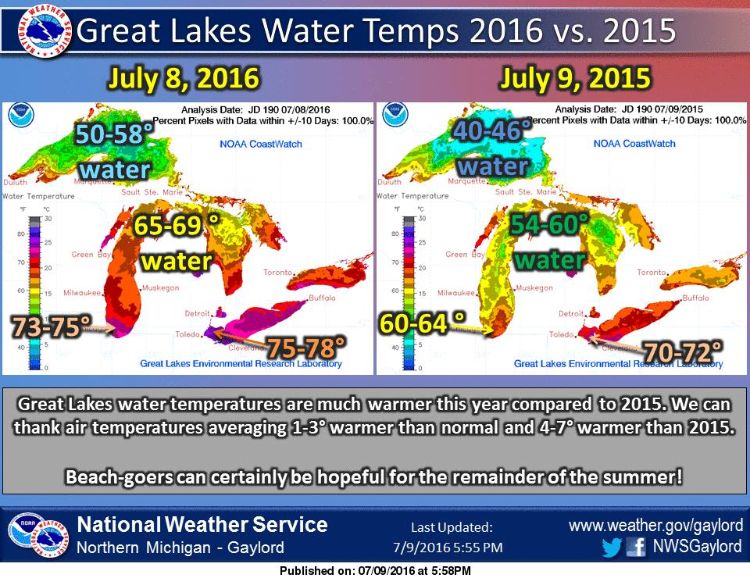 Have you had a chance to visit beaches on the Great Lakes this summer? If not, you might want to schedule a trip as the waters are significantly warmer in 2016 than in 2015. The NOAA National Weather Service Gaylord office recently released this analysis of surface water temperatures across all the Great Lakes. Parts of the Great Lakes are a full 10 degrees Fahrenheit warmer than one year ago.
You may ask what helps make the difference. Well, from the graphic, we see the air temperatures are up from the long-term average and are notably higher than in 2015, helping warm the water. This is one factor but remember, winter of 2014-15 also was a significant year for ice cover in the Great Lakes as contrasted with the winter of 2015-16, which was minimal. And probably an increased number of clear days helped allow solar rays to directly impact the water.
On Lake Michigan, the spring warmup happened very quickly and almost caught up to 2012, a very warm year on the records. The NOAA Great Lakes Environmental Research Lab has some great tools to review and compare. The Great Lakes Average Surface Water Temperatures for individual Great Lakes are available. Here is Lake Michigan's 2016 average surface water temperature compared to average from 1992-2015 showing the above average temperatures:
As you can tell from the graph, Lake Michigan (and Huron, Erie and Ontario similarly) peaks in temperature in July/August (September for Lake Superior).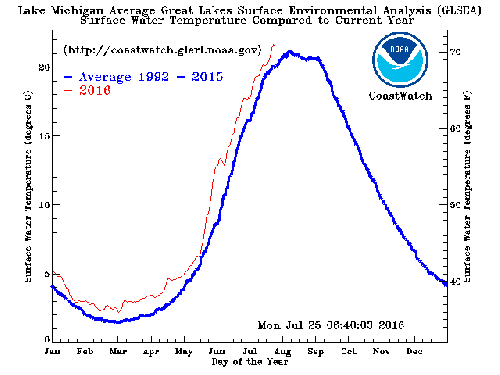 Take time to enjoy the waters of the Great Lakes during the summer and be sure to practice safe swimming and boating as you do. As a reminder, swimming in the Great Lakes is not like swimming in inland lakes due to wave conditions, sand bar formation and other factors. Michigan Sea Grant has developed some great information to assist in safe swimming at Great Lakes beaches – see the website www.dangerouscurrents.org for more info.
Michigan Sea Grant helps to foster economic growth and protect Michigan's coastal, Great Lakes resources through education, research and outreach. A collaborative effort of the University of Michigan and Michigan State University and its MSU Extension, Michigan Sea Grant is part of the NOAA-National Sea Grant network of 33 university-based programs.