Great Lakes provide the setting for award winning education in nationwide competition
Michigan FutureThink "ECO H2O Preservers" team earns $10,000 for innovative project in Sixth Annual Lexus Eco Challenge
A team of eight 8th grade students from Harper Woods Middle School is one of 16 teams from across the nation to earn $10,000 in scholarships and grants in the Lexus Eco Challenge, an educational program and contest that inspires and empowers young people to learn about the environment and take action to improve it. The Harper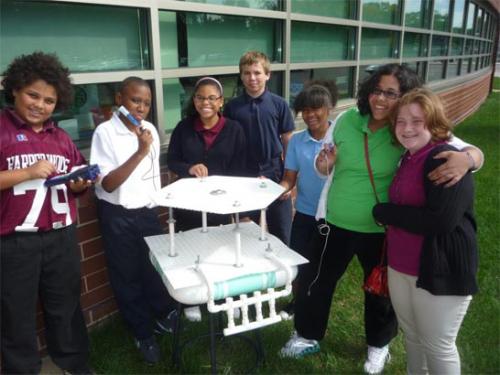 Woods team of student scientists is now qualified to participate in the Final Challenge for a chance at one of two $30,000 grand prizes.
The winning entry for the school was part of the Land/Water Challenge. Under the direction of teacher, June Teisan, the team's project investigated water pollution in Lake St. Clair and Lake Erie. Michigan Sea Grant Extension, with funding from the National Science Foundation and the National Oceanic and Atmospheric Administration, provided guidance and financial support for the development of Basic Observation Buoys (BOBs) and Basic Information Floats (BIFs) used to collect water quality data.
For each of the challenges, teams across the nation are required to "define an environmental issue that is important to them, develop an action plan to address the issue, implement the plan, and report on the results." Mark Templin, Lexus group vice president and general manager said, "The Lexus Eco Challenge gives teens the opportunity to change the world, starting with their community. With the Final Challenge of this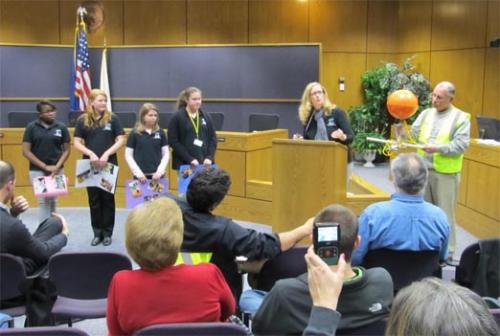 competition, we want to see how they can use their skills and grand ideas to improve the environment in the world at large. We look forward to seeing what they can accomplish." The Final Challenge will take place January – February 2013, with winners announced in March 2013.
Michigan State University Extension and Michigan Sea Grant provide numerous opportunities for teachers and their students to engage in Great Lakes learning opportunities, including the Great Lakes Education Program, Teaching with Great Lakes Data, Summer Discovery Cruises, 4-H Great Lakes & Natural Resources Camp, and National Ocean Sciences Bowl.