Greenhouse and nursery water conference recap – Part 1
Highlights of the conference included checking system efficiency, wireless irrigation networks, recycling irrigation water, designing effective water treatments and marking plants grown under water conservation practices.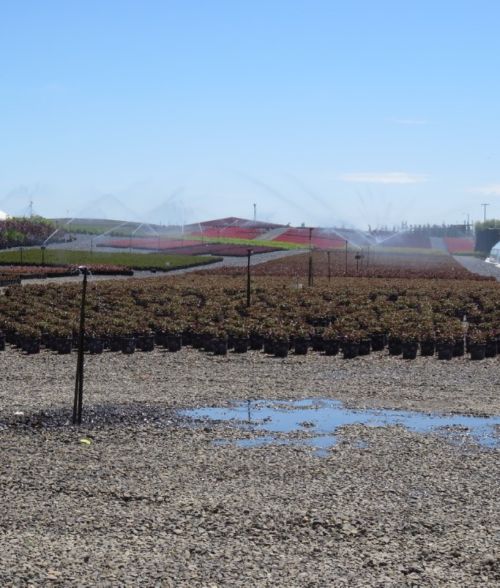 Greenhouse and nursery growers from across west Michigan attended a one-day conference July 28, 2015, in Grand Rapids, Michigan, on improving water management. The conference was sponsored by Michigan State University Department of Horticulture, MSU AgBioResearch and Michigan State University Extension, as well as the Specialty Crop Research Initiative Grant – Clean Water3 Reduce, Remediate, Recycle. Eight nationally known speakers from seven land grant universities, including MSU, shared the latest research aimed at helping greenhouse and nursery growers improve their water management (Photo 1), thus increasing their financial bottom line.
Amy Fulcher from the University of Tennessee reminded growers that cyclic irrigation is more beneficial to plant growth – at least two to three short irrigations during the daytime. She also reminded folks about the importance of checking your irrigation system efficiency. Review these factsheets on that subject: Conducting a Water Application Uniformity Evaluation for an Overhead Sprinkler Irrigation System in the Nursery and Conducting a Water Application Uniformity Evaluation for a Micro Irrigation System in the Nursery.
Marc van Iersel from the University of Georgia discussed some new research on the use of soil moisture sensors to determine when either greenhouse or nursery plants need water. This precision irrigation technology uses wireless networks connected to sensors that measure many variables and will send a wireless signal to a computer to turn the irrigation system on. The system they have been working on will soon be commercially available through Decagon Devices and will be sold as the Plant Point system. Wireless sensor system based on research van Iersel has conducted shows a 40-70 percent reduction in irrigation water applications. These reductions will vary based on the operation, location and plants produced. For more information, go to van Iersel's lab website.
Recycling irrigation water has been the focus of Sarah White from Clemson University's work. With the recent issues of algal blooms in the Lake Erie basin the past two summers, growers do need to be concerned about the runoff they have from their greenhouses and nurseries. The fact that many communities had to use bottled water around Lake Erie last summer due to poor water quality has awaken agriculture across the state. West Michigan growers may want to review White's work on vegetative filter strips (Photo 2), sediment control structures, constructed wetlands and floating treatment wetlands as all of these techniques can help to mitigate nutrient runoff from your operations. Check out more information at: Clean Water3 Reduce, Remediate, Recycle and Sustainable Nursery Production.
Part 2 will cover the rest of the topics discussed during the greenhouse and nursery water conference.
For further information on these topics, contact your local MSU Extension nursery educator.