Gypsy moth caterpillars once again attacking trees in Michigan
Large numbers of gypsy moth caterpillars strip trees in Mid-Michigan as drought hampers fungal controls.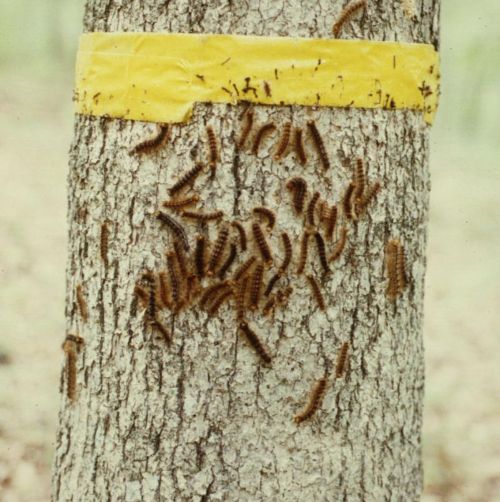 They are back! A Clinton County resident contacted the Michigan State University Extension Lawn and Garden Hotline to report heavy caterpillar feeding in maples, pines and apple trees. A few trees had lost much of their foliage. A photo of the caterpillars confirmed it is gypsy moth, Lymantria dispar. For Michigan residents that have dealt with gypsy moths in the past, it is an unwelcome sight but one that is not unexpected.
Twenty to 30 years ago, gypsy moth was a plague across Michigan, defoliating thousands of acres of trees each year. Without many natural controls, it wreaked havoc on oaks, pines, maples, birches, apples and many other species. In 1989, a fungal pathogen was found killing off large populations of gypsy moth caterpillars in Northeastern states. This fungus was identified as Entomophaga maimaiga, a natural biological control of gypsy moth in Japan.
Brought to Michigan in 1991, E. maimaiga quickly became a key factor in suppressing gypsy moth across the state. Naturally occurring in soils, it spreads to young caterpillars as they move from tree to tree. Caterpillars begin to die as the fungus grows inside them. The spores from these dying and dead caterpillars spreads by wind infecting other caterpillars. As the season progresses, large infected gypsy moth caterpillars are found dying on tree trunks. Dead caterpillars remain attached to trunks and branches, hanging straight down. E. maimaiga is so effective that areas of the state often go for years without any noticeable damage from this ferocious defoliator.
So why are gypsy moths back in large numbers and feeding on trees? Drought! The fungus cannot effectively reproduce during times of drought. A year ago much of Michigan was in a serious drought from spring to early summer. This is the time the fungus is dependent on moisture for its development and of course it is also the time gypsy moth caterpillars begin to feed on trees. Callers to the MSU Extension state hotline in 2016 confirmed that more caterpillars were feeding on trees across southern Michigan. Without consistent moisture in the spring, more gypsy moth caterpillars survived into the moth stage to produce larger numbers of egg masses. It was not unexpected to see growing populations of gypsy moth caterpillars this year.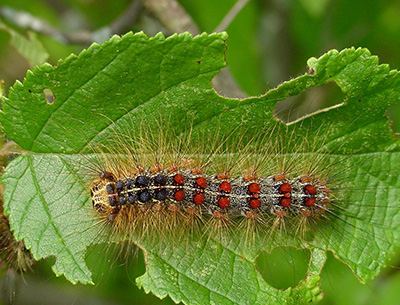 Drought is the weak link for the Entomophaga maimaiga fungus and in years when this occurs gypsy moth populations begin to grow and impact landscapes and forests. Spring droughts in 2007 and 2012 led to higher population of gypsy moth the following years. The good news is that in most years we do have adequate rainfall in the spring. Many areas in southern and mid-Michigan had consistent rain this past May, allowing for good development of the fungal pathogen.
Inspect plants now for gypsy moth caterpillars and damage. Trees that lose a large percentage of leaves to gypsy moth feeding can become stressed as energy reserves are used to produce a second set of leaves. Conifers may be permanently damaged if totally defoliated, especially pines. Valuable pines and hardwoods in the landscape can be sprayed with insecticides labeled for caterpillars, or trunks of trees can be banded with a sticky material to trap caterpillars as they crawl up and down trees. This may help on individual trees that are out in the open but may have little effect on trees in the woods where insects can move between adjacent trees.
If valuable trees are infested, you can contact an arborist to spray for the caterpillars. You could also choose to let nature take its course. In my conversation with the gentleman from Clinton County, we discussed how wet conditions in most of mid to southern Michigan this spring should lead to development of the fungus E. maimaiga. He observed that he was already seeing dead caterpillars hanging straight down, which is a symptom of the effect of the fungus on gypsy moth caterpillars. These dead caterpillars infested with E. maimaiga now become the future source of the fungus in this area protecting trees for years to come.
Michigan is a large state with different weather patterns. While one area is in a drought, another site can be experiencing heavy rains. Awareness of where spring drought occurs can provide an early indicator for possible gypsy moth outbreaks. Nature provides many clues if we pay attention.