Healthy options in U.S. ballparks
Traditional ballpark food is known to be high in calories and fat. Healthier options, however, are becoming available throughout the United States.
Many associate spring with the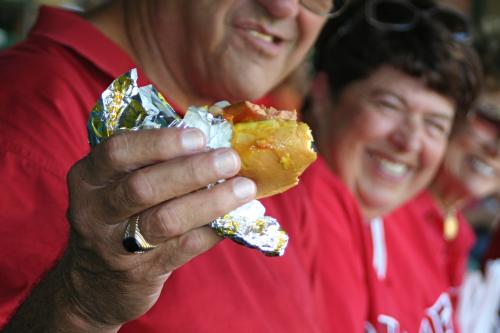 beginning of baseball season. Spending the day at your favorite major league ballpark can be a lot of fun, and who doesn't love hotdogs, nachos and other traditional game foods as part of the experience?
Unfortunately, foods that tend to be a staple at sports events are often greasy and high in calories. These foods are OK for those who don't mind splurging once in a while. However, if you're striving to eat healthier or just can't handle greasy and fatty foods, the good news is that many ballparks are starting to offer healthier options.
Here are examples of some "healthier eats" now available at some of the U.S. major league ballparks:
Grilled Vegetable Panini (Angel Stadium, Anaheim, CA)
Vegetable Lo Mein (Busch Stadium, St. Louis, MO)
Sushi (Comerica Park, Detroit, MI)
Custom-ordered Salad (Coors Field, Denver, CO)
Turkey Wrap (Fenway Park, Boston, MA)
Made-to-Order Pasta (Miller Park, Milwaukee, WI)
Fresh Fruit Platter (Minute Maid Park, Houston, TX)
Blackened Salmon Sandwich (Safeco Field, Seattle, WA)
Roasted Tomato Hummus with Pita Chips (PETCO Park, San Diego, CA)
Michigan State University Extension encourages you to remember that healthier food choices can become higher in fat and calories just by adding condiments like ketchup, cheese, sour cream and salad dressing. Adding "sides" like soda, potato chips and french fries will also increase your caloric intake.
U.S. Department of Agriculture's MyPlate offers tips for eating healthy while eating out. The American Heart Association also has information for those interested in substituting nutritious foods for the unhealthy options when you are not eating at home.