Healthy vending machine allows fresh and tasty options for school community
Manistee Area Public Schools receives funding to implement healthy vending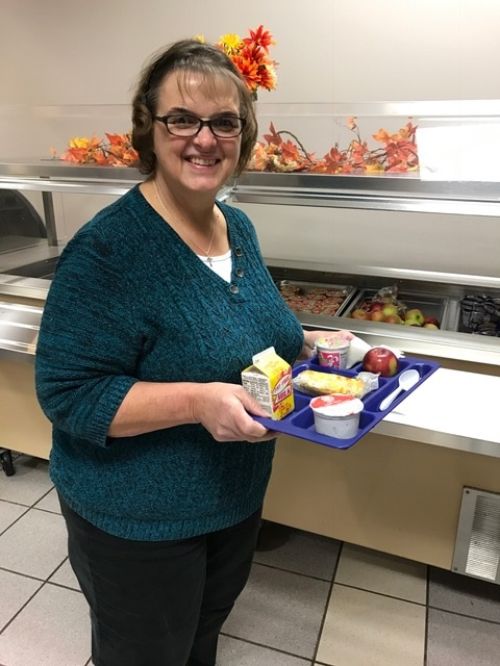 Great things are happening in Manistee to support community health! The Manistee County Community Foundation and District Health Department #10, in partnership with Live Well Manistee recently announced seven grant awards totaling nearly $40,000 through the Live Well Manistee Collaborative Grant Program. The goals of the funds are aimed at benefiting the health and wellness of Manistee County children and seniors by improving access to healthy food.
One of the seven recipients of this collaborative grant is Manistee Area Public Schools (MAPS). MAPS, under the leadership of veteran Nutrition Services Director Kathy Gutowski, purchased a refrigerated vending machine to increase access to healthy food choices. I caught up with Kathy at a recent Live Well Manistee Coalition meeting to learn more about this new healthy vending option.
Sarah: Where did the idea or need for a healthy vending option come from?
Kathy: We have talked about a healthy vending machine for several years. MAPS have many students who stay after school or come in early for sports, quiz bowl, after school tutoring and other activities. I have been in the student common area many times and see bags of fast food being eaten. If we have a vending machine available, our students can access healthy options instead of driving off campus. It also gives visitors who are in our building after hours the option of purchasing healthy foods.
Sarah: What types of food will be stocked in the machine and who will source them?
Kathy: MAPS Food & Nutrition Service will plan on a providing variety of food – fresh apples, oranges and pears, shaker salads, yogurt, string cheese, zero calorie beverages (we will not vend any soda), 100% fruit juice, wraps, deli sandwiches, baked chips. We will change up the products to keep everything fresh and new. We plan on offering Michigan products when available. Our staff will prepare the food and stock the machine.
Sarah: How do the foods available in this new machine compare with typical vending options?
Kathy: We will not offer any candy/sweets. All products will meet the Smart Snacks in Schools criteria.
Sarah: When will the refrigerated vending machine be accessible?
Kathy: The machine will be available 24 hours a day – 7 days a week. It is temperature controlled so it is not possible to turn it off during certain time periods. We will look at what is happening during the school day because students are only allowed water in our academic area. It will be important to have it available during after school events that take place. The vending machine is tied into our Meal Magic Point of Sale System. If a student has money in their account they will be able to take money from the account. It will also vend reimbursable breakfast and lunch meals – we are very excited!
Sarah: What has the response been among the school community? How have you marketed the new machine?
Kathy: The machine is one week or so from arriving. We have not yet announced it to students, but I know they will be excited. I have had many students ask if something like this could be done. We have signage we will put up and will send pictures to students of new items as we prepare them. We will also have a menu board.
Sarah: You will be retiring soon from MAPS. How long have you served as Director of Nutrition Services and what are some changes you have made within school food you are most proud of?
Kathy: Yes I am retiring on November 12, 2016. I have been with MAPS since September, 2001. There have been many changes. The Healthy Hunger Free Kids Act of 2010 was the most significant change. We have always balanced calories and fat but the restrictions that came down from the USDA were major. Products that we served that were not whole grain had to be eliminated and some new products were not acceptable. Food manufactures have come a long way in the last 4 years to make this look and taste good. The thing I'm most proud of is bringing Farm to School to our lunch program. It gives kids more variety and supports the local economy. I have made so many wonderful relationships through this program. Our new Director will be Keri Carlson. Keri has worked for MAPS Foodservice for 24 years. She is bright, hard working and very qualified to take this position. I'm excited to see what changes come in the next few years.
Sarah: Thank you Kathy for supporting the health of Manistee children!