Help provide 4-H Participation Scholarships for youth on Giving Tuesday!
Join the #GivingTuesday movement! Help us reach our goal of raising $1,000 to provide 4-H participation scholarships for 100 youth.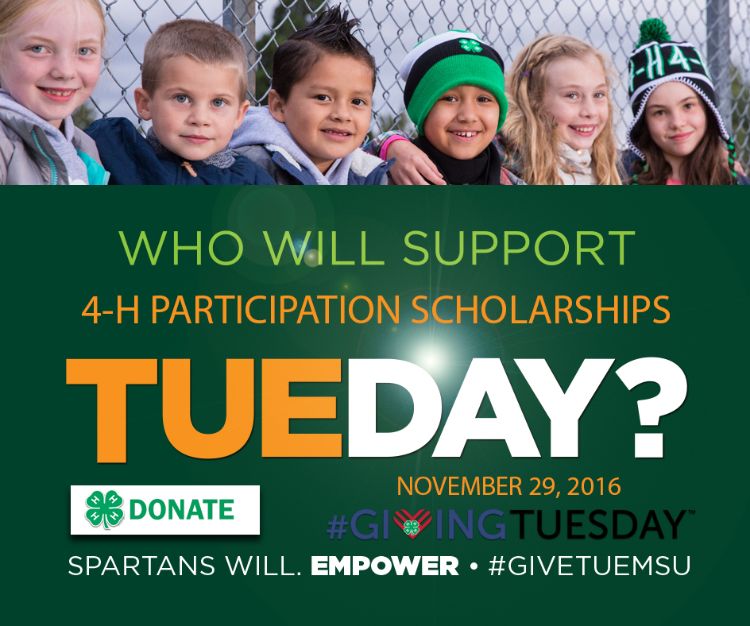 Michigan 4-H, a signature program of Michigan State University Extension, engages more than 200,000 young people each year. To support youth in this program, MSU Extension encourages you to join in the #GivingTuesday movement to help raise $1,000 to provide 4-H participation scholarships for 100 youth. By making a donation on #GivingTuesday, you can help to grow this fund which supports Michigan youth unable to cover the cost of joining 4-H.
Each year, youth are asked to pay a 4-H participation fee of $10 per year to help cover program costs. Despite the low cost, this expense can be a financial burden for some families. As a result, the Michigan 4-H Foundation raises scholarship dollars to cover these program costs, ensuring no Michigan youth is ever turned away from participating in 4-H.
Every $10 donation received on #GivingTuesday will provide one young person with the gift of 4-H, making a difference both today and in the future as you help to grow current and future leaders through 4-H.
As a part of Michigan State University's Day of Giving, if the goal of $1,000 is reached, an additional $1,000 will be received, doubling the impact of your gift and doubling the number of 4-H participation scholarships!
#GivingTuesday is the biggest giving day of the year. Show your support of 4-H with a gift today. Your donation, large or small, will help provide 4-H participation scholarships to Michigan youth in need!