2023 Michigan Hop Management Guide now available
Updated management reference available for Michigan hop growers through Michigan State University Extension.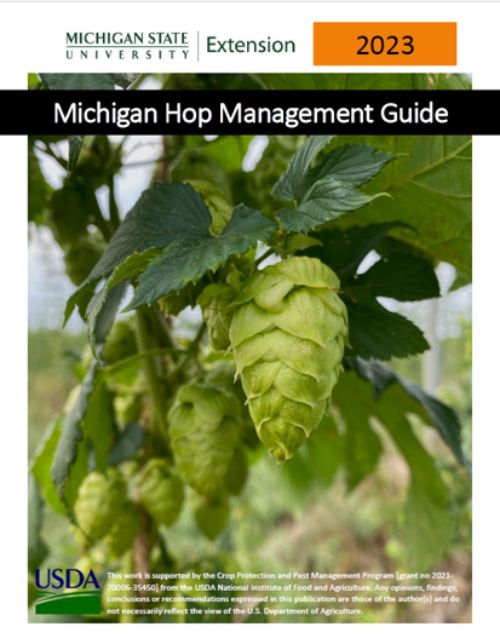 In an effort to assist hop growers in making pesticide and nutrient management decisions, an updated "Michigan Hop Management Guide" has been completed and is available for free at the Michigan State University Extension Hops page. The guide includes an updated list of registered pesticides, nutrient management recommendations and a guide to seasonal pest occurrence and management activities.
Exporter note
The U.S. Hop Industry Plant Protection Committee has actively sought harmonization of pesticide regulatory standards (maximum residue levels or MRLs) in key customer countries for the past three decades. As U.S. hops are exported worldwide, ensuring consistent regulatory standards between the U.S. and export customers avoids trade issues and interruption of shipments. Some countries do not allow application of certain plant protection products or have lower MRLs than in the U.S. If you export hops, you will need to comply with international MRLs.
Export restrictions apply to pesticides included in this guide. Growers planning to export their hops should carefully and often review the Hop MRL Tracking Chart and contact info@usahops.org for more assistance.
Stay in touch
MSU Extension will host the Hop Chat Series starting in May. Registration will open soon.
To stay in touch including program announcements and timely management information, please sign up to receive MSU Extension's Hop & Barley Production Newsletter, and follow the Michigan State University Hops News Facebook page.
This work is supported by the Crop Protection and Pest Management Program [grant no 2021-70006-35450] from the USDA National Institute of Food and Agriculture. Any opinions, findings, conclusions or recommendations expressed in this publication are those of the author(s) and do not necessarily reflect the view of the U.S. Department of Agriculture.