Hop market update
United States hop inventory down from 2014.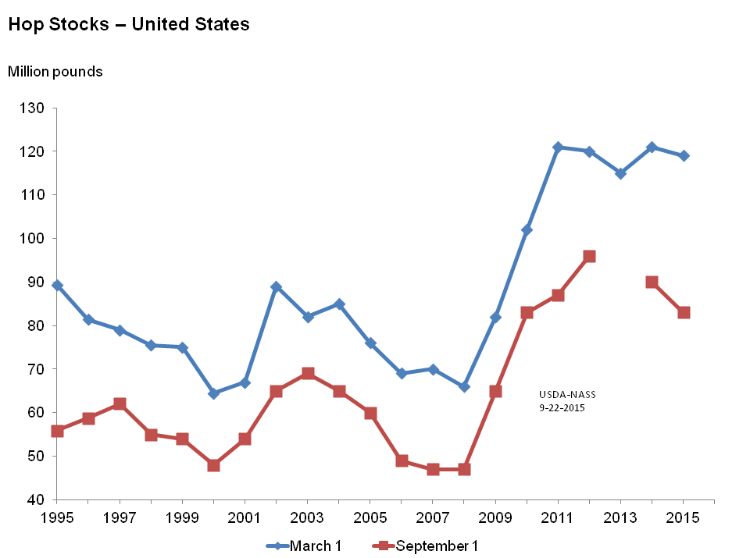 The USDA National Agriculture Statistics Service recently released the September Hop Stocks report. The report suggests that current U.S. hop inventory (held by growers, dealers, and brewers) is 8 percent lower compared to the same time in 2014. The overall inventory held by growers, dealers, and brewers was approximately 83 million pounds. Interestingly, brewer's inventory was 14 percent lower than in 2014, while dealers and grower holdings were down 2 percent. These data do not account for production outside of Washington, Oregon, and Idaho.
Bart Watson, the Chief Economist at the Brewers Association, contends if craft beer assumes 20 percent market share by 2020, which it is on track to do, then U.S. hop growers will need to grow an additional 12,000 acres of hops. This represents $180-250 million in necessary investment and assumes no increase in per barrel hopping rates or exports. There must also be investments in harvest and post-harvest infrastructure. While Pacific Northwest growers are expanding to meet this demand, Michigan growers may have an opportunity to expand production as well. If you would like more information on hops please visit the Michigan State University Extension hops website.
If you are interested in accessing past USDA NASS reports you can do so free of charge at the USDA NASS website. You can also sign up for a free email subscription for both national and state reports as well. For more information visit the webpage and click on "Receive reports by email", "follow NASS", then click on national or select the state.