Horse owners may be able to save money by using large round bales
Selecting the right round bale feeder can reduce costs for horse owners.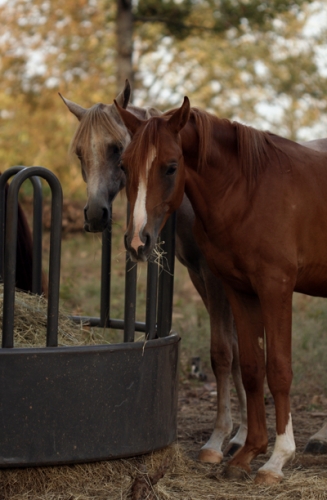 During the summer of 2011 there were parts of our nation that experienced severe drought or flooding conditions that left hay supplies very tight. As horse owners secure the hay they need for the rest of winter, one option they might consider is the use of large round bales. There are advantages and disadvantages to any system used by producers and the use of round bales is no different.
Here are some things to consider when using large round bales.
Round bales usually cost less on a per ton basis. According to the Michigan Hay Sellers List, small square bales averaged approximately $165 per ton compared to large round bales that averaged approximately $107 per ton. Go to the Hay Listing Network website for a complete listing of hay found on the Hay Sellers List.
Storage whether inside or outside can be an issue. Bales stored outside may lose a significant percent of the bale due to moldy or wet hay. Round bales stored outside should be raised off of the ground and wrapped in plastic or covered with a heavy tarp that provides sufficient ventilation.
Specialized machinery may be needed to handle round bales. Most large round bales will average 500-800 pounds per bale, so having a large enough tractor and a bale spear to move these bales is a must.
Expect horses to waste more hay with large round bales. Since large bales are fed outside, rainy weather or mud can have an effect on hay losses, horse intake and weight loss. Feeders should be moved to a high and dry location as often as necessary.
A round bale should be fed within 7 to 10 days, therefore four to seven horses are ideal per round bale. Depending on the number of horses being fed, you may see either wasted hay with lower numbers or overcrowding around the feeder with larger numbers.
A different feeding system may be required when using large round bales. What kind of feeder used and where it's located may be a concern and would affect the total feed cost per horse.
A recent study from the University of Minnesota Extension by Dr. Krishona Martinson compared nine different round-bale feeder designs to a no-feeder control to investigate horse safety, hay waste, horse weight change, and economics of feeder payback. Her results highlighted the differences between types of feeders. The loss in wasted hay for the feeding system studied ranged from a low of 5 percent wasted hay up to the high of 57 percent for the no-feeder control. The results showed that the feeder design affected payback. Read the study, Selecting a Round-Bale Feeder For Use During Horse Feeding, for more information.
No matter what type of system horse owners use for their horses, careful consideration about the feeding program should be at the top of their management list since hay makes up a large portion of the winter feeding costs.