How integrated pest management saved a hop farm from downy mildew
Establishing an integrated pest management program with diligent scouting is crucial for any farm.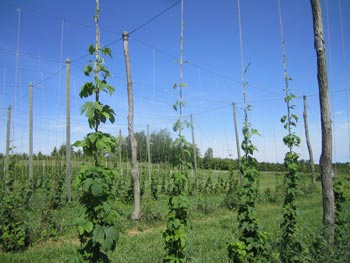 The effects of downy mildew on a farm can be devastating, causing substantial yield and quality losses. By implementing a strong integrated pest management (IPM) program with diligent and regular scouting, it is possible to stop an initial infection before it stems into a significant outbreak. Luckily, this was precisely the case for Brian Tennis at New Mission Organics.
Photo: Hopyard at New Mission Organics.
Located in Omena, Michigan, a small community in Leelanau County, New Mission Organics is a 30-acre certificated organic farm with 10 acres in certified organic hops. It is owned and operated by Brian Tennis and his wife, Amy. In the spring of 2013, it was confirmed that one of their Centennial varieties was infected with downy mildew. "The last thing you want in your hopyard is downy mildew," said Tennis. "It can really destroy your entire field."
Tennis relies heavily on the help and guidance of Michigan State University Extension. In fact, it was Michigan State University Extension's IPM educator Erin Lizotte that confirmed the infection was downy mildew. She found it on the Tennis' farm while inspecting some newly planted hops. "As with many plant diseases, downy mildew of hops has to be treated on a protectant or pre-infection basis and can spread quickly once established," said Lizotte. "By identifying the issue early through scouting, the Tennis' were able to avert a potentially devastating epidemic."
When it comes to diseases like downy mildew of hops, Lizotte says you don't want to mess around. Timely and aggressive treatments are necessary to save infected plants and protect healthy tissue and plants. Being on top of your scouting game is a must for Michigan hop growers.
"There is no substitute for spending time scouting in your hop yard, particularly when it comes to managing for insect and disease pests," said Lizotte. "Consistent and thorough scouting can save growers from applying unnecessary pesticide applications and crop loss due to pest damage." Scouting for insect pests and disease involves deliberate and thorough evaluation of the hopyard and includes closely inspecting a subsample of leaves for pest and disease symptoms as well as an overall appraisal of the yard.
Tennis was blunter. "If we didn't scout, we probably wouldn't have had a crop. And if it wasn't for Michigan State University Extension, we wouldn't be farming."
The Tennis' were able to utilize an organic copper formulation to protect healthy plants from becoming infected with downy mildew. They also used renovation techniques like removal of infected bines to fight established infection. As part of their IPM plan, they will be preparing to treat protectantly in the spring as soon as the first shoots begin to expand.
Aside from discovering downy mildew, Tennis' IPM program plays a very important role on the farm. "By proper scouting, we're able to increase our yields and quality of hops tremendously," said Tennis. "We're able to be proactive in sprays and react quickly enough to pests before they get out of hand. We've had very few outbreaks because of scouting and spray protocols."
Tennis went on to explain how crucial it is to keep a detailed spray log and to be proactive with sprays to have a successful IPM program. He also believes it's imperative to have a scout. "A scout pays a lot more attention and they have a lot better background when it comes to being out there every day," said Tennis. "You've got to be proactive with a lot of these insect pests. By the time you see them on the plant, it's almost too late. They will show up – it's just a matter of time."
Looking for new ways to step up their IPM program is always on the forefront. In the spring, New Mission Organics will be adding a couple dozen sheep to the farm to help with weed management. The sheep will eat the weeds and defoliate the bottom 2-3 feet of plants. Tennis got the idea from a trip to New Zealand recently as part of the USDA's Beginning Farmers and Ranchers program. In fact, he's even writing a grant with Sustainable Agriculture Research and Education (SARE) to study sheep in hopyards usage.

(Left) Sheep in a hopyard, like in this picture taken in Sierra, Nevada, will help with weed management. (Right) Hopyard in New Zealand.
Implementing a strong IPM program is crucial in having a successful crop. IPM is a holistic approach to pest management that seeks to maximize profits and minimize environmental impacts production. If you want to brush up on your pest management skills, improve your IPM practices and learn about MSU's great resources, consider attending the 2014 IPM Academy, Feb. 18-19, at the Okemos Conference Center in Okemos, Mich. This two-day workshop includes presentations and sessions from a number of MSU's research and extension faculty, offering a rare opportunity to hear from experts working in a variety of disciplines and cropping systems in a single event.
The cost of this event is $225. Michigan pesticide recertification credits will be available; the exact number will be based on session selection, but participants can expect at least seven credits (private or commercial core available). For more information on the program, a full agenda or registration, visit http://bit.ly/ipm-academy14. To register by phone, contact Betsy Braid at braidbet@msu.edu or 517-884-7081.