Summer meals help close the nutrition gap
Summer Food Service Program provides nutrition and social interaction for area youth in Kingsley.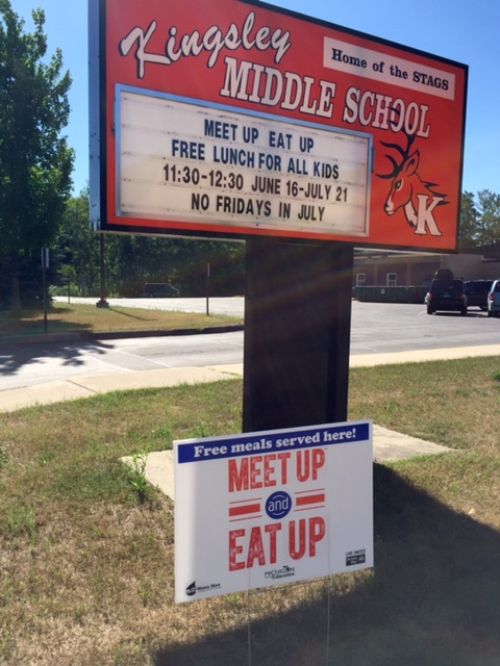 With the end of the school year, millions of low-income children lose access to school lunch and/or breakfast. The U.S. Department of Agriculture Summer Food Service Program (SFSP) is designed to promote food security by providing free healthy meals to children and teens in low-income areas when school is not in session. Summer is an especially critical season for these children, as research has illustrated a growing risk for both hunger and obesity during these months. The Food Research Action Center, or FRAC, a leading national organization working to end hunger and undernutrition, publishes an annual report documenting the progress of summer meal programs. FRAC refers to the summer months as a "summer slide" in learning meaning low-income children are likely to return to school in the fall, further behind their higher-income peers.
Kristy Donner is currently completing her first year as the Food Service Director with Kingsley Area Schools. According to data from the Michigan Department of Education, Kingsley is the only site in Grand Traverse County serving as a Summer Food Service Program sponsor. I reached out to Kristy to learn more about her experience operating summer meals.
Historically, the number of children who utilize the USDA Summer Food Service Program has typically been significantly lower compared to participation within school breakfast and lunch programs. What efforts have you done to reach the community and increase awareness of this program?
Kristy: I have utilized the community boards in our libraries, banks and grocery stores to advertise our program. I also use social media and email stakeholders to help spread the word about our Summer Food Service Program – anyone is welcome!
Where is your summer meals program located and what are the hours of operation?
Kristy: We serve lunch from 11:30-12:30 in the Kingsley Area Schools Middle School cafeteria, 402 Fenton Street Kingsley.
What does a typical menu look like?
Kristy: A typical menu includes our main entrée, choice of vegetables, fruit, and milk. We also offer peanut butter and jelly daily as an alternative to our main entrée.
Do you source any seasonal food from local farmers or growers?
Kristy: I have not sourced local food this year, but hope to work with local farmers and growers next year.
According to the Michigan Department of Education, the Kingsley site is the only Summer Food Service Program operating in Grand Traverse County, how long has Kingsley served as a summer meal site and what advice do you have for encouraging more sites in the future?
Kristy: I believe Kingsley has been participating in the USDA Summer Food Service Program for the past five years. First, I would encourage schools to complete their free and reduce school meals application for the school year to help meet summer program requirements and determine eligibility. Second, I would encourage local community sites like libraries, community centers, churches, or public housing to consider serving as a sponsor, or host for summer meals. It is important programs, like summer meals, are fully utilized so they can continue to operate every year. I always suggest getting friends out to visit a meal site.
What challenges and successes have you observed as you operate this program? How can the community help you address challenges?
Kristy: It is a joy to see how excited the kids are to be offered a healthy meal. For some, this may be the best meal they are getting all day. It is also great to see the kids interacting, playing and enjoying their friends they see throughout the school year. Without the summer meal program, they may not have these positive relationships with people outside of their home. This is my first year of operating the program. Some of the challenges I have observed are related to transportation – just getting the child to and from the school site to eat. In some cases, there are families that live several miles from the summer meal site. They are unable to walk and/or do not have transportation. In addition to transportation, another challenge is promotion – getting the word out among the community that the program is available. I think the community can help address some of these challenges by continuing to allow us to advertise and promote the program through their communication outlets. Partnering with community summer day programs that could utilize our meals program could boost participation and reduce transportation barriers. I have observed our participation significantly increase when the local church is holding vacation bible school.
What have you heard kids or parents say about the program?
Kristy: Kids are excited for certain lunch items and are always happy to see their friends participate. Some parents have mentioned that they are happy we are still offering the Summer Food Service Program and how other neighboring communities are no longer offering the program. Some parents don't realize that any child 18 and younger is eligible and invited to participate.
Consistent, healthy meals are critical to the health and wellness of low-income children, especially during the summer months. Are you interested in learning more about The USDA provides leadership to expand program access and promotion through several tools available on their website. Michigan State University Extension encourages communities to consider how they can help reduce hunger among children by supporting the USDA Summer Food Service Program.