Ice cream with a local twist
A look inside Grand Rapids' award winning Love's Ice Cream, and the importance of local food in their business model.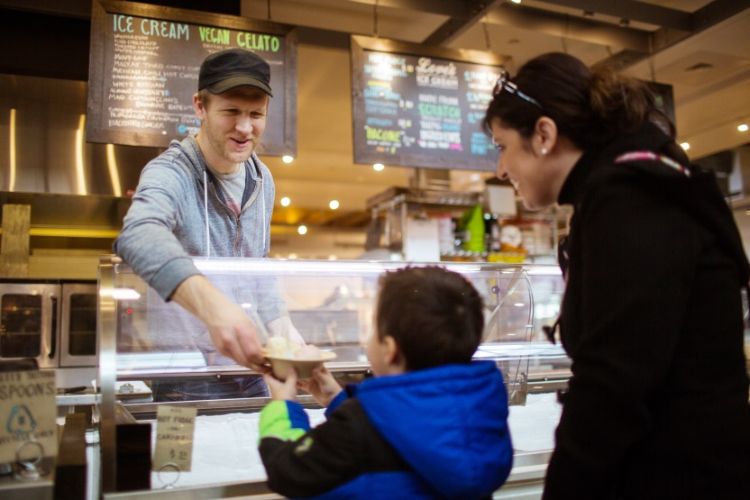 In November 2014, the MSU Product Center hosted its seventh annual Making It In Michigan conference and tradeshow at the Lansing Center. This event provides specialty food entrepreneurs with an opportunity to showcase their products and connect with retail buyers. During the conference, awards were presented recognizing outstanding MSU Product Center clients.
The Start-up to Watch Award recognizes an emerging company that has made tremendous progress and has great potential for expansion. The 2014 Award was presented to Chris McKellar, Owner of Love's Ice Cream. Love's Ice Cream focuses on creating the highest caliber ice cream made with Michigan ingredients. Love's Ice Cream also was one of three businesses at the conference to win a year of guaranteed shelf space at each of the three Westborn Markets located in Metro Detroit. Love's Ice Cream is located at the Grand Rapids Downtown Market.
Despite McKellar's passion for fresh, organic food, his journey did not begin in the food business sector. Initially, Chris worked as a web developer, but knew he wanted a change. "While I don't remember a distinct moment where I decided I wanted to start up a food business, I felt a lack of control over what was in my food and where it came from for quite some time. The rest of the business just sort of stemmed from that lack of control and my passion for food," said McKellar.
After deciding to pursue his passion for food, McKellar decided to enroll in the Secchia Institute for Culinary Education in Grand Rapids. After taking some culinary classes and rekindling his passion for cooking, Chris began to brainstorm his next career move. In the midst of his job search, he heard that the Downtown Market was looking for a frozen dessert vendor. He felt that he could offer a unique product that no one else in Grand Rapids had created and liked the central location of the market, as well as the opportunity to work closely with other local businesses.
From the day the Downtown Market opened in September 2013, Chris and his crew have worked diligently to ensure creative, fresh and delicious ice cream. McKellar also strives to create as many connections with local businesses as he can, especially if they align with his business ethics in terms of organic and non-GMO foods. Chris sources the majority of his fruits, vegetables and herbs from western Michigan, resorting to statewide or Midwestern distributors only if his demand cannot be met locally or if the vendor's business practices do not align with his own.
In addition, Chris often features other businesses in Grand Rapids into his many flavors. Some examples of flavors with a local flare include: Almond Croissant, which is made with Field & Fire, (another Downtown Market vendor) pastries; strawberry cheesecake, studded with Sparta strawberries and cow's milk cream cheese sourced from Dancing Goat Creamery in Grand Rapids and lastly, good ol' fashioned cappuccino, made with a brew from Grand Rapids' Madcap.
While Chris may make sourcing locally seem effortless, it can be quite a challenge sometimes. McKellar said, "I try to source as much as I can in Michigan, but there are some circumstances where prices will be leaps and bounds different from their Michigan-grown counterparts. Take strawberries, for example. Comparing the price of organically grown strawberries in Michigan verses California, the price is substantially different, so I only use the Michigan strawberries in flavors where I need a smaller volume. I will source the organic strawberries from California for items such as strawberry sorbet, where the volume needed is much higher."
Another roadblock Chris has encountered while trying to source locally includes finding a milk source from Michigan that is pasteurized, grass-fed and organically raised that can provide the quantity he needs. McKellar is currently sourcing milk from Kalona, a small Iowa-based dairy focusing on milk from grass-fed cows, and cream from Organic Valley, which is a national farmer-owned cooperative headquartered in Wisconsin.
Michigan State University Extension and the MSU Product Center support local food sourcing and can help connect food producers like McKellar. As Chris puts it, "local food sourcing is important because it creates the freshest product and it strengthens and revitalizes the local economy. I also prefer to support my neighbors rather than an out-of-state corporation."