Improving your public speaking, part 2: What's the point?
Simple exercises that folks of all ages can do to improve their public speaking.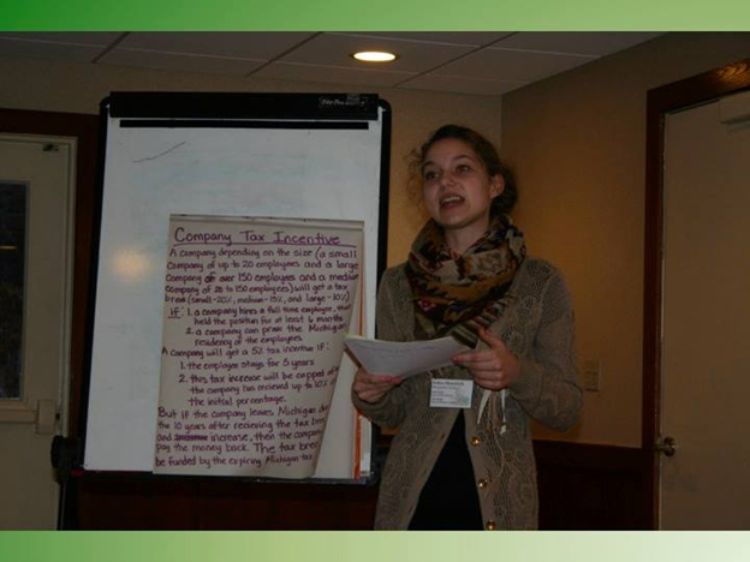 This is the second part of a series of five articles that can be used together with groups of youth who want to learn more about public speaking. It can be used by 4-H clubs, student councils, school classrooms, or virtually any group looking to learn tips for public speaking. Many people fear talking in front of others for many reasons and these activities will allow participants to start simple and then add more skills to strengthen their public speaking as the lessons move on. Supplies needed for this exercise include note cards and writing utensils.
Step 1
Starting meetings with an icebreaker can help folks get to know each other. It can also be an opportunity for public speaking. An easy icebreaker is a short celebration. Ask each participant to talk about one good thing that has happened since the last meeting. It can be about the weather, a birthday, something with work or school, family, sports, or any subject. Encourage participants to engage with each other during this process.
Step 2
Clarity of purpose is important for an effective speech. If you could have one thing change in your audience after your talk is finished, what would it be? Do you want them to have a different feeling? Do you want them to learn something? Do you want them to take action? Bring up a video and ask participants what the purpose of the speech is. Doing a web video search for "4-H Public Speaking" will give many examples of young people participating in public speaking. If you have a small group, you may have time for more videos at the end of the session.
Step 3
Note cards are sometimes helpful for public speaking, but not required. Ask participants if they prefer a person who reads something word-for-word, or appears to speak from memory. Note cards can be set up with bullet points to give a nudge of what you need to say. If there are specific facts you want to share, notes can also make sure you get them correct.
Step 4
Have participants select a topic for a 90 second talk. Ask them to write on their notecards briefly the one thing they want to change in their audience after the talk is finished. They may wish to add a few other bullet points on their card.
Step 5
Have participants share their 90 second speech. Discuss with the participants if they want you to let them know how much time they have, and hold up appropriate cards if they want it. At the end of the talk, ask the audience what they think the "one thing" was. Then ask the speaker to self-assess how they did. Next, ask those observing the speech to share their thoughts on the speech. Ask them to say at least one positive item for each criticism. After the participants have shared, you may add your thoughts, if you feel it is needed.
Step 6
Reflection – ask participants what else might be important for public speaking. Explain that every meeting there will be more public speaking activities, and ask what other tools they think they might need.
Michigan State University (MSU) Extension and the Michigan 4-H Youth Development program helps to prepare youth as positive and engaged leaders and global citizens by providing educational experiences and resources for youth interested in developing knowledge and skills in these areas.
To learn about the positive impact of Michigan 4-H youth leadership, citizenship and service and global and cultural education programs, read our Impact Report: "Developing Civically Engaged Leaders." Additional impact reports, highlighting even more ways MSU Extension and Michigan 4-H have positively impacted individuals and communities can be downloaded from the MSU Extension website.