International conversations to learn more about Central and South American countries
Belizean, Costa Rican and Brazilian panelists share more about their warm and welcoming cultures.
Michigan 4-H offered international conversations with 14 countries from five continents. Michigan State University Extension hires employees from diverse backgrounds to enrich our team. Andrea Aguilar Corrales, from Costa Rica, worked for MSU Extension as a health and nutrition educator before returning to Costa Rica. Ricardo Costa, from Brazil, is an MSU Extension field crops educator. Our third guest presenter is Garfield Murillo, 4-H International Exchange chaperone from Belize. All our guest speakers love their countries and enjoy sharing about their cultures.
Rio de Janeiro is ranked No. 3 in Best Places to Visit in Central and South America according to U.S. News & World Report. Costa shares about Brazilian culture. Brazil is the only country in South America that speaks Portuguese, other countries speak mostly Spanish, and French Guiana speaks French. One cultural difference Ricardo shares is personal space. He says, "We don't have personal space in Brazil. When I greet you, I will get really close and put my hand on your shoulder and talk to you. This shows how warm we are and happy to see you." Some Brazilians will greet by kissing cheeks or giving a hug. This expresses how you are missed.
"Another cultural difference between Brazilian culture and American culture is how loud we are, which shows we are happy people," says Costa. Also, in America one person usually speaks at a time but in Brazil five people may be speaking and it appears that no one is listening, but we still manage to understand what is said.
Lastly, Costa shares, "Brazilians don't go out to eat, we go out to see people and we use eating as an excuse." Also, time has a loose meaning and friends will always wait for you. Learn more about Brazilian culture when you listen to the international conversation about Brazil.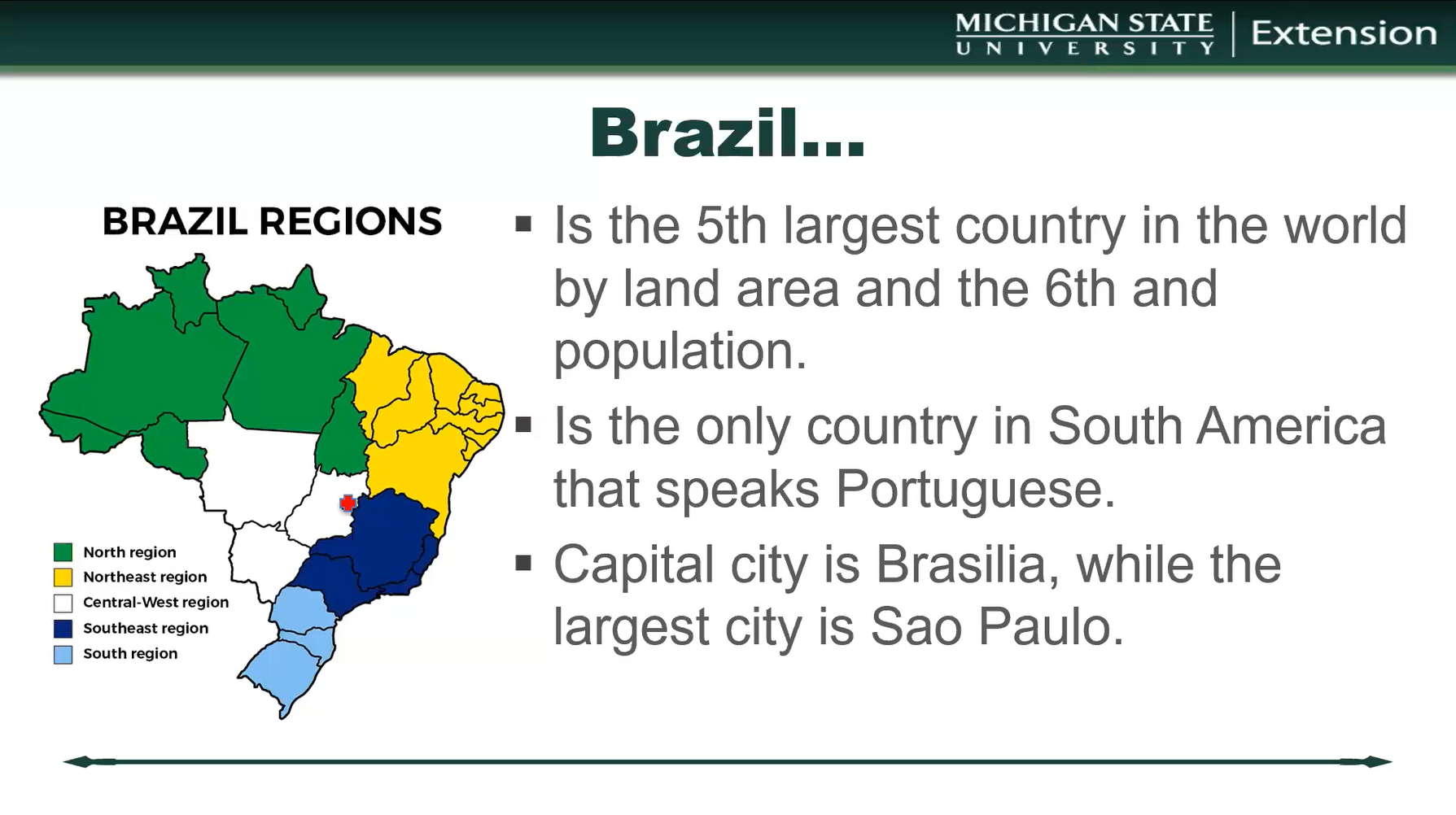 According to U.S. News & World Report, Costa Rica is ranked No. 4 in Best Places to Visit in Central and South America. When you listen to Aguilar's international conversation recording, you will understand why Costa Rica ranked so high. Aguilar shares about Costa Rica and the culture by explaining what meals are like in Costa Rica. Breakfast is usually gallo pinto, which is rice and beans mixed together with Costa Rican sauce, plantains, cheese, tortillas and eggs. Lunch is Casado, which means married, rice and beans separate with protein, chicken, pork or beef, salad, cheese, corn tortillas and fruit. Aguilar explains why Casado means married because when you get married, you need to be able to feed your husband.
Family is also very important to Costa Rican culture. Usually, you live with your parents until you get married and family lives close to each other. When you get married you don't change your last name, you keep your mothers last name and your father's last name. There is so much more to learn about Costa Rica.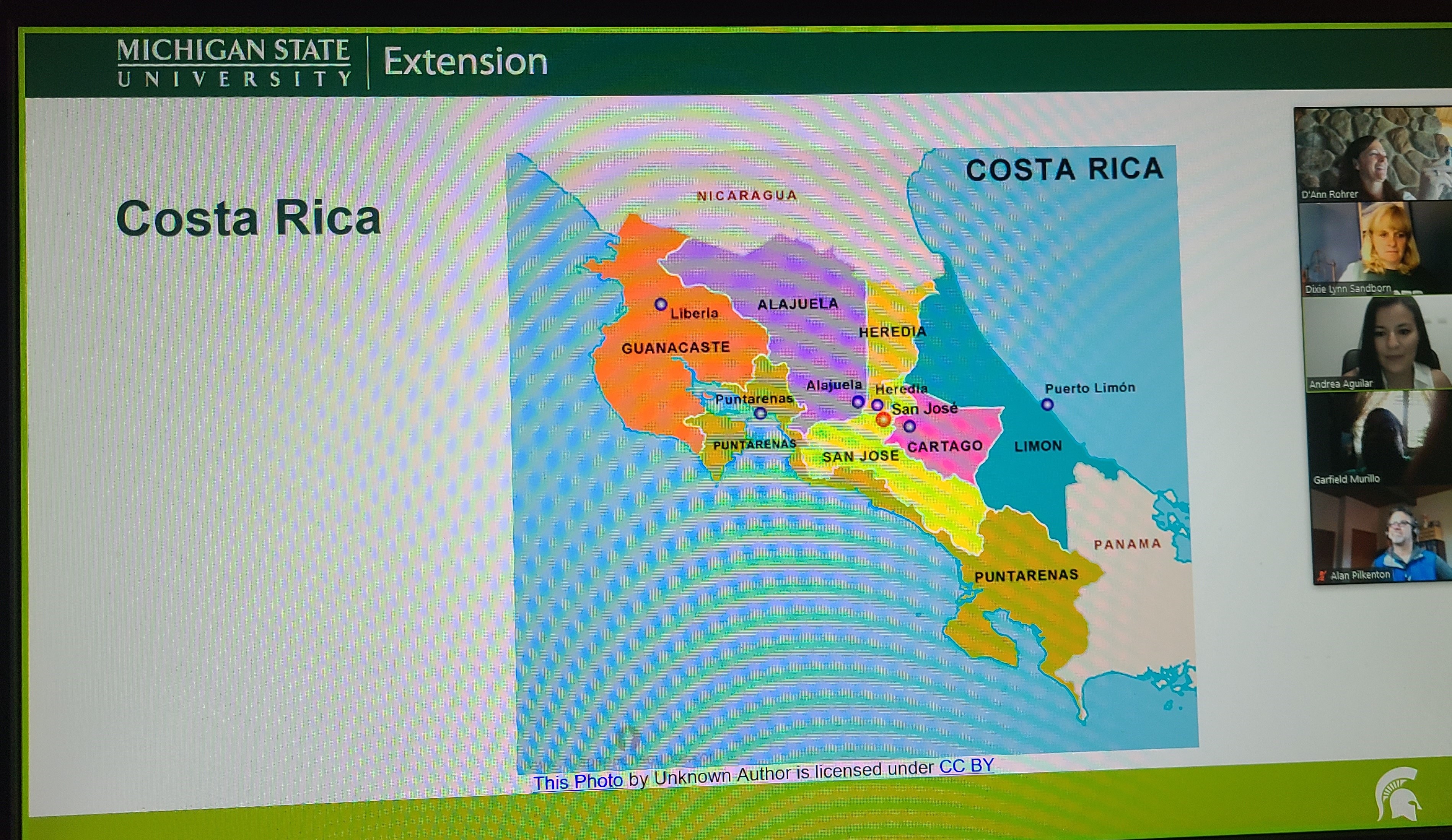 Belize is another laid-back culture in Central America. U.S. News & World Report ranks Belize No. 12 in Best Places to Visit in Central and South America. Murillo explains that Belize is very culturally diverse with ethnic groups who identify as Creole peoples, Garifuna, East-Indian, Hindus, Arabs, Lebanese and Mennonites to mention a few. When visiting Belize, you will see many cultural influences throughout the country.
Belizeans also believe in environmental conservation. Murillo's 4-H club works hard keeping the Pine River clean of litter coming from Guatemala. He shares that they create buoys with empty plastic water bottles tied together and put across the river to capture garbage floating down from Guatemala. Many communities count on this river for their livelihood. Michigan 4-H was instrumental in assisting Belize in starting a 4-H program in their country. Learn more about Belizean cultural and 4-H program by listening to the international conversation about Belize.
Continue learning about countries and cultures around the world. Learn another language, investigate their government, taste new cuisines, and explore their landscapes. The world is a beautiful place with many wonderful people. Be curious, ask questions and engage in conversation. You will grow in ways you never thought possible.
4-H grows successful youth through positive developmental relationships. If you would like to learn more, visit the Michigan 4-H website. To learn more about youth development programs, contact D'Ann Rohrer at drohrer@msu.edu or 231-845-3361, or our civic engagement leadership team at MSUE.DL.4HLeadership@msu.edu.
To learn about the positive impact of Michigan 4-H youth leadership, citizenship and service and global and cultural education programs, read our Impact Report: "Developing Civically Engaged Leaders." Additional impact reports, highlighting even more ways MSU Extension and Michigan 4-H have positively impacted individuals and communities can be downloaded from the MSU Extension website.
Find other global educational opportunities on the MSU Extension Global and Cultural Education website. For more information about 4-H learning opportunities and other 4-H programs, contact your local MSU Extension county office.