Invaders on the move: Mystery Snails and White Perch
Some aquatic invaders are good at flying under the radar. You can help to track their spread if you know where to look and how to report what you find.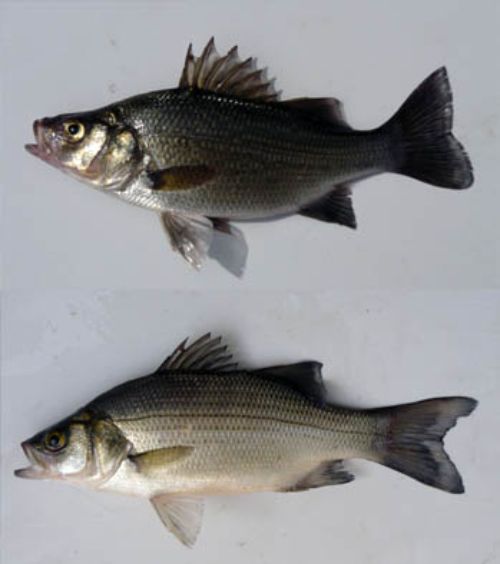 The following information is provided by the Great Lakes Aquatic Nonindigenous Species Information System (GLANSIS) and Michigan State University Extension. Once on the GLANSIS site, click on the species names for more information and a detailed map of all known sightings in the Great Lakes Basin. If you find one of these invaders in an area that is not on the map, take photographs showing key features of the species and fill in this online report. Once the identification is verified, your finding will be added to the map and become available to researchers around the world.
Mystery Snails
How to ID: Three species of invasive mystery snail have been found in Michigan: The Chinese, Japanese, and Banded. All are large, relative to native snails, and have concentrically marked opercula. The operculum is a ringed "trapdoor" that enables the snail to protect its soft body by sealing itself within its shell. Mystery snail shells commonly measure 1 and one-half to 2 inches long.
Where they are: Japanese and Chinese mystery snails have been found in the Great Lakes region for over 70 years, and banded mystery snails have been here for over a century. Japanese and banded mystery snails are only known from a few locations in Michigan, while Chinese mystery snails have been found in several inland lakes over the past few years.
Where they might be: All three species are probably more widespread in Michigan than anyone realizes. They prefer lakes and backwaters with no current, soft or sandy bottom, and plenty of algae to graze on. Even remote inland lakes with no public access have been infested by mystery snails, so any lake or slow moving stream could harbor these invaders.
What is the risk?
Most snails harbor a variety of parasites and the mystery snails are no exception. Although severe ecological impacts have not been demonstrated, the role of mystery snails in transmitting native or exotic parasites is not fully understood.
White Perch
How to ID: The white perch looks very similar to the native white bass, but white perch do not have dark horizontal stripes as white bass do.
Where they are: Warm, shallow Great Lakes bays and connecting waters.
Where they might be: White perch are found in many drowned river mouth lakes where they have not been officially recorded. Any lake with a connection to the Great Lakes is a likely spot to look, and white perch could also be transported to isolated inland lakes by anglers and boaters.
What is the risk?
White perch prey on fish eggs and compete with native fish including white bass and walleye. In some areas, native fish populations have crashed following the establishment of white perch.