Investment in new grain drying equipment helps local ag entrepreneurs
Farmers Exchange invests in equipment that benefits many agriculture businesses.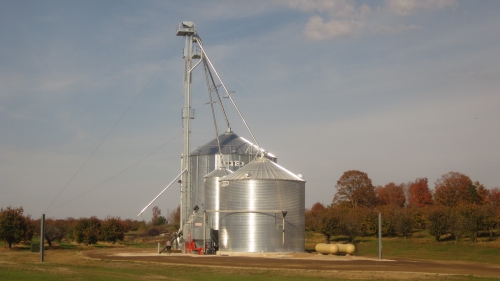 The Ellsworth Farmers Exchange, headquartered in Ellsworth Village, Mich. is a propane and fertilizer supplier that also makes livestock feed from locally grown grains. The cooperative made a $300,000 investment in agriculture by expanding feed production capacity at their property on Byers Road in Atwood. They purchased and installed three new bins and a grain auger to dry and store grain. Local growers can now bring their wet grain to the Atwood site for drying. Ellsworth Farmers Exchange is providing a service not previously available locally. Farmers were forced to transport their grain to southern Michigan which added tremendously to the cost.
Working with Michigan State University Extension partner Northern Lakes Economic Alliance (NLEA), Banks Township approved making the Atwood parcel an Industrial Development District (IDD) to encourage the Ellsworth Farmers Exchange to expand at that site. They also approved a 12-year tax abatement for the project which will result in $65,473 in new taxes. The tax abatement will allow the company to save $55,664 during the 12-year period to use towards project costs. The NLEA prepared the tax abatement application to Banks Township, the Michigan Economic Development Corporation (MEDC) and the State Tax Commission.
More details about the company are available online from the Ellsworth Farmers Exchange website.
Michigan State University Extension has had a unique partnership relationship with the regional economic development organization Northern Lakes Economic Alliance (NLEA) for more than 20 years. Recognizing the strength of combining resources, this partnership focuses on economic development, entrepreneurship growth and community infrastructure throughout a four-county region in the northwest Lower Peninsula, specifically Antrim, Charlevoix, Cheboygan and Emmet counties. As a result, the NLEA utilizes resources offered through MSU Extension as it provides leadership to state-wide programs sponsored by MSU Extension.