MSU School of Packaging receives grants to develop two new processes to recycle and reuse plastics
The Rabnawaz Research Team is developing new processes for bottle-to-bottle recycling and a responsible solution to reuse mixed plastic waste.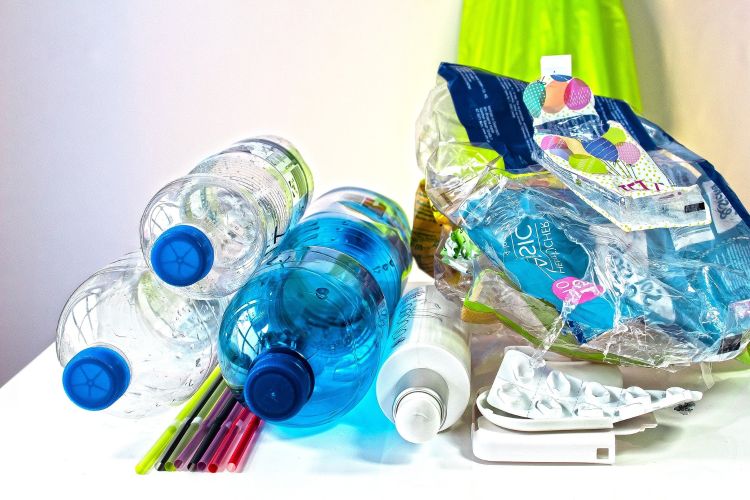 EAST LANSING, Mich. — Michigan State University School of Packaging has received two grants totaling $665,600 to develop a new process for bottle-to-bottle recycling and to research responsible solutions to reuse mixed plastic waste.
The projects are under the direction of Muhammad Rabnawaz, Ph.D., who has been an assistant professor for the Michigan State University (MSU) School of Packaging since August 2016. Through his research, he leads the Rabnawaz Sustainable Materials Research Group, a co-hort of School of Packaging undergraduate and graduate students with post doc research associates. Rabnawaz was also named the MSU 2021 Innovator of the Year from the MSU Innovation Center and is a 2021 National Science Foundation CAREER Award recipient.
"I love to find knowledge-based solutions that benefit our society," Rabnawaz said. "I can see that plastic was once a miracle material and it is now perceived as a cursed material. However, I believe plastics save our lives and mitigate hunger as they are used in food packaging and medical supplies — from produce containers and milk jugs to masks, syringes and vaccine packaging. We cannot live without plastics, but we need to learn how to live with plastics. This means creating more responsible use and end-of-life solutions for plastics."
"This research will strengthen MSU's recognition as a global leader in plastic recycling," he continued. "I work with an incredible team of undergraduate and graduate students and postdoc research associates who are key to the success of these and other research projects. They work passionately on these important projects, which make these projects and our team innovations move forward with a great pace."
Both grants reinforce the university's mission to advance knowledge and transform lives. The postdoctoral fellows, undergraduate and graduate students will be uniquely trained in materials, chemistry, environmental sciences and sustainable manufacturing, thus enabling them to thrive in their careers and transform lives.
"Dr. Rabnawaz's research continues the School's data-driven approach for finding sustainable solutions that help society harness the benefits of packaging materials, while simultaneously finding responsible end-of-life solutions. As a result of these grants, students joining our program will have an opportunity for world-class research lab experience, and access to the latest classroom teaching for packaging sustainability innovation," said Matt Daum, Ph.D., professor and director of the MSU School of Packaging.
Developing a new bottle-to-bottle recycling process
The first project is a three-year, $200,000 grant from the Environmental Research and Education Foundation (EREF) to develop a process to convert used plastic bottles into new ones.
Rabnawaz will lead the work along with professors Laurent Matuana and Rafael Auras.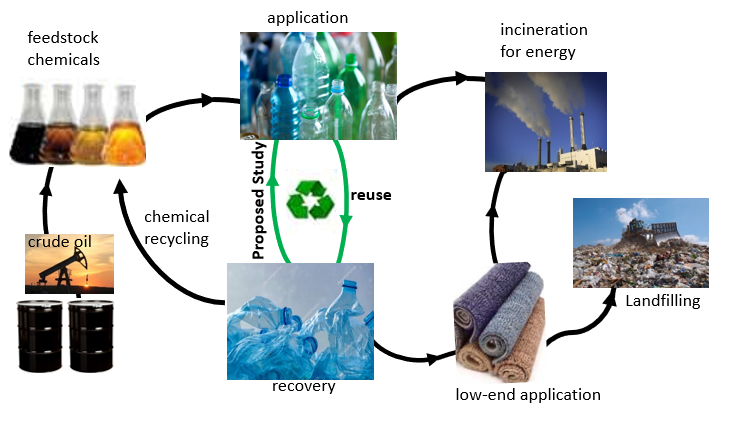 The project focuses on developing a process to reuse recycled plastic, specifically recycled Polyethylene terephthalate (PET), from landfills to produce upcycled products. In turn, this could divert 15 billion pounds of plastic waste from landfills, reusing this material for packaging and manufacturing industries, whereby conserving energy and saving feedstock chemicals used to make new plastics.
"Like many packaging materials, PET can be a useful material for improving quality of life in a number of ways," Daum said. "Dr. Rabnawaz and his colleagues are utilizing a data-driven approach for finding scalable, sustainable end of life solutions that help society harness the benefits of packaging materials in an environmentally conscience way."
Clear plastic and beverage bottles are often made from PET. This includes water bottles and some fresh produce containers used for packaging fruit and vegetables. As a packaging material, PET is widely used and accounts for 26% of the total plastic used by the packaging industry in the United States. A majority of recycled PET is obtained from beverage bottles and is globally the most recycled plastic due to more infrastructure for collection.
"Bottle-to-bottle recycling keeps the plastic packaging into the supply loop and reduces carbon emissions. If recycled bottles are cheaper for companies to use, this also places America in a strong position to remain competitive in both manufacturing as well as recycling," Rabnawaz said.
"The novel idea here is creating a new process that will boost the performance of recycled materials and eliminate the need for virgin (new) PET to be created," Rabnawaz said. "PET is commonly recycled – about 15 billion pounds per year. The successful outcome for this proposal will create a lot of recycled material for the bottle industry."
Currently, approximately 20% of recycled PET is recycled back into bottles. The remaining 80% is reused as fiber to make shirts, carpet, etc. After being recycled to fiber, or downcycled, the fiber will go to a landfill and will not be recycled again.
"My team is actively working to create feedstock materials reusing the 15 billion pounds of recycled PET because there are many benefits for the environment by reducing the amount of plastics in the landfill, including reducing potential leakage into the environment," Rabnawaz said.
However, he said the conversion of bottles into new bottles needs to be an ecologically sound, economically feasible and environmentally responsible process.
"Even after a few cycles, the plastic reaches a limit to the number of times it can be recycled back to a bottle. We then need to think about recycling it into fiber. Then we need to think about how that recycled fiber can be chemically recycled – broken back down into molecules/monomers – to be reused again for making virgin plastic."
Developing a responsible solution to reuse mixed plastic waste
Led by Rabnawaz and in collaboration with professors Laurent Matuana from Packaging, and Ramani Narayan and Lawrence Drzal, both from the MSU Chemical Engineering and Materials Science Department, the second project is a two-year, $465,600 grant from the U.S. Department of Energy to develop a new process to recycle plastic materials for reuse in manufacturing industries, ultimately reducing landfill waste.
Team members also include the National Renewable Energy Labs and industry partners Milliken Chemical and PADNOS, an industrial recycler of paper, plastics, metals and electronics.
The team is developing a responsible solution for plastic waste by reusing plastic in a sustainable way.
"We are developing a new technology that is a low-cost solution to reuse mixed plastic waste for packaging and automotive components. This technology ensures the re-entry of the mixed plastics waste into the manufacturing industry," Rabnawaz said.
"This will save energy, carbon emissions and an estimated 10 million tons of plastics per year will be diverted from landfills in the U.S.," he continued. "The uniqueness of our strategy is developing additives to boost mixed plastic performance at a much lower cost than what is accessible today."
In 2016, nearly 35 million tons of plastics were generated in the United States alone, of which only three million tons were recycled, and 26 million tons ended up in landfills. Overall, the project goal is to redirect recycled plastics, specifically mixed polyolefins, from solid waste to be reused in automotive and building applications.
According to Rabnawaz, polyolefins are common plastics used in daily lives. They include items such as grocery bags, milk bottles and jugs, pill bottles, yogurt containers and more. When consumers recycle these plastics, the recycling facilities collect them as mixed materials (polyolefins). Currently, mixed polyolefins account for more than 63 percent of plastic waste in U.S. landfills and the technology created by Rabnawaz and his team will reduce that amount significantly.
"My philosophy is that we should apply the recycling approach that is both economically feasible and environmentally sensible," Rabnawaz said. "I believe both mechanical and chemical recycling are complementary approaches."
He explained that mechanical recycling is reusing the plastic without breaking it down into molecules. This process prevents carbon emission, which is aligned with a U.S. mission of carbon emission reduction. Chemical recycling breaks down plastics into monomers or fuels and is beneficial for items already mechanically recycled multiple times or those which are contaminated and do not fit the mechanical recycling criteria. Chemical recycling, however, requires the creation of new plastics to meet market demand, which in turn releases more carbon emissions into the environment.
"If researchers, industries and stakeholders work together to enhance this process, it will benefit the planet," he said.
The project aims to reduce waste by diverting 30% or more of total plastic waste from landfills to supply 10 million tons of materials per year for the manufacturing industry. In turn, this could conserve energy and reduce feedstock chemicals used in creating new plastics.
"These projects are well-timed as the market is ready for adopting recycled materials, with substantial benefits for recyclers and reprocessors," said Kari Bliss, director of customer experience and sustainability at PADNOS. "These technologies will offer a substantial reduction in carbon emissions, which makes them appealing to manufacturers as they are all looking for carbon emission reductions."
If the projects are successful, the team will work with the MSU Technologies and Innovation and industry partners to create prototypes, pilot scale testing and then work to commercialize the processes.