About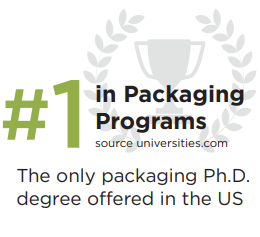 The School of Packaging (SoP) holds the prestigious reputation of being the first, the largest, and the most comprehensive packaging school in higher education.
The School educates students to thrive in careers such as packaging engineering, design, manufacturing, research and development, and sales.
Our graduates can be found across most industries and global Fortune 500 companies, and our Ph.D. graduates teach at universities around the world. Students graduate with foundational knowledge across all aspects of packaging, positioning them to work in multiple capacities for top global companies. MSU SoP graduates have developed a strong alumni network, are leaders at all organizational levels, and are thought leaders shaping today's sustainable packaging solutions.
7%
international students
Based on fall 2020 enrollments.
FACULTY
15 total faculty, 10 in the tenure system
PROGRAMS
Undergraduate
Masters
Ph.D.
---
AREAS OF EXPERTISE
Sustainability
Medical
Packaging Materials
Packaging Design
Distribution and Value Chain
RESEARCH AREAS
Sustainable Polymers
Packaging Life Cycle Analysis
Medical/Health Care
Active Packaging
Fresh Food Packaging
Value Chain Optimization
Distribution/Shock/Vibration
Packaging Design
---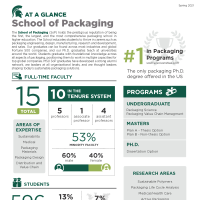 July 7, 2021
A one-page factsheet about the MSU School of Packaging with statistics and infographics.
FILE DOWNLOAD