Keynote presenters announced for second annual national protecting pollinators conference
The keynote presenters and their session descriptions have been announced for the 2017 Protecting Pollinators in Ornamental Landscapes Conference Oct. 9-11, in Traverse City, Michigan.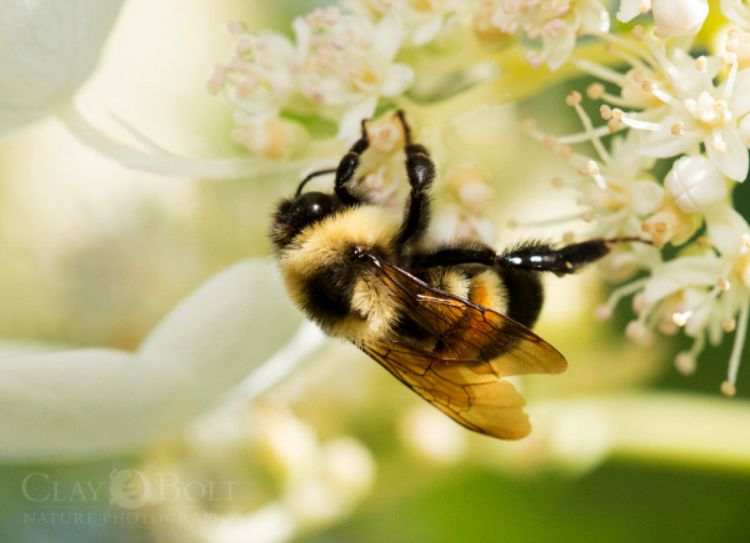 Michigan State University Extension and North Carolina State University will host the second national Protecting Pollinators in Urban Landscapes Conference in Traverse City, Michigan, at the Park Place Hotel on Oct. 9-11, 2017, in Grand Traverse County.
The team of conference planners is pleased to announce featured speakers and conference contributors including Laurence Packer, York University; Damon Hall, St. Louis University; Dan Potter, University of Kentucky; Mary Gardiner, The Ohio State University; and Mace Vaughan, Xerces Society Pollinator Conservation Program.
Conference keynotes and 12 additional internationally-known speakers will be addressing a cadre of topics during the three-day event. Some of the key issues explored include:
Function of pollinators in urban landscapes.
Pesticides and pollinators.
Pollinator health and habitat in urban landscapes.
Efforts, challenges and opportunities for protecting pollinators.
Educating the public about the importance of protecting pollinators.
Below are descriptions of the keynote presenters and their session description.
Opening Keynote: Laurence Packer, York University, Toronto, Canada – "Bees: Important and Diversity"
There are over 20,000 species of bees known worldwide, but only one—the western domesticated honey bee—is generally understood to be important for pollination. Laurence Packer will outline the diversity of bees worldwide and present the results of some research that suggests other pollinators are far more important than generally recognized.
Packer is a professor of biology at York University where he has worked since 1988. His teaching and research include entomology and biodiversity. He and his students published, "Keeping the Bees," published by HarperCollins, as well as "Bees: A Close-up Look at Pollinators Around the World" with co-author Sam Droege, published by Voyageur Press. Both books will be for sale at the event.
Parker and his team have described over 100 new species of bees. The collection he has started at York University now includes several hundred thousand specimens with examples from well over 100 countries; it is one of the most diverse bee collections in the world.
He was a member of the Committee on the Status of Endangered Wildlife in Canada and the Natural Science and Engineering Research Council of Canada's Evaluation Group for Ecology and Evolution. His research has been funded by the latter organization as well as National Geographic, Genome Canada and the Canadian Foundation for Innovation. His general public presentations reach hundreds to thousands of people each year.
Dan Potter, University of Kentucky, Lexington, Kentucky – "Duration of Bees' Exposure of Insecticide Residue, BMPs and Safeguards"
Dan Potter will summarize recent research on the extent and duration of bees' exposure to insecticide residues in lawn and landscape settings. Session will include researched-based, best management practices (BMPs) landscape managers can implement to safeguard bees when controlling pests. Opportunities for how the "bee issue" can help educators, garden centers and lawn care providers promote more diversified and sustainable landscapes will be discussed.
Potter is a professor of entomology at the University of Kentucky. He has studied management of pests and beneficial insects in urban landscapes for more than 40 years. He teaches courses in horticultural entomology and insect-plant relationships, and has supervised dozens of graduate students.
Potter is a Fellow of the Entomological Society of America (ESA) and received ESA's National Distinguished Achievement Awards in Urban Entomology (1995), Teaching (1999) and Horticultural Entomology (2006). His industry recognitions include the U.S. Golf Association National Green Section Award (2010), the Professional Land Care Network's Leadership Award (2008) and the American Nursery and Landscape Associations Distinguished Achievement Award (2006).
Damon Hall, St. Louis University, St. Louis, Missouri – "The Human Dimensions of Urban Pollinator Conservation"
Biodiversity losses give us insight into the long-term effects of human behaviors. The task of social science is to engage in research designed to understand the unintended consequences of intentional human actions. Damon Hall's talk chronicles the social, cultural and political dimensions of wild and native bee conservation via collaborative research being conducted in St. Louis, Missouri.
Hall is an assistant professor at Saint Louis University at the Center for Sustainability, a graduate-degree granting research institute. He holds a PhD in wildlife and fisheries sciences and a Boone and Crockett PhD Fellowship in Conservation Policy at Texas A&M University.
He attained a master's degree in communication and bachelor's degree in agriculture concentrating on forestry and natural resources from Purdue University. At Purdue, he was an apiary manager of Hunt's Honeybee's Genetics Lab. His research examines the interactions between social and ecological systems where science, policy and culture meet.
Mary Gardiner, Ohio State University, Columbus, Ohio – "A Growing Conservation Focus in Shrinking Cities; How Vacant Land Ecology Structures Bee Communities"
During this presentation, Mary Gardiner will examine how the design, management, contamination legacy and landscape context of urban greenspaces influences conservation value for bee communities.
Gardiner received her PhD in 2008 and is currently an associate professor in the Department of Entomology at The Ohio State University. Her research program focuses on the ecological value of urban vacant land. This work is concentrated in Cleveland, Ohio—a city that has experienced significant economic and population decline.
Cleveland currently contains 27,000 vacant lots encompassing approximately 4,000 acres of land. The Gardiner Lab examines how alternative vegetation designed and management regimes influence the value of vacant land for the conservation of biodiversity and the provision of ecosystem services.
Gardiner is a state specialist in Extension and works with several stakeholder groups including home gardeners, Master Gardeners, Master Naturalists and urban farmers. Her Extension programming focuses on identifying and attracting beneficial insects to gardens and farms to promote conservation and ecosystem services.
In 2015, she released a book focused on natural enemies and their role in biological control in home gardens, "Good Garden Bugs: Everything You Need to Know about Beneficial Predatory Insects." She has also embraced the use of citizen science in her research with the statewide program Pollination Investigators, which engages volunteers in the study of pollination services.
Mace Vaughan, Xerces Society, Portland, Oregon – "Back Forty to the Backyard: 15 years of pollinator conservation"
The Xerces Society has been a leader in pollinator conservation since its founding in 1971. The last 15 years have seen remarkable growth in the work of the Xerces Society and our pollinator conservation partners nationwide. In this talk, Mace Vaughan will share stories, strategies and lessons learned working with farmers, conservation partners and backyard gardeners across the U.S.
Vaughan serves as the Xerces Society's Pollinator Conservation Program co-director and a joint pollinator conservation specialist to the USDA's Natural Resources Conservation Services (NRCS). Mace has led Xerces' Pollinator Conservation programs since 2003. In his tenure at the Xerces Society, the pollinator program has grown from a small pilot project on California farms to the world's largest team of pollinator conservation experts.
His work with other staff at the Xerces Society and the USDA NRCS has led to the implementation of protecting hundreds of thousands of acres of pollinator habitat. Through education and outreach events, he has directly reached thousands of agency staff and farmers.
More information on the Conference
For more information on the Protecting Pollinators in Urban Landscapes Conference, including lodging, tours, registration, poster sessions and other speakers, see the article "Second national conference on protecting pollinators in urban landscapes."
You can also visit the registration page at Protecting Pollinators in Urban Landscapes Conference.