Lake Huron serves as a classroom for elementary students
Flapping their arms like migrating birds, excited students arrived at Tawas Point State Park for a day of community-connected learning - and their student stewardship project.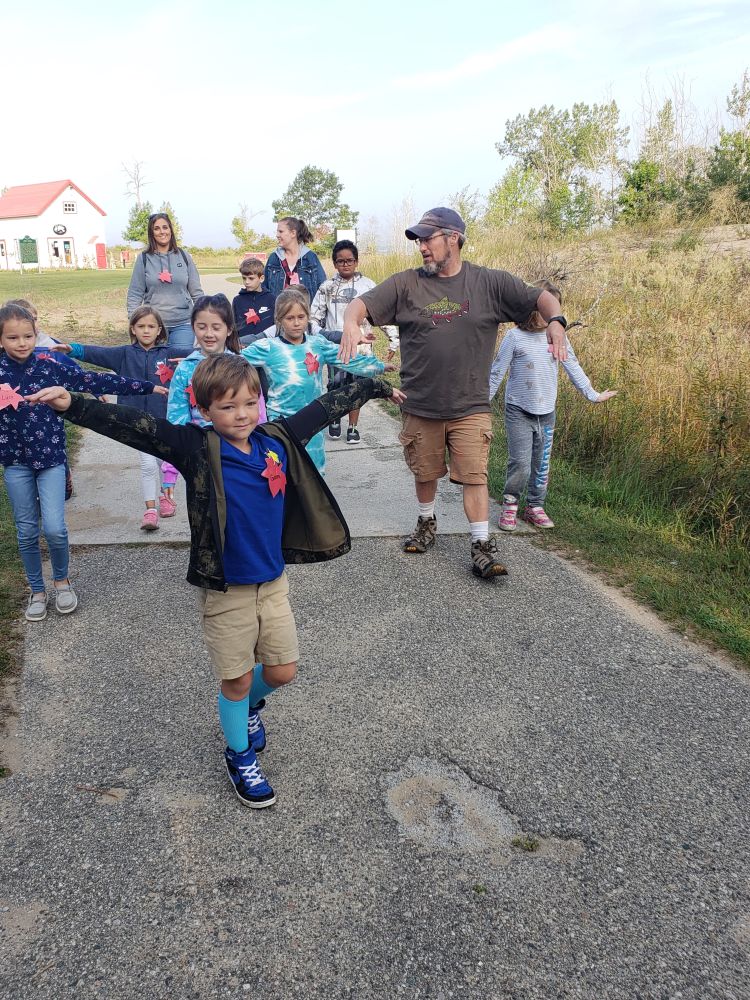 In the fall of 2022, first- and third-grade students from Clara Bolen Elementary (Tawas Area Schools) visited Tawas Point State Park where they did a little bird watching, learned about the biodiversity of birds - and monarch butterflies - that use the Lake Huron coastline as a migratory corridor. They gained a better understanding of the ecological importance of their local Lake Huron coastline as a critical habitat for birds providing shelter, food, and water for migrating animals.
A meaningful watershed educational experience
Students applied their science observation and math skills with Michigan State University Extension and Michigan Sea Grant educators to count and graph the diversity of birds (and other non-nature items) they discovered during their visit. They also hiked and explored the park's habitats from woodlands to wetlands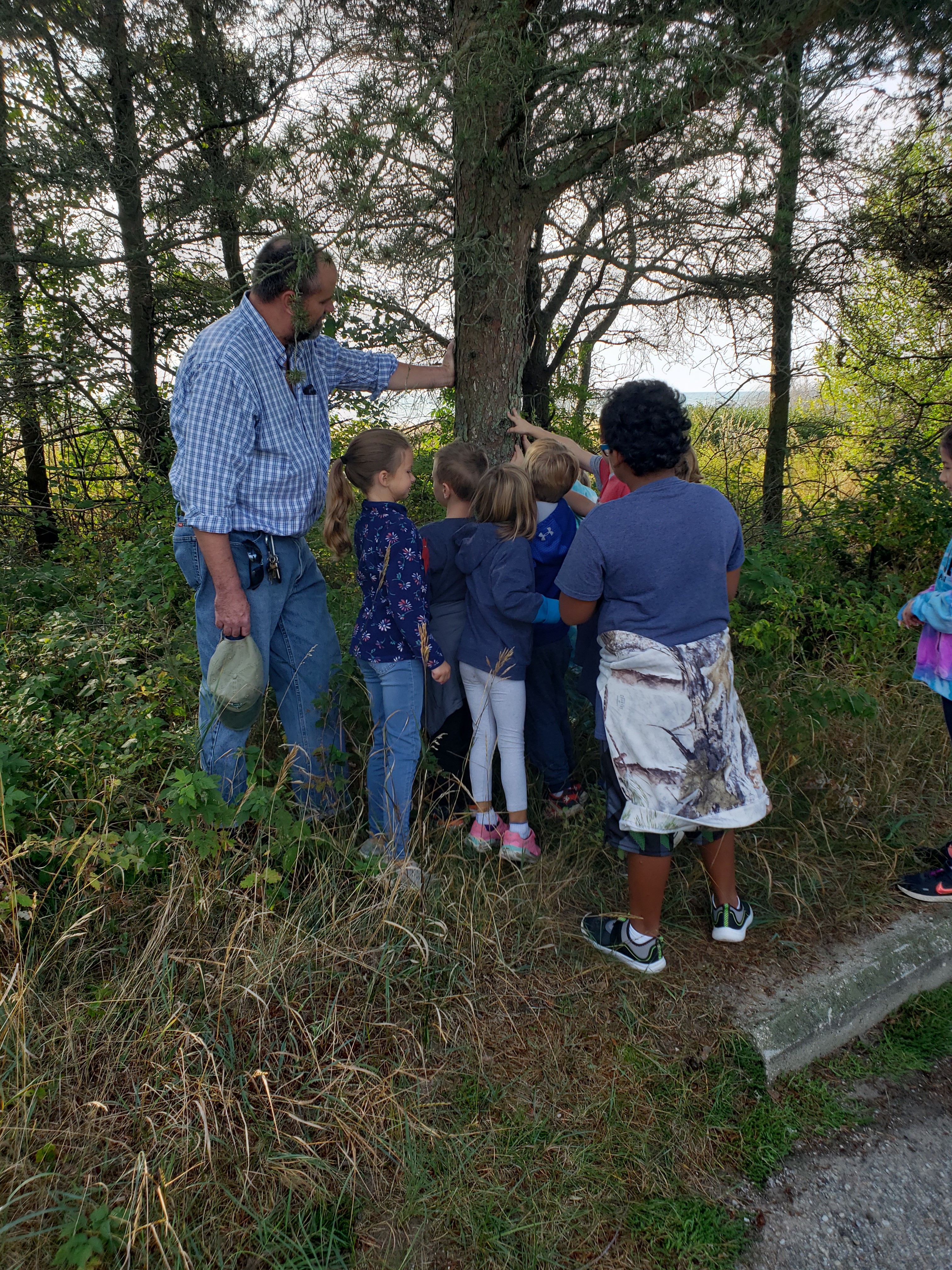 and the coastline with a forester from Iosco Conservation District; and learned how people value, use, and interact with this public state park from the Michigan Department of Natural Resources Parks and Recreation staff.
Student stewardship in their community
This fun day was more than just a field trip. Students were there to also contribute as community and conservation stewards. Focused on marine debris, these young leaders partnered with Great Lakes, Great Responsibility to conduct a litter pick-up. Their project, facilitated by educators Kelli Rau and Karen Kienitz, is part of a year-long project where students are exploring the issue of Great Lakes marine debris and ways - including looking at their own school lunchroom waste - in which students can apply their learning and leadership to make a difference in addressing this issue locally.

The Clara Bolen student and educator team, along with their community partners, are part of a broader regional Northeast Michigan Great Lakes Stewardship Initiative (NEMIGLSI) network supporting community-connected, place-based education across northeast Michigan through Great Lakes explorations. This Great Lakes marine debris education initiative was also supported by the Great Lakes NOAA B-WET (Bay Watershed Education and Training) program through a Preventing Marine Debris Today for Healthy Watersheds Tomorrow grant to the network involving nine regional schools. This school project directly contributes toward accomplishing marine debris education and stewardship goals prioritized regionally within the NOAA Great Lakes Marine Debris Action Plan.
A place-based education strategy in play
The Sea Grant-led Center for Great Lakes Literacy (CGLL), with funding from the Great Lakes Restoration Initiative, and the Northeast MiSTEM network also collaborated with the Northeast Michigan Great Lakes Stewardship Initiative (NEMIGLSI) network and its leadership partners to provide professional learning supports and project stipends for these educators through the 2022 Lake Huron Place-Based Education Summer Teacher Institute.
Twenty-four educators from across the Lake Huron watershed, including Rau and Kienitz, participated in the institute, which was hosted in Alpena, Mich. Educators explored local Great Lakes coastlines, issues, and educational opportunities alongside Great Lakes scientists and education experts. Through these experiences, they developed Great Lakes-connected, place-based learning experiences such as Clara Bolen's Tawas Point State Park visit designed to expand their students' learning experiences by developing Great Lakes science and stewardship experiences.
The 2022 institute focused on marine debris in the Great Lakes as both an issue and a student stewardship opportunity. Annually, this Institute for educators anchors on three core areas of content and learning:
Enhancing student engagement and learning through place-based stewardship education (PBSE) process and pedagogy.
Promoting Great Lakes Literacy Principles and practices, exploring community and conservation issues, needs or opportunities.
Fostering mutually beneficial school-community partnerships that open opportunities for students to address local issues with their community.
Meeting Michigan's education expectations
The end goal for teachers attending the institute was to explore opportunities for expanding student learning – and connections with community – by engaging their students in local Great Lakes and natural resource stewardship projects. Their professional learning was put into practice through offering an opportunity for students to 'migrate' to Tawas Point State Park for a fun-filled day of applied learning and conservation stewardship in their local community.
If you would like to receive updates about future Great Lakes Literacy educational opportunities in Michigan, please sign up online for this newsletter. If you would like updates about regional opportunities in northeast Michigan (lower peninsula), please join the Northeast Michigan Great Lakes Stewardship Initiative by creating a free account online.
Michigan Sea Grant helps to foster economic growth and protect Michigan's coastal, Great Lakes resources through education, research and outreach. A collaborative effort of the University of Michigan and Michigan State University and its MSU Extension, Michigan Sea Grant is part of the NOAA-National Sea Grant network of 34 university-based programs.