Lake Huron shipwrecks offer an underwater window into history
The coastal Lake Huron region is known for its rich maritime heritage. Diving and snorkeling these waters offers visitors a unique opportunity to explore history preserved beneath the waves.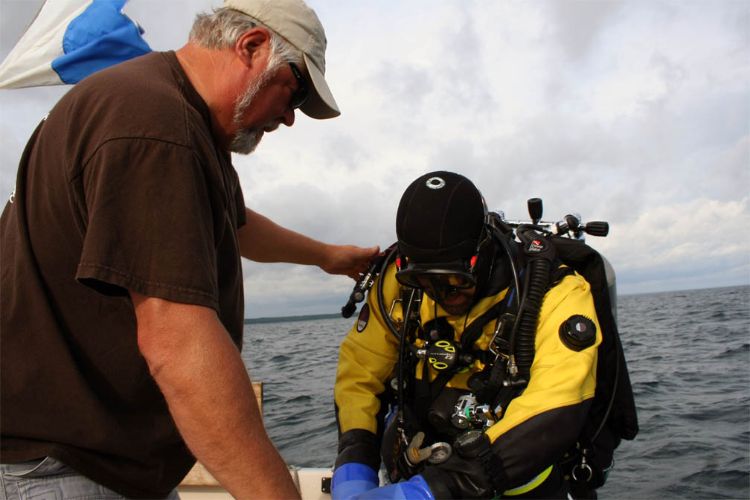 Lake Huron waters are home to many diverse shipwrecks—from wooden schooners to steel-hulled steamers—lying pristinely preserved by the cold, fresh waters of the Great Lakes. These underwater treasures reflect the past while providing stories and experiences for those visiting these historic shipwreck sites, today. A new 'Shipwreck Alley' video, produced through the U.S. 23 Huron Shores Heritage Route partnership, showcases the allure and opportunities for communities and visitors to northeast Michigan.
Historical research indicates that more than 200 shipwrecks lie in and around Thunder Bay. The sheer number of shipwrecks is impressive. However, it is their excellent state of preservation and what they represent—a century and a half of maritime commerce and travel on the Great Lakes—that elevates them to national and international significance deserving of protection, study, and public interpretation. Serving this role are community volunteers of the Thunder Bay Underwater Preserve—one of fourteen state underwater preserves in Michigan— along with the federally designated NOAA Thunder Bay National Marine Sanctuary. Protection of shipwrecks and underwater artifacts is a fundamental goal of the Sanctuary, as is raising awareness, providing education, and enhancing public access to these underwater resources.
The Sanctuary supports an extensive mooring buoy program that identifies shipwrecks for snorkelers and divers—as well as kayakers, boaters, sailors, and fishermen, among others—to experience these incredible resources that lie beneath the waves in Thunder Bay. From one foot in the water to fully submersed, you, too, can explore Lake Huron's maritime heritage through these historic shipwrecks:
These journeys in time offer memorable experiences, but remember to leave these historic artifacts untouched and as found. Protecting these historic shipwrecks is central in promoting sustainable coastal tourism opportunities in this region, and they are also protected by the State of Michigan (it's the law). Community volunteers and resource managers also play an important resource stewardship role, working to preserve, interpret and share these amazing historical places, artifacts, and experiences.
Michigan Sea Grant and Michigan State University Extension have long been partners with local communities—and many committed volunteers—in preserving and promoting our state's underwater history, including supporting the research and development of Michigan Bottomland Preserves Inventory (1989) and co-authoring with local communities the nomination leading to eventual federal designation of NOAA TBNMS in year 2000. As illustrated in a recent Sustainable Coastal Tourism Guide, continued involvement with these partners, today, focuses on opportunities to capitalize upon these maritime heritage assets in promoting sustainable coastal tourism development opportunities in northeast Michigan.
Learn more about northern Lake Huron shipwrecks and visiting these sanctuaries by visiting the NOAA Thunder Bay National Marine Sanctuary website: thunderbay.noaa.gov.
Visiting coastal northeast Michigan? Plan your trip by visiting the U.S. 23 Huron Shores Heritage Route website at http://www.us23heritageroute.org/.