Lake Huron Walleye – where are all these fish coming from?
A growing Saginaw Bay walleye population contributes to a broader Lake Huron fish community, as well as many anglers' catch.
Lake Huron anglers may recognize the growing abundance of native – and naturally reproduced – walleyes flooding their catch. All great news for anglers who seek walleye as part of their Lake Huron fishing experience; but where are all these walleye coming from? The annual Lake Huron regional fisheries worksh
ops, hosted by Michigan Sea Grant and Michigan State University Extension, are an educational series held in several coastal communities. This year's series featured fisheries scientists Dave Fielder, Michigan Department of Natural Resources, and Todd Hayden, Great Lakes Fishery Commission/Carleton University/Michigan State University, who shared updates about their research related to a growing Saginaw Bay walleye fishery and information about how these fish are moving through the lake.
The Lake Huron fishery has undergone dramatic ecological changes in recent years, resulting from introductions and impacts of aquatic invasive species. Native walleye appear to be one of the winners benefiting in the new Lake Huron ecosystem. Why are Lake Huron walleye suddenly doing so well? The most obvious change in the new ecosystem of Lake Huron is the near disappearance of alewives. The alewife is an invasive, open-water prey fish that used Saginaw Bay as spawning and nursery grounds each spring and summer. Prior to their disappearance, alewives were also a substantial predator on newly hatched walleye fry.
"We now recognize that alewives were one of the principle impediments to good walleye natural reproduction," said Fielder. Now in the absence of alewives, walleye have been reproducing at record levels since 2003. Walleye stocking was able to be discontinued in 2006 and the population was declared recovered by 2009. Computer models estimate the Saginaw Bay walleye population (age 2 and older) to be between 3 and 4 million fish!
An exciting aspect of the growing Saginaw Bay walleye fishery is that fishing across all of Lake Huron is improving as a result. A collaborative project sponsored by the Great Lakes Fishery Commission, U.S. Geological Survey, Michigan DNR, Ohio DNR, and Carleton University, is studying how these walleye move throughout Lake Huron. "We've known for a long time that some walleyes move out of Saginaw Bay into the rest of Lake Hur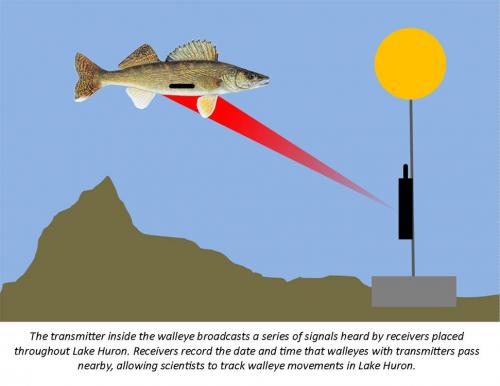 on, but we knew little about where the fish went, when the fish left the bay, or even why some fish made such a migration," Fielder commented. Many of these mysteries can now be unraveled through the walleye movement project.
Scientists are using cutting-edge technology, called acoustic telemetry, to track movement of fish much like the GPS on a car. Scientists have been implanting walleye collected from tributaries to Saginaw Bay with small transmitters that broadcast a series of "pings" into the surrounding water. A vast network of over 140 receivers strategically placed in Lake Huron "listen" for the pings and records the date and time that fish pass nearby. Receivers are sensitive enough to "hear" a passing fish over a half-mile away.
The study has shown that walleye routinely swim amazing distances – up to 200 miles or more during the course of just one year! The long migrations suggest that the growing number of walle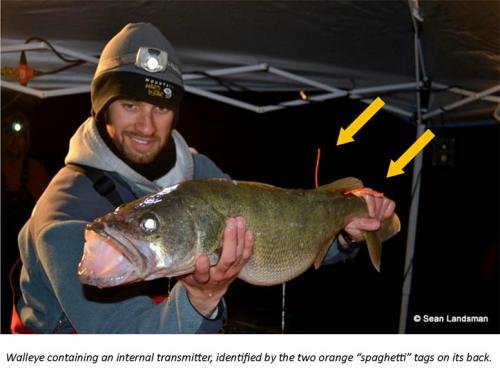 ye found along Lake Huron shores may actually be from Saginaw Bay. Even more exciting is that many of the fish that left Saginaw Bay returned the following spring during the spawning season.
Anglers can contribute to this study, and are critical in collecting and returning transmitters implanted in walleye. When fishing for walleye, look for fish with orange "spaghetti" tags on their backs. Those fish contain a transmitter inside their body cavity. If you call the phone number listed on the spaghetti tag or internal transmitter, you will be instructed on how to return the transmitter and receive a $100 reward for your effort! Returned transmitters can be implanted into new fish for collecting even more data.
For more information about the Lake Huron walleye movement study, visit the Great Lakes Acoustic Telemetry Observation System (GLATOS) website.