Lake Michigan charter fishery held strong in 2013 despite dip in catch rates
Michigan charter boat operators logged 11,857 trips on Lake Michigan waters in 2013. Fishing effort on Lake Michigan is fairly consistent from year to year, although catch rates and fish size can change dramatically from year to year.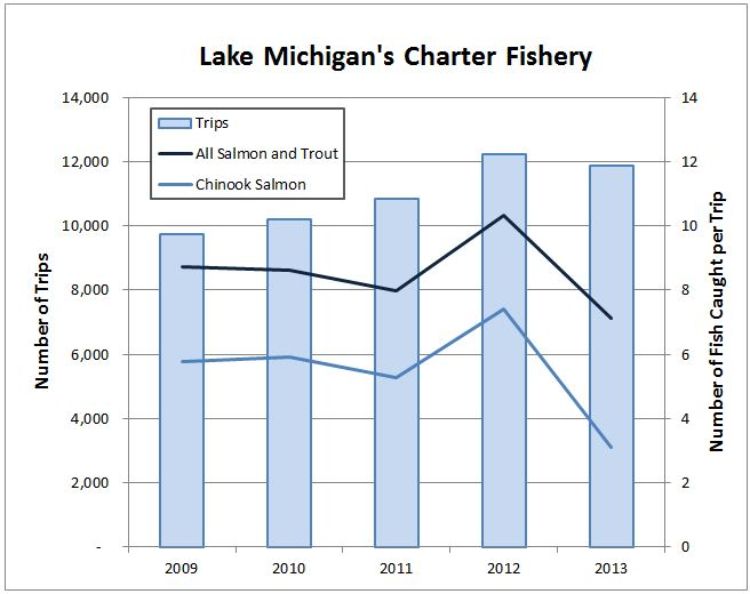 The Michigan Department of Natural Resources (MDNR) recently released charter fishing catch and effort data from Lake Michigan waters during the 2013 season. The number of trips taken in 2013 was the second highest in the past five years. In 2012, charter operators logged 12,236 trips on Lake Michigan waters and this dropped slightly to 11,875 in 2013.
Michigan charter captains have been required to report their catch and effort to the MDNR since 1990. This has been helpful to fisheries managers tracking the health of fish populations, and to economists interested in demonstrating the impacts of fishing to coastal communities.
In 2009, charter effort reached its lowest point since reporting began in 1990 with 9,750 fishing trips recorded in Michigan waters of Lake Michigan. Michigan Sea Grant and Michigan State University completed a study of charter fishing economic impacts in 2009. Although this was a low point for both fishing effort and economic impacts around Lake Michigan, the benefits to coastal communities were still substantial. Nearly $5 million in personal income and $11.6 million in economic output resulted from charter-induced tourism at Michigan's Lake Michigan ports in 2009.
Using the economic calculator developed in 2009, an estimate of charter fishing impacts in 2013 was produced. Over $6.5 million in personal income and 316,370 employment hours were generated by Michigan's charter fishing industry at Lake Michigan ports in 2013; total economic output was $15.3 million in 2013 dollars.
Although trip number and economic impacts remained strong in 2013, there were big changes in charter fishing catches. Chinook salmon have long been the cornerstone of the Lake Michigan fishery and the average number of Chinook salmon caught per charter trip declined from over 7 in 2012 to 3 in 2013. This may sound like a bad thing, but there is a silver lining. The size of Chinook salmon increased dramatically in 2013, which is expected when the number of salmon declines to a more sustainable level.
Charter operators are not required to report the size of fish caught, but the Michigan DNR's Master Angler Program provides some indication of when and where the big ones are being caught. Lake Michigan and its tributary streams did not produce a single Master Angler Chinook salmon in 2012, but in 2013, anglers reported 125 Chinook salmon large enough to qualify for an award.
The 2013 Lake Michigan salmon and trout fishery was also more diverse than it had been in previous years. In 2012, Chinook salmon accounted for 72 percent of the catch, and this dropped to 44 percent in 2013. The number of other salmonines (coho salmon, steelhead, brown trout, and lake trout) caught per trip actually increased from 3 to 4 per charter trip, as well. Coho salmon and lake trout accounted for most of this increase, while steelhead catch rate fell slightly.
A more diverse Lake Michigan fishery with larger, but fewer, Chinook salmon is likely to be more sustainable than the Chinook-heavy fishery that anglers have taken advantage of over the past several years. The 2013 Chinook salmon stocking reductions were implemented to avoid the collapse of baitfish populations by reducing the number of predators in Lake Michigan, but it is worth noting that the big changes seen in 2013 had nothing to do with the stocking cuts because salmon stocked in 2013 will not be caught in large numbers until 2015.