"Let's Move Salad Bars to Midwest Schools" campaign gets attention in Michigan
The Michigan Department of Education encourages school food service directors to apply for donated salad bars for school meal programs.
Does your child have a salad bar at their school? If not, a program supported by the Centers for Disease Control and the United Fresh Foundation may be of interest to you. The goal of "Let's Move Salad Bars to Midwest Schools" is to increase children's fruit and vegetable consumption according to information posted at www.saladbars2schools.org. This campaign touts that private donors have allowed them to purchase and donate salad bars to over 400 Midwest schools over the last three years.
Schools must apply for this program to receive a Cambro portable 72-inch 5-well insulated salad bar with pans and covers, chilling pads, serving tongs and spoons. A refrigerated unit is also available if required by the district or local health department. An in-depth guide produced by the campaign on the regulations, how to stock and maintain the salad bar can be found here. This document should be reviewed prior to applying for a salad bar.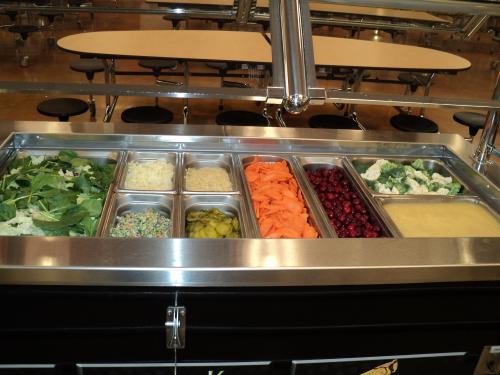 Photo credit: Amy Klinkoski of Grand Rapids Public Schools Nutrition Services
To be eligible, schools must participate in the National School Lunch Program. The School Food Service Director/Child Nutrition Director and Superintendent must submit the online application. The application can be found at www.saladbars2schools.org. Some research findings have shown that salad bars in schools increase consumption of fruits and vegetables by students. Increased fruit and vegetable consumption provides students with nutrients their bodies need to grow and thrive.
The Michigan Department of Education (MDE) is working to raise local funding support and spread the word about the program. Diane Golzynski of MDE says, "I hope many schools apply because the higher demand, the more successful our fundraising efforts will be."
The Community Food Systems Workgroup in Michigan State University Extension and the Michigan Department of Education also see salad bars as an opportunity for schools to purchase and offer locally-grown fruits and vegetables to students. Local greens are available almost all year in many places in Michigan. When offered fresh on a salad bar, locally grown fruits and vegetables can be low labor options. The Michigan Farm-to-School program website offers a purchasing guide to help schools source local produce, which is a win-win for communities and schools.