Lion's Club International receives Michigan State University Extension 2019 Key Partner Award
The Lion's Club International received the 2019 Key Partner Award from Michigan State University Extension during the annual conference held in Traverse City on Oct. 29.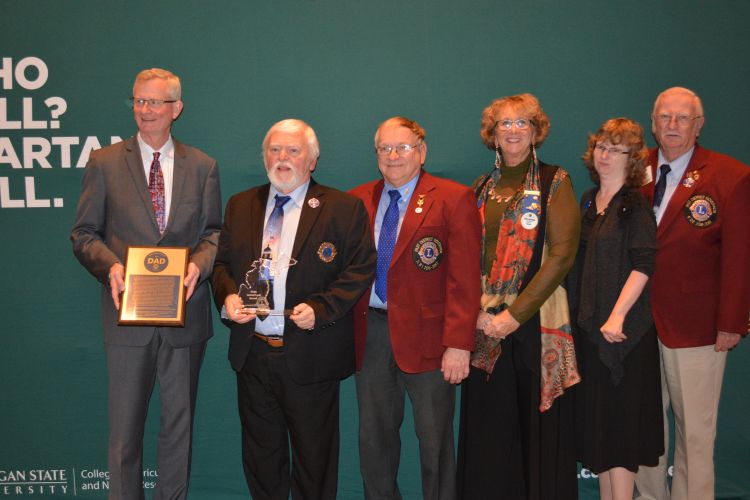 TRAVERSE CITY, Mich. – Michigan State University (MSU) Extension awarded the Lion's Club International with a 2019 Key Partner Award on Oct.29 at the annual Fall Extension Conference in Traverse City. The Key Partner Award recognizes those who have made significant contributions to supporting and promoting MSU Extension programs.
The Lions Club International is a volunteer organization dedicated to leadership development through community service. They are a network of 1.4 million people in 210 countries who work together to answer the needs that challenge communities around the world. Recently, the organization entered into a statewide partnership with the MSU Extension to offer the Dining with Diabetes (DWD) program.
"Dining with Diabetes is one program we provide and we need support from other agencies," said Andrea Aguilar, MSU Extension disease and prevention management educator, who nominated the Lion's Club for the award. "The Lions Club was a great partner for this program."
Thanks to a grant achieved by the Lions Club International of Michigan, MSU Extension received financial support to run the DWD program statewide. They also supplied recruitment support, assisted in building strong partnerships with community members, and even procured invitations for MSU Extension to speak at meetings and state conventions.
"The programs don't exist in the community unless they are privately paid or paid for through insurance, so for the uninsured and under-insured this is an excellent opportunity for people to get some type of nutritional and preventative education about diabetes," said Lion's Club member Terri Huffman.
The partnership has opened doors for MSU Extension educators to promote MSU Extension work and programs. It has helped Extension to create more partnerships in the communities and increased attendance in programs. Under this partnership with the Lion's Club International of Michigan, projected numbers of Michigan residents taking part in DWD could reach into the hundreds.
"Just looking at the faces of the public when they're in these Dining with Diabetes classes," said Jack Kriet of the Lion's Club International. "Just watching the fervor of the people who are there and seeing how much they're enjoying what they're learning, and how much information they are receiving from MSU Extension, this is a slam dunk. There's no doubt about that."
The Lion's Club International received the Key Partner Award alongside four other outstanding MSU Extension partners. Partnerships are critical to MSU Extension's efforts to help people across the state improve their lives by bringing the vast knowledge and resources of MSU directly to individuals, communities and businesses.
CONTACT: Sean Corp, corpsean@msu.edu, 517-884-7083
PHOTOS: Download high-resolution image