MSU Extension staff members receive Meritorious Service Awards
Nine outstanding Michigan State University Extension staff members were honored with Meritorious Service Awards at the annual Fall Extension Conference Sept. 28.
Lori Warchuck's leadership in St. Clair County drives the 4-H program to be successful year after year.
Jacob DeDecker receives Administrative Leadership Meritorious Service Award
Jacob ("Jake") DeDecker, state leader of Michigan 4-H Youth Development and associate director of Michigan State University Extension Children and Youth Institute, has consistently served as a strong leader and advocate. During the transition from face-to-face to virtual program delivery due to the COVID-19 pandemic, he supported the development of action teams, including one focused on providing a virtual showcase and auction to support county and state fairs.

Jake has successfully managed difficult conversations and provided a consistent and thoughtful approach to the transitions faced during the COVID-19 pandemic. He has masterfully communicated with staff and served as a key point of contact with volunteers and families to ensure they felt heard and supported. He has also advocated and voiced the impacts of the pivot to virtual education to key legislative stakeholders.

Over his tenure, he has secured several key resources and partners to support the growth of Michigan 4-H. He has developed strong relationships with key 4-H donors and has provided consistent support to the Michigan 4-H Foundation. His work has extended internationally, developing key partners to bring 4-H to other countries, and he has continued to position Michigan 4-H as a leader nationally.
Jake's humble leadership style enabled him to build bridges and maintain relationships. He has worked to demonstrate clear communication, vision, empathy, accountability, and gratitude to staff, participants, and partners. He understands the value of 4-H partnerships in communities and has dedicated himself to maintaining and strengthening those partnerships while at the same time supporting staff and organizational objectives.
While Jake DeDecker has provided many significant contributions, his ability to maintain a consistent and supportive approach has been key to his success and the success of 4-H and the Children and Youth Institute, making him deserving of the Meritorious Service Award.


Laurie Rivetto receives Extension Educator Meritorious Service Award
Laurie Rivetto, Michigan State University Extension educator, has championed LGBTQIA+ and inclusion of all youth since 2017. To support these efforts, she co-developed the Guide for Inclusion of Individuals of All Gender Identities, Gender Expressions, Sexual Orientations and Sexes, delivered statewide in February 2021.
Her inquisitive approach to the service of youth and community has guided Laurie in the development of several well-respected and widely used curricula. In addition, Laurie has designed, facilitated, and taught using online platforms across counties. Topics included, but were not limited to, careers, youth business, 4-H market animal projects, horse science, photography, communication, and 4-H finances.
She co-led Action Team #2, created in response to the need to provide virtual programming for Michigan residents, families, and youth caused by the COVID-19 pandemic. The team created criteria and a checklist for effective programs and program fidelity including best practices for program design using a diversity, equity, and inclusion lens and providing recommendations for website and social media promotion and marketing. Laurie supervised the creation of more than 10 documents including a Roadmap to Virtual Programs for 4-H staff and a general version for all MSU Extension staff, as well as for the public to use. She directed the development of trainings and materials for volunteers and staff including on-demand videos.
Laurie has cultivated numerous partnerships, among them school districts, library systems, city governments, state agencies, and nonprofits. She has secured or been on teams that brought in over $100,000 in grant funding during her MSU Extension career.
Laurie excels in planning and program implementation. Her organizational and partnering skills allowed her to reach approximately 5,000 youth participants in the 2019 reporting year. She works to hold MSU Extension accountable to the residents it serves and to help create paths to belonging in 4-H for all. She continues to strive for excellence in programming, viewing our work through a lens of diversity, equity, and inclusion, so MSU Extension fulfills its mission, making Laurie Rivetto's service worthy of the meritorious distinction.


Vivian Washington receives Extension Educator Meritorious Service Award

Vivian Washington has been a dynamic Michigan State University Extension children and youth educator, serving her local community.
Amid the COVID-19 pandemic, while some staff struggled, Vivian and her colleagues within her team thrived and quickly pivoted to the online learning environment. As team co-chair, Vivian provided leadership in helping her team shift to respond to the growing needs of parents during the pandemic. They coordinated daily social media messages, providing families and caregivers important media messages, and supportive webinars to assist families.
Vivian has also exhibited success as an educator this past year. Due to her quick efforts, she conducted 46 programs, reaching 2,136 participants, featuring programming in multiple modalities, including several one-time parenting education programming, caregiver education, and parenting education series. In addition, she supported social media posts (including managing the Thinking Thursday posts for the Child and Family Development team each week). This weekly Facebook post has an amazing reach.
Her efforts provided needed professional development to the child care industry in a virtual setting that allowed providers to maintain their state-required development hours. She also provided parents important educational best practices in a variety of trainings.
Vivian has also led in the area of diversity, equity, and inclusion. With a colleague, she has co-developed Including All of Us, which is a training focused on early childhood educators to reduce implicit bias in the classroom. This cutting-edge training will be important as Extension continues to infuse this topic into programming efforts.
Vivian Washington has demonstrated meritorious service through all of these efforts.


Rebecca Sova receives S
upport Staff Off
-
Campus Meritorious Service Award
Rebecca Sova has made significant contributions through her work with Michigan State University Extension as support staff for both the MSU Extension Roscommon County office and the Roscommon County Gypsy Moth Suppression Program.
As a result of Rebecca's work, the capacity and attendance for programs in the county have greatly improved. She efficiently addresses the day-to-day operations yet still finds time to make outstanding contributions. When her position expanded to include support for the gypsy moth program in January 2020, she took the time to self-educate and provide professional assistance. She works to gain visibility for both MSU Extension and the gypsy moth program in Roscommon County. Her past career as a teacher with proofreading and editing skills, and expertise with marketing and design helps to increase the visibility and credibility of both initiatives in our local communities. Despite COVID-19 pandemic restrictions that limited in-person appearances, her work ensured visibility through social media, articles, flyers, and our presence at Board of Commissioner virtual meetings.
One of her key accomplishments was to inventory all community-related entities and track this information so these new potential partners and audience members can be reached. This has led to a surge in new relationships where MSU Extension remains visible. She recognizes and, in some cases, facilitates new partnership and audience opportunities. She also sends weekly communications to the local newspapers and has arranged for MSU Extension staff to make regular radio talk show appearances.
One of her most significant impacts has been promoting awareness about chemical-free landowner controls for gypsy moth. Rebecca created a "Gypsy Moth Management Strategy" flyer frequently distributed throughout gypsy moth-infested counties in Michigan. The well-designed resource provides a comprehensive, research-based list of strategies for landowners to employ to suppress gypsy moth populations on their own properties.
For her outstanding contributions to both the Roscommon County office and the gypsy moth program, Rebecca Sova is honored with the Meritorious Service Award.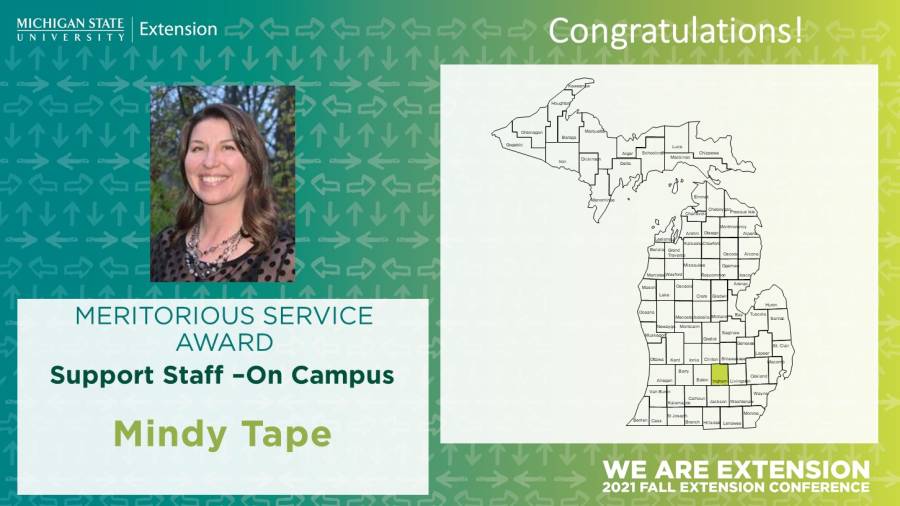 Mindy Tape receives Support Staff On
-
Campus Meritor
ious Service Award
Mindy Tape, Michigan State University Extension communications manager, is a gifted communicator, using her talents to enhance the visibility of Extension programming for 11 years. Mindy has provided communication and marketing support to hundreds of educators. Her strategic approach has put staff at the forefront of digital platforms, consistently elevating their work. Mindy also supports broad organizational efforts such as overseeing the growth of the MSU Extension News Digests and serving as lead strategist for the Extension website.
Her counsel and expertise have been pivotal in helping staff navigate challenges including the 2015 avian influenza outbreak, the launch of Ag Innovation Day, the delayed planting crisis in 2019, and the N95 mask decontamination website last year. Mindy has also pulled double duty for the past 15 months, serving as communications manager for the Community, Food and Environment Institute as well as the Agriculture and Agribusiness Institute.
She helps to synergize efforts for shared resources, outreach efforts, and expertise throughout the College of Agriculture and Natural Resources. She has also leveraged her vast personal and professional networks to support Extension, using her connections with the Michigan Department of Agriculture and Rural Development and commodity groups to support the Farm Stress Management program, to include MSU Extension in Michigan Ag Month, and more.
Her out-of-the-box thinking has led to vast improvements in dotCMS expert profiles, a streamlined impact report process, and the expanded use of course content. She developed a marketing checklist for staff promotion of programs and events, resulting in many successfully attended Extension offerings.
The role Mindy plays in helping Extension educators to promote their programs is critically important to their ability to reach Michiganders statewide. Her strategic direction and committed efforts are pivotal to ensuring Extension education is delivered to those who need it most, when they need it most. Mindy Tape's years of work and dedication, in particular her service in dual roles the past 15 months, is deserving of the Meritorious Service Award.