Local Macomb County resident begins year of service providing environmental education and outreach
Huron Pines AmeriCorps member to serve with MSU Extension and Michigan Sea Grant expanding outreach capacity.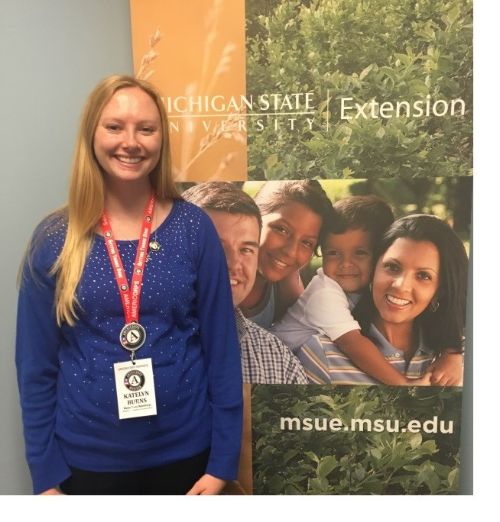 Michigan State University (MSU) Extension and Michigan Sea Grant gain a new member to help expand the capacity of outreach programs in Macomb County. 2017 is the first year that the Huron Pines AmeriCorps program has placed an AmeriCorps member with MSU Extension/Sea Grant in Southeast Michigan. Katelyn Burns is one of 30 Huron Pines AmeriCorps members serving with conservation stewardship agencies and organizations this year. Most of the other 29 members are serving across Northern Michigan.
Serving MSU Extension and Sea Grant, Katelyn will be supporting three education programs during her 10-month term of full-time service. Since January, Katelyn has been working on expanding the capacity of the Water Conservation Program in Macomb County. She has scheduled and begun presenting the program to first through third grade students to educate them on ways they can choose to act as "water savers" instead of "water wasters." In the coming months, she will be an integral part of the Great Lakes Education Program (GLEP) as well as the Summer Discovery Cruise Program.
MSU Extension and Sea Grant are looking forward to Katelyn's enthusiasm for environmental education and outreach during her term of service. Let's meet Katelyn to learn more.
Katelyn, tell us more about yourself and what inspired you to serve with Huron Pines AmeriCorps here in Southeast Michigan?
During my time at MSU I knew a few people who had joined AmeriCorps soon after graduating. Having graduated in May, it was something that had stayed on my mind throughout the summer. I grew up in Roseville, Michigan and have spent nearly my whole life in Macomb County. So when I learned of the opportunity to serve locally, and to do so in a way that I am already passionate about, I jumped at it. I am so excited and grateful to be able to give back to my community by teaching students about our Great Lakes and good stewardship practices that they can take.
How has your past experiences prepared you for this role serving MSUE/Sea Grant?
The College of Agriculture and Natural Resources at MSU gave me a solid background in conservation principles, natural resources problems today, and the countless stakeholders connected and involved with each natural resource. Through my major and minor classes I learned how to effectively collaborate with people from all different backgrounds on issues that cannot and will not have one simple answer. The Fisheries and Wildlife Club, the Bailey Scholars Program, and the MSU Meat Lab all taught me that I have a passion for education and outreach.
It was this passion that led me to work at the Belle Isle Nature Zoo for two summers as a summer nature camp instructor. By teaching the environmental education curriculum during the fun that is summer camp, I was able to improve my teaching skills as well as see campers gain a sense of wonder and stewardship for nature by the end of each week.
What are you most looking forward to during your service and what do you hope to have accomplished by the end of it?
I am most looking forward to helping connect students in the county to the Great Lakes. Whether that connection is formed in the classroom when I give water conservation presentations or out on the water during a GLEP or Summer Discovery Cruise Program, I just want to help them understand why we are so lucky to be living in Southeast Michigan with Lake St. Clair in our backyards. Providing students the opportunity to think about where their water comes from and getting them outside in nature is extremely important in order to help them become environmentally conscious adults. By the end of my service, I hope to have made an impact in the programs that I will be serving on.
Growing up in Michigan, what is your favorite natural resources hobby/memory?
Fishing. I've spent countless hours fishing Lake St. Clair and the St. Clair River with my Dad and Uncle since I was little. From fishing off of Harsens Island, to taking advantage of the spare time during the summer weeks by going down to the coast guard station or 9 mile pier, fishing is definitely a way for me to unwind and connect with a natural resource that is practically right in my own backyard.
Michigan Sea Grant helps to foster economic growth and protect Michigan's coastal, Great Lakes resources through education, research and outreach. A collaborative effort of the University of Michigan and Michigan State University, Michigan Sea Grant is part of the NOAA-National Sea Grant network of 33 university-based programs.
Huron Pines AmeriCorps is a program of Huron Pines and is supported in part by the Corporation for National and Community Service, Michigan Community Service Commission, Huron Pines and contributions from host sites. Huron Pines is a nonprofit 501(c)(3) organization and an equal opportunity provider.
Michigan State University Extension (MSUE) helps people improve their lives through an educational process that applies knowledge to critical issues, needs and opportunities.