Local students promote coastal tourism and put Negwegon State Park on the map
Alcona high school students take on a three-year project with the Department of Natural Resources, Michigan Sea Grant, and other partners to develop interpretive signs for Negwegon State Park to document the history and the park's natural resources.
Trading textbooks for hiking shoes, a group of Alcona Community High School students set out to explore and explain the extraordinary natural history of Negwegon State Park in northeast Michigan. The activities were part of three, consecutive years, semester-long projects aimed at documenting the park's history and natural resources and promoting eco-tourism opportunities. .
From the project's inception, Alcona agriscience teacher, Brian Matchett, placed his students in charge of all the details. They developed the project proposal—to support natural resource education through interpretive signage—and conducted meetings with Michigan Department of Natural Resources (DNR) park staff to ensure their work would meet with park management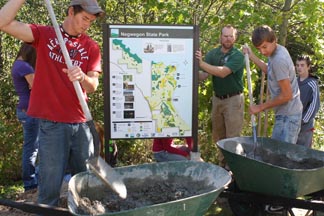 goals.
The project gained momentum in September 2008, when DNR park staff gave the students an overview of Negwegon State Park's unique coastal resources and management history. Armed with this knowledge, students divided themselves into themed "investigation teams" and headed to the park to meet with resource experts and technical advisors representing the project's several partners.
They explored the park's diverse shoreline habitat and fish species with Michigan Sea Grant Extension Educator Brandon Schroeder. They studied interior woodland and wetland habitats with the U.S. Forest Service advisors. They learned about wildlife interactions with Sprinkler Lake Education Center experts, and the historical sites and archeological artifacts with Michigan Department of Natural Resources park managers and archeologists from The Besser Museum for Northeast Michigan. Together, they explored the park with the charge to learn not only about its unique natural and human history but also to consider an appropriate educational or interpretive product that they would eventually develop for their DNR Parks "client."
In 2010—with funding and support from the Great Lakes Stewardship Initiative, the DNR and Michigan Sea Grant—the third generation of what amounted to over 75 Alcona High School students headed out to Negwegon State Park to install the completed interpretive signage.
In their efforts to promote a broader understanding and appreciation of Negwegon State Park, Alcona students' work contributed to a surge of visitation to a previously forgotten corner of Alpena and Alcona Counties. This renewed interest in the Park has captured the attention of their community. The Michigan Department of Natural Resources, Friends of Negwegon State Park (a citizen group), the tourism-focused US 23 Heritage Route, as well as local government officials are intricately connected with this student-led effort and benefiting from the increased investment in the future of this unique resource.
Instructor, Brian Matchett, added, "As a result of this project, students gained valuable skills in communication, research, and sign development all while meeting many of the Biology standards required by the State of Michigan. My students learned the importance of working with agencies such as the DNR, National Forest Service, and Michigan Sea Grant, to develop their knowledge of the Park's unique ecosystems. Students were excited to come to class each day and contribute to this service learning project!"
For more information about the Northeast Michigan Great Lakes Stewardship (NE MI GLSI) Initiative and place-based, community-based education programming partnerships with Alcona Community Schools, visit the NE MI GLSI website.
This article was co-authored by Brandon Schroeder, Sea Grant Extension Educator and Treenen Sturman (formerly employed through MSU Extension in service of the Northeast Michigan Great Lakes Stewardship Initiative; currently Executive Director for the Grand Traverse Conservation District).